Roast Cauliflower With Saffron, Bay Leaves & Crispy Chicken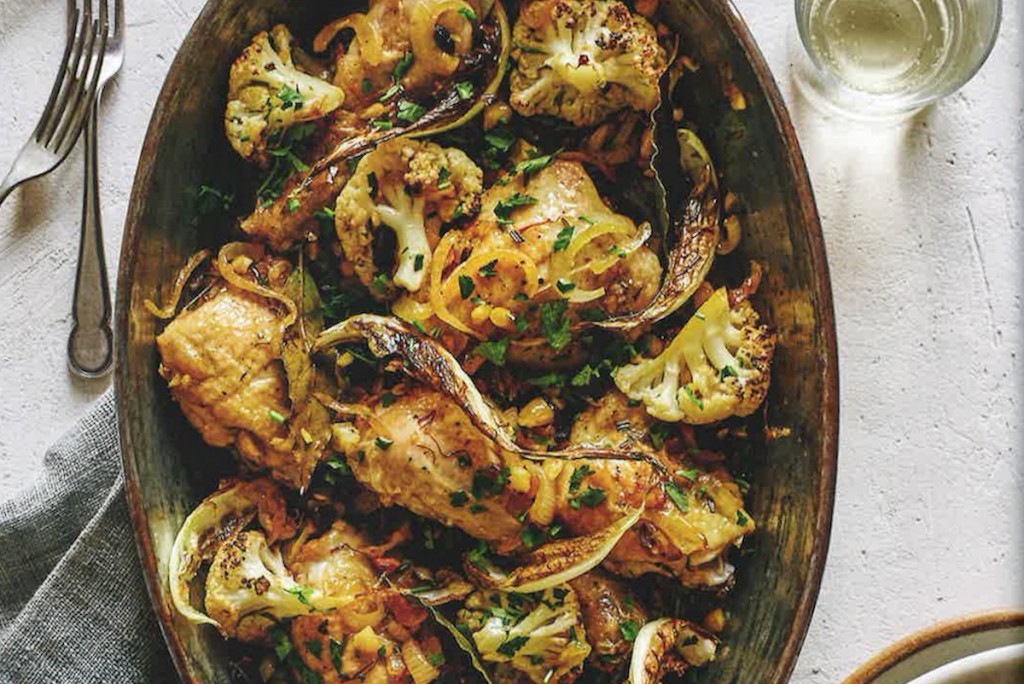 INGREDIENTS
4-8 organic, free-range chicken thighs or drumsticks, depending on the size
extra virgin olive oil
1⁄2-1 tsp. rosemary, chopped
2 pinches of saffron strands
1 large or 2 small cauliflowers, leaves snapped off, broken into florets and stalk chopped roughly
2 medium onions, finely sliced
1 Tbs. Aleppo pepper or a good pinch of dried chili flakes
3 bay leaves
1/3 cup golden raisins, soaked in hot water to plump up
1/3 cup almonds, coarsely chopped
sea salt flakes and freshly ground black pepper
2 Tbs. flat-leaf parsley, roughly chopped
4 scallions, sliced on the diagonal
DIRECTIONS
Preheat the oven to 400°F.
Slash the chicken drumsticks. Drizzle with a little extra virgin olive oil. Season with salt and pepper. Sprinkle with chopped rosemary, toss and arrange in a single-layer roasting pan. Roast for 30-45 minutes, depending on the size, while you prepare the cauliflower.
Put the saffron into a small bowl, cover it with a few teaspoons of boiling water and leave it to steep. Put the cauliflower, onions, chili flakes and bay leaves into a bowl and season with salt and pepper.
Once the saffron has steeped, add to the cauliflower mixture with the drained golden raisins and almonds. Transfer to the roasting pan and cover loosely with parchment paper to protect from burning. Bake for 20 minutes.
Remove the parchment and roast for a further 10-15 minutes until the edges are nicely caramelized, the cauliflower is tender and the chicken is cooked. Move into a shallow serving dish.
Sprinkle with the chopped parsley and scallions. Serve.