Rockettes, Revealed
What's it like on stage at Radio City? Two high-kicking dancers from Essex County tell all.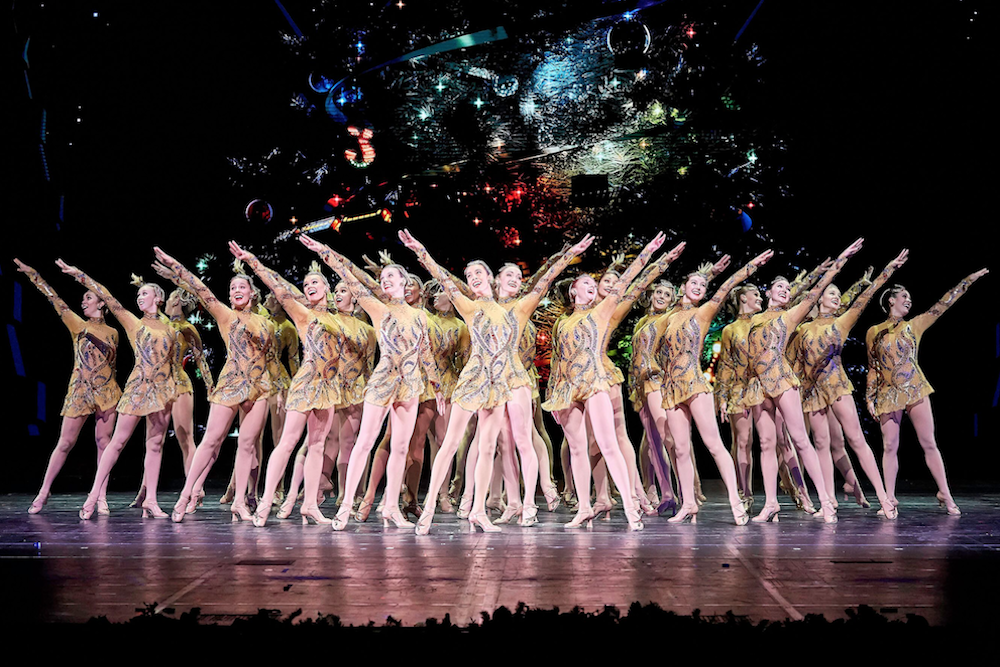 Last year Morris/Essex Health & Life introduced readers to Ellen Mihalick of Randolph, whose dance career took her from Morris County to the famed stage of New York City's Radio City Music Hall. This year it's Essex County's turn, as two Rockettes—newbie La'Tarika Pierce, 27, of Orange and veteran Megan Levinson, 30, of North Caldwell—open up about how they live their dream, performing up to four shows daily of the Christmas Spectacular Starring the Radio City Rockettes across the river in Manhattan.
What inspired you to become a Rockette?
LEVINSON: "It was a family tradition to go to Radio City to see the Christmas Spectacular, and I was obsessed with Clara in The Nutcracker.
I wanted to be Clara. When I was 11, I got the job! I loved being part of the 'family.' It's a good thing too: I grew four or five inches that year, so the following season I was too tall to play the role."
PIERCE: "Unlike many people, I started dancing late, at 14. But I discovered that I love performing. My instructor mentioned the Rockettes, and I had no idea who they were. When I found out, I wanted to be a part of it." Tell us something people don't know about the Rockettes.
P: "Everyone looks the same height, but it only looks that way because the taller dancers are in the middle and shorter ones are at the end. We range in height from 5 feet, 6 inches to 5 feet, 10 inches."
L: "People are surprised to learn that we don't touch each other in the kick line; our arms never touch. We use our own core strength and center. And we're a real sisterhood. We truly inspire each other."
Tell us a personal secret.
L: "This is my 10th season as a Rockette, and I've spent every birthday—Nov. 6—with my Rockettes family. I can't imagine not being with the cast to celebrate."
P: "I auditioned 10 times. When we walk onto stage, I hold back for just a couple of seconds to take it all in. It's a 'wow' moment for me." What's on your nightstand?
L: "An eye mask so it's dark. (I do a 10 p.m. show, so I'm getting to sleep late and don't want the morning light waking me.) There's water for when I'm thirsty and a lip recovery balm from Sephora that I love. We wear a lot of lipstick, and I use a stain that really lasts—it's tough to get it off."
P: "An alarm clock and water, of course. I do the morning shows and like to get there two-and-a-half hours beforehand to warm up."
What's your best workout?
P: "Running—three miles once or twice a week—and lifting weights. On the days I don't run three miles, I'll clock one mile before lifting." L: "I'm a certified personal trainer, so I've designed one that's right for me. I love HIIT [high-intensity interval training], so my program involves weight training and cardio."
If you weren't a dancer, what would you be?
P: "A financial analyst or an astrophysicist. I love math; I almost majored in it in college, and I love space. I'd probably work for NASA."
L: "A sports psychologist. My undergraduate degree is in psychology, and I'm in a graduate program for sports psychology. I love analyzing what goes on with great athletes, how they achieve peak performance, what helps them compete."
What's next after the season?
L: "The season ends Jan. 5, and afterward I'll be moving to the city, taking graduate courses and judging dance competitions. It's very gratifying to be able to help other dancers—some as young as 4 years old—reach their potential."
P: "Rest! Then plenty of dance classes in ballet, tap and jazz."
As a veteran Rockette, Megan, what do you tell the other women?
L: "I tell them to be in the moment, enjoy it and absorb the entire experience because it's like no other."
This is your first season, La'Tarika. As a newbie, what surprised you most?
P: "That the claims of a 'sisterhood' are real. You feel completely accepted and embraced. It's like a wonderful mentoring program. For example, I was having trouble with one of the numbers where there's a lot of arm choreography, and one of the girls said, 'I made up a song to remind me what comes next.' It really helped!"
When was the last time you had a good cry, and why?
P: "On opening night, when I saw my parents in the audience. They'd never seen the show before, and I could see the joy and pride in their faces."
L: "When we performed for a live audience for the first time this season, and I looked into the people's faces, it was an amazing moment. Being on stage with 35 other dancers, knowing we all worked hard to spread joy and express ourselves, it brought me to tears."
Tell us about your hometown and growing up there.
L: "I lived on a cul-de-sac, so many of my memories are of riding my bike on the street and being with all the other kids on the block. I went to the town schools and loved it. Plus, it was great to be so close to the city."
P: "Orange is a small town, one of the four Oranges. My whole family lives there, so I went to school with all my cousins. We shared the same friends. We even shared our clothes." Favorite spots around town?
P: "Pizza Center on Main Street. It's close to the train station so I'll meet my mom there for a quick dinner after work."
L: "Bloomfield Avenue. There's a small theater there, and I'll catch a movie with my older sister Rachel."
When you're not in costume, how do you usually dress?
P: "I'm an athleisure girl, so I'm always in leggings, sneakers and a sweater."
L: "I live in leggings and a workout top." Words of wisdom to would-be Rockettes?
L: "Work hard, and give 100 percent every time you go to class because that's something you can control. You need to be a versatile dancer, especially in ballet, tap and jazz, to do this job."
P: "Each girl is on a different journey. Some of us audition once and get it; others, like me, keep trying. Some of us started dancing at 3 years old, others much older. Be true to your path."