Rockin' a Dream
How a Nutley native realized a childhood ambition at Radio City Music Hall.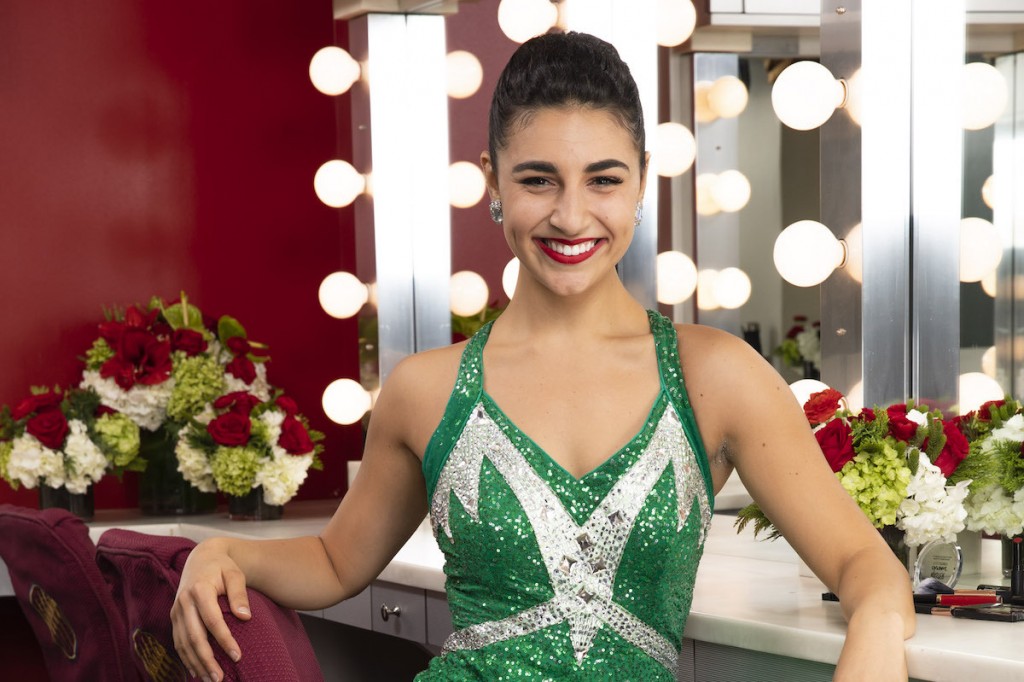 Often, in a performer's life, there is a dream that grabs hold of her heart and spurs her on through all the hard work and adversity to that first curtain call.
Nutley native Jaclyn de Nicola was just 3 years old when she first aspired to eye-high kick with the iconic Rockettes at Manhattan's Radio City Music Hall.
"As a little girl I was absolutely enthralled by the Rockettes: their grace, their precision," says de Nicola, now 24 and a Hoboken resident. "It really shaped who I was." Considering herself lucky to be a Jersey girl, de Nicola lived close enough to see that Christmas Spectacular every year with her family—a tradition that also included Mass at St. Patrick's Cathedral.
Each show strengthened her resolve, so that when adversity came—as it did when she broke her foot during senior year at The Ailey School/Fordham University in NYC's Lincoln Center—she never gave up.
In November, when the Rockettes took to the stage after a one-year hiatus due to COVID, de Nicola glammed it in elaborate costumes with the rest of the ritz and glitz dancers—a thrill she says is "still sinking in." And what a year to be up on that iconic stage: There will be more Rockettes numbers than ever before during the show's run from Nov. 5 through Jan. 2, including the return of "Snow," a winter wonderland experience.
"It's such a privilege to be part of a legacy that I've admired my whole life," she says. "It's definitely surreal."
What does it take to be a Rockette? De Nicola auditioned seven times before she made it this season and will have to audition each year to keep her spot on the line. But beyond that make-or-break moment of an audition, she spent years perfecting her jazz, ballet and tap styles and developing the strength needed for her performances.
At the age of 3, she pursued dance lessons locally, then dance competitions. "Around 15 I realized this was something I really wanted to do," she says. That's when she took formal ballet lessons at the New Jersey School of Ballet.
While attending Immaculate Heart Academy in Washington Township, de Nicola took advantage of the musical theater program to discover the "joy of being on stage," her favorite part. As a Rising Star Award nominee, she built upon this joy at the Summer Musical Theater Conservatory at Paper Mill Playhouse in Millburn. That experience, she says, "solidified that this was something I really wanted to do and had the potential of pursuing."
De Nicola raves about her choice of college because The Ailey School and Fordham University gave her the best of two worlds—top-notch dance and academics—right there in New York City's Lincoln Center. There was a connection not only with The Alvin Ailey American Dance Theater, but also with Rockettes, who taught some of her classes. "I made it my priority to become the most versatile dancer I could be," she says. "In the industry in New York, you have to be able to do it all."
Yet de Nicola would face one of the greatest challenges of her career before graduating magna cum laude in 2019 with a bachelor's in fine arts. She broke her foot in early fall of her senior year and tackled rigorous physical therapy with a dancer's resolve.
Her stage world was at a standstill, but she kept up with studies, and she now appreciates the perspective that injury provided. "It reminded me that I'm more than a dancer," she says. "My life is dance but I'm also Jaclyn." She recovered in time for the dance numbers she needed to graduate. "In a weird way my injury did more for me than I could have thought."
During this injury period and COVID, two trying times, de Nicola was encouraged by C.J., now her husband, to take her passion for cookie-making to a new level. "He bought me an intro class in cookie decorating, and I hopped to class with my boot and crutches," she says. She launched Jazzy Jac's Cookies to spread joy on the 'Gram when she couldn't do so as a dancer. But now the Rockettes' new season has taken center stage.
Making the cut for the Rockettes has led to new challenges, such as working in harmony with the "big grid on stage" that enables the precision dance lineup to look perfect from every seat. "The whole job is very physically demanding and mentally demanding too, because the Rockettes are so precise," says de Nicola. Rehearsals are held six days a week, as everything from lighting to choreography must be flawless. Through it all, she has a mentor, Danelle Morgan, assistant dance captain and fellow Jersey girl with more than a decade on the team.
On opening night, de Nicola anticipated the jitters and knew what to do if they arose. "I try to channel that into excitement and joy," she says, "and in a weird way the stage feels like home."
Her greatest fans are the family that made the Christmas Spectacular the tradition she's now recreating for the joy of others—as well as her husband C.J.
Says Essex County's new Rockette of the holiday show: "It represents so much joy and Christmas cheer, and I'm lucky to be a part of that history."
By Donna Rolando