Rooms Made Magical
How do they do it? Local designers share their secrets for transforming three key spaces in a home.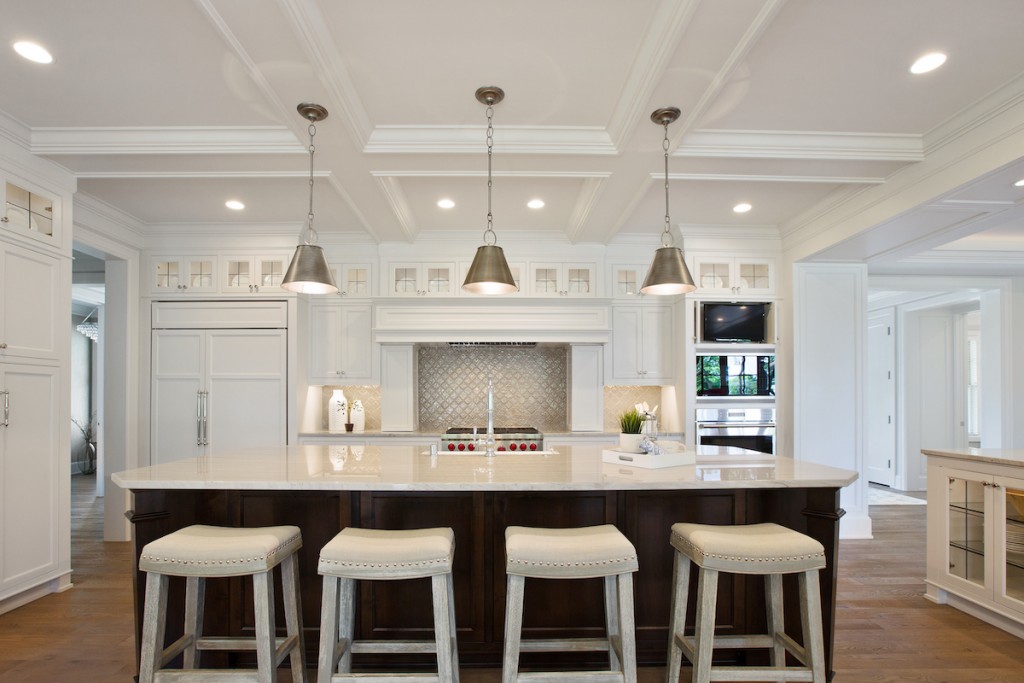 Any ambitious homeowner who has begun a do-it-yourself design project knows that it quickly proves to be a challenge. Lots of choices must be made, among the latest furniture pieces and from a vast selection of paint colors that differ only in the tiniest ways. Just refining one's vision is a design job in itself.
For pro designers, that's where the mood board comes in. Whether it's created on old-fashioned corkboard or on a site such as Pinterest, it's a visual collage of styles, textures, furniture and fixings that is used to define and illustrate a room's aesthetic and thus help a client visualize it—while it's not too late to change things up.
Unable to sneak a peek at top designers' mood boards for key rooms in a home—which in any case vary dramatically from project to project—Morris/Essex Health & Life settled for the next best thing. We asked four designers to put into words their approaches to three key rooms in a home: the kitchen, a bedroom and the living room—what they favor and why. Here's what they told us.
Someone's In The Kitchen
It's the most trafficked room in almost any house, so balancing practicality and style is imperative in designing a kitchen. Matching or contrasting counters and cabinets, modern or farmhouse vibe—where to start? Our designers like to zone in first on the focal points of the space, such as the range hood. "Range hoods are highly visible in the kitchen because of their height," says Dana Hunkele. "Wrap it in metal, add some stained wood, paint it a gorgeous color—just make it stand out."
Amanda Amato-Scotto agrees that the range and the island should be big parts of the design, and she also recommends choosing a color palette for the kitchen based on the slabs of stone used for the countertops. "Work with their natural beauty and then coordinate your backsplash and other finishes from there," she says.
Speaking of finishes, Julieta Alvarez loves unlacquered brass hardware for cabinets and drawers. "They get a beautiful patina over time, making the kitchen look lived in and timeless."
A Room For Living
To escape the action in the kitchen, most families retire to their living rooms for rest and relaxation. Because everyone has a different preference for their living space, creating the ambience could come in a variety of ways. Some prefer a luxurious leather Chesterfield sofa, while others are fans of plush sectionals. Hunkele believes creating the right vibe for her clients can be achieved by painting trim, wainscoting and millwork in a neutral color other than white. "This will have high impact—trust me, this is not a trend," she says. "Take a chance and your home won't look like everyone else's on the block."
Alvarez, meanwhile, creates figurative warmth in a living or family room with the use of books or art that will intrigue houseguests. "I always add interesting books on a coffee table so guests can peruse them when the owner steps out of the room," she says. "Or I hang a piece of art that is a conversation starter."
Good Night's Rest
You begin and end every day here, so a bedroom should be nothing shy of beautiful. Of course, beauty is in the eye of the beholder, so be sure the design showcases personality—whether you're upholstering your headboard with Moroccan-style fabric or painting your child's dresser the bright yellow Pantone hue Illuminating. Jessenia Garcia, who designed the master suite at right, begins her bedroom mood boards by creating a floor plan and using a collage to show clients how the space will feel. She then uses accents—a vibrant color or a fixture, for instance—to design a feature wall that adds visual interest, she says.
Hunkele says not to neglect the fifth "wall" of the room, aka the ceiling, as most of the time in your bedroom is spent lying down anyway. "I almost always suggest painting it a color other than white or wallpapering it," she says. "It's also the perfect backdrop for a special chandelier." Too bold for you? "Opt for a neutral ceiling with a heavy texture such as a grasscloth," she advises.
Finally, Alvarez adds that décor too can really make a bedroom pop. "When working within a tighter budget, I like to save money on a bed frame but splurge on items that will make a bigger impression, like a commissioned piece of art or a vintage Oushak rug." These are also easy ways to inject personality into your sleeping space.