Run for Your Health
Three doctor–runners give the hows and whys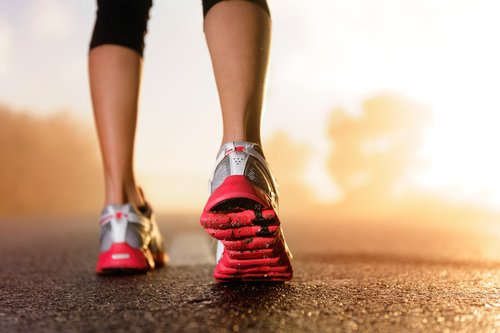 Running is an excellent way to stay in shape, be social and challenge yourself, and these New Jersey physicians offer advice on getting started.
THE ORTHOPEDIC SURGEON
Glenn Gabisan, M.D., an orthopedic surgeon at Professional Orthopaedic Associates in Tinton Falls and Freehold, competes in the Long Branch Half Marathon each year with his wife and is vying for a spot in the 2013 New York City Marathon (a 26.2-mile race).
What advice do you have for buying new running sneakers?
Go to a reputable running store where the staff can analyze your feet and your style of pronation (the position of your foot when it lands). Take in your old sneakers so that the salesperson can look at the wear on the tread. Also, let the salesperson know if you get blisters or foot and ankle pain when you run.
Why do some people choose "minimalist" sneakers?
When running in a standard sneaker, you hit the ground with your heel first. Minimalist sneakers force you to have a mid-foot strike, which theoretically builds the muscles in your feet. I don't think there's much of an advantage, though. There's a higher risk of injuries because the shoes are only designed to protect you from the surface— they don't offer any support.
THE CARDIOLOGIST
Joel Jacowitz, M.D., has run five marathons, with a personal record of 2:35 in the Chicago Marathon, and is a cardiologist at CardiacEdge in Emerson.
Is it better to run on a treadmill or outdoors?
Fitness-wise, it's a personal preference. If you're doing road races, however, you must train outside so that your muscles can get used to pounding the pavement.
What precautions should runners take in hot weather?
In extreme heat, you run the riskof hyperthermia, which is potentially fatal. When you're in the danger zone, you might stop sweating, get goose bumps, have a headache and feel dizzy or experience more extreme symptoms such as disorientation or collapse. You can help prevent this by training in the heat—your body will become acclimated to the heat in about two weeks—and by staying hydrated.
THE SPORTS MEDICINE SPECIALIST
Guillem Gonzalez-Lomas, M.D., is an assistant professor of sports medicine and arthroscopic surgery at the University of Medicine and Dentistry of New Jersey–New Jersey Medical School in Newark and has run the New York City Marathon twice.
When beginning a training routine, is it important for runners to take rest days?
Yes, plantar fasciitis, Achilles tendinitis and shin splints are common injuries resulting from starting a running regimen without resting two or three days perweek. The human body has an incredible ability to adapt to new demands placed on it, but not without some suffering. Muscles will often hurt during the first few days of a new routine, which is normal, but without adequate time to adapt to a new intense fitness regimen, bones can develop stress fractures, and ligaments can become inflamed.
How is cross-training beneficial for long-distance runners?
Swimming, cycling or upper-body strengthening can provide the benefits of cardiovascular training while the running muscles and joints are recovering, so they are great to do on rest days. Runners with upper-body strength can use their arms to gain a more powerful "kick" (or closing speed) at the end of long-distance races. Also, soccer, basketball, skating, martial arts and any sport that requires lateral movement can increase core strength and hip stability, which helps protect the hamstrings and quads from injury.
UPCOMING LOCAL RACES:
August
8/2 TOYS FOR TOTS 5K RUN, 7pm, Evergreen Center, 400 Inman Ave, Colonia, 732-499-9199,(s#264)(C)(NBGP-500pts)
8/4 River to Sea Relay, 92 miles, 6am-10am handicapped start, Starts Milford, Ends Manasquan,(s#265)
8/5 JASON'S 5K MEMORIAL RUN, 9am, Hillsborough,(s#269)(C)(NBGP-500pts)
8/12 RUM RUNNER 10K / 5K, 8am, 96th St, 1st Ave, Stone Harbor, 609-465-3535 x6,(s#149)(C)(NBGP-500pts-Both Races)
8/26 THE WILD HALF-HALF MARATHON AND 8K, 7:30am, Wildwood Convention Center, Wildwood, 856-308-7522,(s#074)(C-Half; 8k-pending)(NBGP-500pts-BOTH RACES)
---
September
9/1 OVARIAN CANCER FEAT FOR HOPE 5K, 9am, Veterans Park, 2206 Kuser Road, Hamilton, 609-213-9508,(s#090)(C)(NBGP-500pts)
9/1 Life Center Academy / Run for God, 5k, Life Center, Burlington, 609-499-4800,(s#284)
9/2 THE JIMMY D. MEMORIAL 5K, 9am, Memorial Stadium, Joyce Kilmer Ave, New Brunswick,(s#233)(C)(NBGP-700pts)
9/4 CROSSROADS OF NJ, 5K, 10K, 9am, Main St, Woodbridge, 732-549-9440,(s#293)(NBGP-500pts-both races)
9/3 VERONA LABOR DAY CLASSIC, 1 mile-9am, 5k-9:30am, Verona Park, Verona, 973-239-7976,(s#266)(C)(NBGP-500pts)
9/8 FALLEN HEROES 5K MEMORIAL RUN, 9:30AM, Bar "A", Lake Como, (s#189)(C)(NBGP-500pts)
9/8 THE 4 MILER AT GARRET MOUNTAIN, 9AM, Garret Mountain Reservation, Woodland Park, 908-902-8887,(s#190)(C)(NBGP-500pts)
9/8 SUSSEX COUNTY SHERIFF'S CRIMESTOPPERS 5K/10K, 9:30am, Sussex County Fairgrounds, Augusta, 973-222-8748,(s#275)(C)(NBGP-500pts-both races)
9/9 NETCONG DAY 5K Street Fest, 10:30am, Borough Hall, Netcong,973-347-7307 x145 (s#142)(c)(NBGP-500pts)
9/15 Run so The Kids Don't Have To, 5k, 9am, Campus Dr, Sylvan Rd, Parsippany, (s#256)(c)
9/15 "Don't Fall, Let's Run!", 5k, 10am, Duke Island Park, Bridgewater, (s#286)(c)(NBGP-500pts)
9/16 CHESHIRE HOME 5k RUN, 9am, Madison HS, Madison, 973-377-9531, (s#195)(C)(NBGP-500pts)
9/16 BERKELEY HEIGHTS 5K, 9:30AM, Memorial Field, Berkeley Heights, 908-464-8899,(s#255)(C)(NBGP-500pts)
9/16 JLMN RUN 4 CHILDREN AT RISK, 4 miles & kids races, Woodman Field, Montclair, 973-746-2499,(s#291)(C)(NBGP-500pts)
9/22 HAWORTH 5K, 9:30am, Haworth, 201-314-8656,(s#122)(C)(NBGP-500pts)
9/22 CARNEGIE CENTER 5K FOR THE PARKINSON ALLIANCE, 9:30am, Carnegie Center, Princeton, 609-688-0870, (s#124)(c)(NBGP-500pts)
9/22 6th Annual FNA 5k and Fun Walk, 10am-walk; 10:30-run, Thompson Park, Monroe Twp, (s#276)
9/23 NEWPORT LIBERTY HALF MARATHON, 8:30am, Newport Town Square, Jersey City, 908-902-8587,(s#045)(c)(NBGP-700pts)($)
9/23 BRIAN'S RUN FOR TCF, 5K, 10K, Terhune Elementary School, Wayne, 973-650-7998,(s#243)(c)(NBGP-500pts-Both Races)
9/23 MAYOR'S RUN/WALK TO BREAK THE SILENCE, 5k, 10am, 66 Main St, West Orange, 973-325-4109, (s#251)(NBGP-500pts)
9/23 JOHN'S RUN, 5k, 9am, Washington Twp, 201-681-2327,(s#267)(c)(NBGP-500pts)
9/29 SEAN HANNA FOUNDATION 5K, 10am, Duke Island Park-Lot B, Bridgewater, (s#212)(C)(NBGP-500pts)
9/29 Del Payne Memorial 5k Run / Walk, 8am, Millcreek Park, Willingboro,(s#259)
9/29 Beat the Clock Against Breast Cancer, 5k, 9am, 96th & 1st Ave, Stone Harbor, (s#279)
9/30 STEEPLE CHASE DISTANCE RUN, 25k, 5k, 8:30am/25k, 9am/5k, Hillsborough, 908-902-8587, (s#175)(C)(NBGP-500pts-Both races)
9/30 1ST ANNUAL JON YOUNG MEMORIAL 5K, 5pm, Roselle,973-960-5493,(s#178)(NBGP-500pts)
9/30 2ND ANNUAL SPRINT FOR SPRINGFIELD SCHOOLS 5K RUN/Walk, 9am, Springfield,(s#203)(C)(NBGP-500pts)
RELATED READ: COUCH TO 5K IN 8 WEEKS