Running to the Beat – 100 Songs to Get You Going!
Get your iPod stocked with 100 fast beats to keep your workout from slowing down!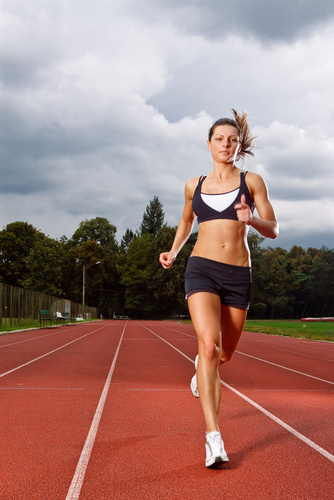 You're nearing your last mile and your energy is wearing thin. The song blasting from your iPod just ended, and the next tune that comes on is going to dictate your next move. This workout can end in two ways: you can either sprint the last 500 feet, feeling like a champion, or you could hop off the treadmill and collapse on the spot. In an ideal world you would be in a constant sprint for miles on end, working off that late-night snack you indulged in at 3am, and then some. Unfortunately, this isn't an ideal world, and you're no Bruce Jenner circa 1976. So, how do you avoid your workout ending in scenario number two? An upbeat playlist filled with absolute jams to keep you moving from the second you hit the ground running, until the second you simply hit the ground. We searched high and low to bring you 100 songs that will get you amped up and ready to hit the gym! Whether you enjoy rock, rap, Motown, pop, or country, you'll be sure to enjoy this mixed playlist devised to keep you on your feet!
1. All My Loving – The Beatles
2. All of the Lights – Kanye West ft. Rihanna & Kid Cudi
3. Alors on Danse (Remix) – Stromae ft. Gilbere Forte & Kanye West
4. Always Where I Need to Be – The Kooks
5. Animals – Nickelback
6. B.O.B. (Bombs Over Baghdad) – Outcast
7. Back in Black – AC/DC
8. Beautiful Dirty Rich – Lady Gaga
9. Black Betty – Ram Jam
10. Blame it On the Boogie – Jackson 5
11. Break it Out – The Rocket Summer
12. Can't Stop – Red Hot Chili Peppers
13. Come on Over – Christina Aguilera
14. Consolation Prizes – Phoenix
15. Cowboy Casanova – Carrie Underwood
16. Dog Days Are Over – Florence and the Machine
17. Es Hora de Bailar – Sandy y Papo
18. Every Teardrop is a Waterfall – Coldplay
19. Evil Woman – Mike Posner
20. Fergalicious – Fergie
21. Fire Burning – Sean Kingston
22. Forget You – Cee Lo Green
23. Freeze Frame – J. Geils Band
24. Fuego (Remix) – Don Omar ft. Pitbull
25. Genius – Kings of Leon
26. Get Over It – The Eagles
27. Girls – Beastie Boys
28. Glory Days – Bruce Springsteen
29. Got to Get You Into My Life – The Beatles
30. Hair – Lady Gaga
31. Here it Goes Again – OK Go
32. Higher and Higher – Jackie Wilson
33. Higher Ground – Red Hot Chili Peppers
34. How Far We've Come – Matchbox 20
35. I Like It – Enrique Iglesias ft. Pitbull
36. I Wanna Be Sedated – Ramones
37. I Want You Back – Jackson 5
38. I Want You to Want Me – Cheap Trick
39. I'm Shipping Up to Boston – The Dropkick Murphy's
40. It's Tricky – Run DMC
41. Jump – Van Halen
42. Keep the Car Running – Arcade Fire
43. Kickstart My Heart – Motley Crue
44. Kryptonite – 3 Doors Down
45. Last Night – The Strokes
46. Life is a Highway – Rascal Flatts
47. Lose My Breath – Destiny's Child
48. Lose Yourself – Eminem
49. Love in an Elevator – Aerosmith
50. Miami 2 Ibiza – Swedish House Mafia ft. Tinie Tempa
51. Mind on the Road – Rev Run
52. Money Honey – Lady Gaga
53. Motown Philly – Boyz II Men
54. Move Shake Drop (Remix) – DJ Laz, Flo Rida ft. Casely
55. Mr. Brightside – The Killers
56. Naïve – the Kooks
57. Not Afraid – Eminem
58. On the Floor – Jennifer Lopez ft. Pitbull
59. On to the Next One – Jay-Z
60. Other Side – Bruno Mars ft. Cee Lo Green & B.o.B.
61. Overrated – Allister
62. Paint it Black – Rolling Stones
63. Paralyzer – Finger Eleven
64. Part Time Lover – Stevie Wonder
65. Party Rock Anthem – LMFAO
66. Poison – Bell Biv Davoe
67. Power – Kanye West
68. Pretty Young Thing – Michael Jackson
69. Pump It – Black Eyed Peas
70. Push It – Salt-N-Pepa
71. Renegade – Styx
72. Runaway – Bon Jovi
73. Runaway Baby – Bruno Mars
74. Runnin' Down a Dream – Tom Petty & The Heartbreakers
75. Saturday Night's Alright for Fighting – Elton John
76. See the World – The Kooks
77. See You Again – Miley Cyrus
78. Shake Your Body Down to the Ground – Jackson 5
79. Shawty Get Loose – Lil Mama ft. Chris Brown & T-Pain
80. Show Me Love – Robin S
81. Shut it Down – Pitbull ft. Akon
82. Single Ladies – Beyonce
83. Stereo Love – Edward Maya ft. Alicia
84. Sympathy for the Devil – Rolling Stones
85. Telephone – Lady Gaga ft. Beyonce
86. Tell Her About It – Billy Joel
87. That's Not My Name – The Ting Tings
88. The Boys Are Back in Town – Thin Lizzy
89. The New Workout Plan – Kanye West
90. Till I Collapse – Eminem
91. Vertigo – U2
92. Viva La Vida – Coldplay
93. Waka Waka – Shakira
94. Walk This Way – Run DMC & Aerosmith
95. Welcome to the Jungle – Guns n' Roses
96. When Did Your Heart Go Missing – Rooney
97. When Love Takes Over – David Guetta ft. Kelly Rowland
98. Womanizer – Britney Spears
99. You Can't Hurry Love – The Supremes
100. You Make My Dreams Come True – Hall & Oates