Safety First!
Saint Barnabas Medical Center has earned nine straight "A" grades for keeping patients safe.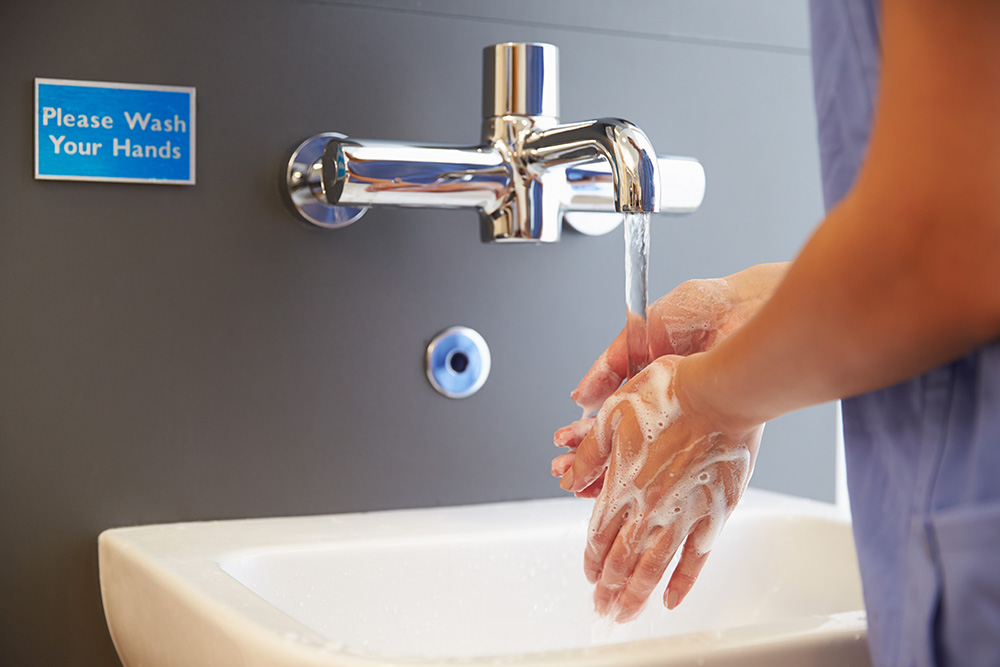 Since Stephen P. Zieniewicz, FACHE, took the helm of Saint Barnabas Medical Center last September, he has been involved in several major initiatives—including the ongoing construction of a whole new hospital wing. But, first and foremost, safety is Zieniewicz's #1 priority, safety for all, including our patients and their families, our employees, visitors, students, medical residents and all of those in training. Zieniewicz sets this example of safety through initiating daily safety briefings to provide a real-time forum to move Saint Barnabas Medical Center to a high-reliability organization.
He continues to set an example. Hand-washing isn't high-tech, but it's imperative that hospital employees do it frequently to keep from spreading germs that could harm patients.
"We talk about good hand hygiene to prevent infections all the time," Zieniewicz explains. "And we use every approach we can."
In so doing, he is helping to continue a strong record. The Leapfrog Group, an independent national nonprofit organization that evaluates the performance of hospitals, issues letter-grade hospital safety scores that evaluate institutions' success in protecting patients' safety. And Saint Barnabas has earned its "A" grade for nine survey periods in a row, going back to 2013.
Across the country, only 152 other hospitals have matched that record—including just six of the 67 hospitals studied in New Jersey. And Saint Barnabas was the only Essex County facility with such a "straight-a report card."
Safety is central to just about every decision made at the hospital, says President and CEO Zieniewicz. "My focus every day, at every meeting, is always safety. Our patients and their families are at the heart of everything we do, and we want to ensure that they have a safe journey while in our care."
The Leapfrog Group calculates grades ranging from A to F for more than 2,500 U.S. hospitals, using publicly available data on patient injuries, medical and medication errors, and infections. The scores are designed to give the public information they can use to protect themselves and their families when they need to choose a hospital.
Actually, the Saint Barnabas record is even a little more impressive than it seems, because earning an "A" has become harder, according to a Leapfrog-affiliated organization called the New Jersey Health Care Quality Institute. This year, for the first time, criteria for the grades included results of patient surveys about patient-provider communication, communication about medications and discharge and responsiveness of hospital staff. And the score includes two new infection measures, for MRSA (that's methicillin-resistant staphylococcus aureus) bacteremia and C. difficile. "And we still achieved an A," Zieniewicz says proudly.
The hospital earns such honors through diligent use of standardized approaches to patient care. "We look for the opportunity to reduce and eliminate variations," he says. "For example, we use checklists like those commonly employed in the aviation industry to help support an environment with zero harm to patients."
To find out more about services available for you at Saint Barnabas Medical Center, please call 888.724.7123 or visit barnabashealth.org/sbmc.