SAMANTHA AARON, D.M.D. KRISTEN BLUMBERGER, D.M.D.
The Silverstrom Group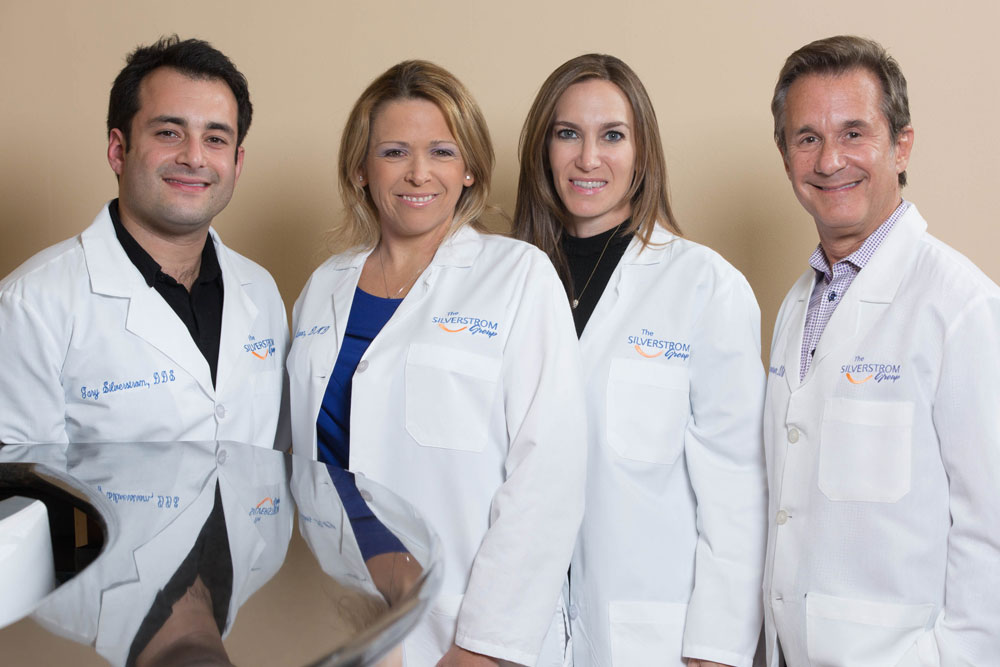 TWO CRITICAL FACTORS in making your smile great again are preventing and treating both gum disease and deep decay infection inside your teeth. This is why Dr. David Silverstrom and Dr. Gary Silverstrom assembled the preeminent Dental Dream Team under one roof in their Livingston, NJ office. Two board certified specialists on the Silverstrom dream team are New Jersey natives Dr. Samantha Aaron and Dr. Kristen Blumberger. As a board certified Periodontist and University of Michigan, University of Medicine and Dentistry of NJ and NYU graduate, Dr. Aaron is dedicated to preempting and healing gum disease. According to the Centers For Disease Control, nearly 50 percent of Americans over 30 years old have some form of gum disease that results in bleeding gums, bad breath, receding gums, sensitive teeth and eventually tooth loss. Whether utilizing the latest pain-free protocols for scaling and root planing, pocket reduction therapy, bone grafting, gum surgery or antibiotic therapy, The Silverstrom Group provides comprehensive periodontal plastic surgery.
Devoted to saving smiles with root canal therapy that is both quick and painless, Dr. Blumberger is an Endodontist who graduated from Tulane University, Tufts University and NYU. While most dental TV commercials proclaim dental implants as the only answer for failing teeth, this cookie cutter solution of extracting teeth is not always best for the patient. In fact, The Silverstrom Group's pain-free root canal treatment can rescue your teeth when the pulp (the soft tissue inside your tooth) becomes inflamed or infected as a result of injury, decay or a cracked tooth. "Our Dental Dream Team is on your side to save your teeth, protect your health, restore your smile and actually put you, the patient, first," said Dr. David Silverstrom. "Simple yet not easy to duplicate, our Silverstrom formula for success is: Brilliant Doctors + Better Technology + Superb Service = Happier and Healthier Patients."
580 S. Livingston Ave., Livingston, NJ 07039 • 973.992.3990 • ReadyToSmile.com