Santa's Little Helpers
Motorcyclists join St. Nick to deliver gifts to pediatric patients during annual toy run.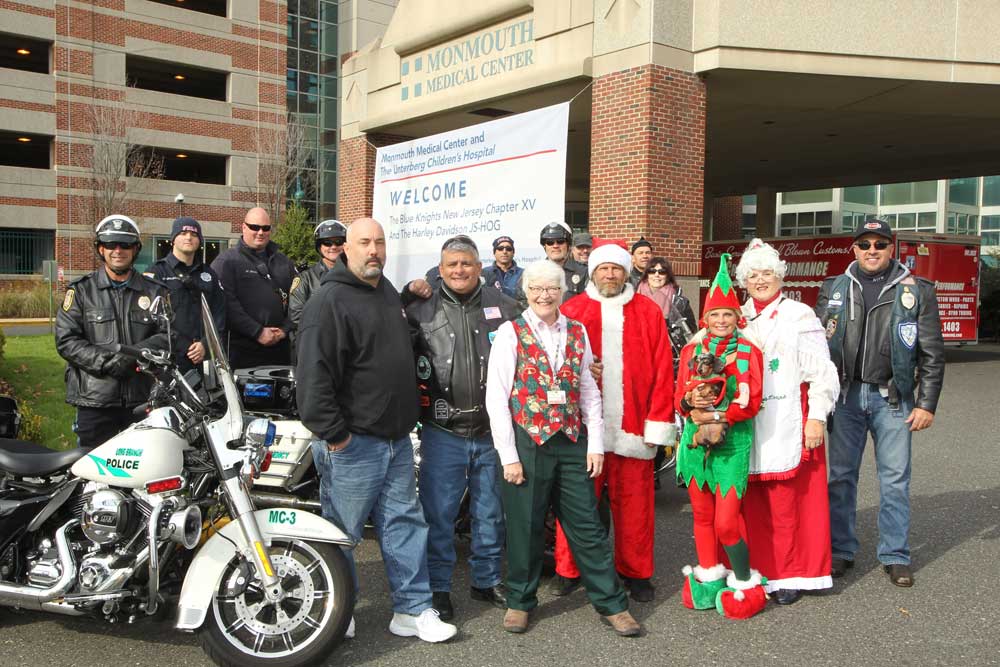 Santa found a few extra helpers for the holidays to usher in the season of giving, as motorcycle riders from around the region participated in the fifth Annual Toy Run, sponsored by the Blue Knights, New Jersey Chapter XV (BKNJXV), and the Harley Davidson JS-HOG. Riders and volunteers delivered funds and other gifts to brighten the holidays for patients at The Unterberg Children's Hospital at Monmouth Medical Center, as well as the Madonna House in Neptune.
The motorcyclists accompanied Santa and his elves, traveling from Atlantic Highlands to Long Branch to deliver hundreds of gifts to the hospital for distribution to pediatric patients during the holiday season.
The BKNJXV first organized this event in 2013, with just a few riders participating. This year, they partnered with the Harley Davidson JS-HOG to bring together the largest toy run to date: The Nov. 12 event featured more than 300 riders.
Each rider's $10 donation was directed to the Comprehensive Cystic Fibrosis Center at The Unterberg Children's Hospital. A total of $1,000 was donated to the center and presented to Margaret Fisher, M.D., medical director of The Unterberg Children's Hospital and chair of pediatrics at Monmouth Medical Center. At the center, a multidisciplinary team of clinicians provide patient care while offering clinical trials of the newest therapies for cystic fibrosis.
17-year-old Maddie Somers of Monmouth Beach is pictured with former NFL player Rasheed Simmons, whose restaurant Simply Southern in Belmar held a fund-raising event and served as a drop-off location for the toy drive
Dr. Fisher also is pictured with Robert Zanni, M.D., chief of pediatric pulmonology at Monmouth, and Meagan Enriquez, mother of 14-year-old Cystic Fibrosis Center patient Chloe.
To learn more about supporting the Unterberg Children's Hospital at Monmouth Medical Center, call 732.923.6886. To share this article with a friend or to recommend it on your Facebook page, visit MONMOUTHHEALTHANDLIFE.COM.