Saved by Creative Surgery
A pancreatic cancer patient is alive today because of a one-of-a-kind procedure.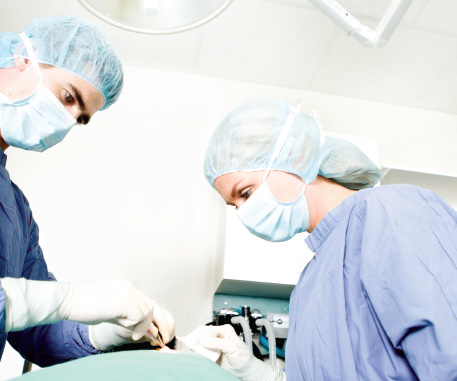 The odds were against Phyllis Baker. Already suffering from a host of health problems, the 53-yearold Edison woman was misdiagnosed last year when a specialist in Philadelphia told her that her stomach pains were due to a cyst on her pancreas. But she still had doubts. So she turned to Saint Peter's University Hospital and James E. Gervasoni Jr., M.D., Ph.D., surgical oncologist and chairman of the Department of Surgery. Her illness was indeed more serious—pancreatic cancer—and her previous medical conditions made treatment seemingly impossible. But both Baker and Dr. Gervasoni refused to accept defeat— and that saved her life.
Baker, who has worked in sales and interior decorating, and her husband, Bill, 49, an electrical engineer, have four daughters ages 17 to 27. Over the years she has been diagnosed with hepatitis C and bipolar disorder, and she was morbidly overweight when she underwent bariatric weight-loss surgery in 1998. That surgery needed to be revised in 2006 when she developed ulcers and a perforation in the gastric pouch, the small stomach created by the procedure. Over the years she also had her gallbladder removed and three Cesarean sections. Overall, she had undergone seven abdominal surgeries in her lifetime.
Continuous abdominal pain led Baker to suspect that she had cancer. "My mother died of pancreatic cancer at 46," she says by way of explaining her concern. It was early 2011 when the doctor at the Philadelphia hospital, after seeing a mass on the pancreas in an endoscopic study, told her she did not have cancer. "He told me I was one of the lucky ones," Baker says. But she felt the doctor didn't take her seriously. "He spent no more than 50 seconds with me," she adds. She didn't believe him.
Neither did her physician, Satya P. Kastuar, M.D., who specializes in gastroenterology and hepatology at Saint Peter's University Hospital. "He called me in and said he would send me to another doctor," Baker says. That was Dr. Gervasoni, who after examining her also was convinced she had cancer. A computed tomography (CT) scan revealed that the mass on her pancreas had nearly doubled in size since the endoscopy. "She had also developed jaundice, which strongly suggested pancreatic cancer," Dr. Gervasoni says. For any hope of survival, the pancreas had to be surgically removed.
But all of Baker's previous abdominal surgeries made this a daunting challenge. Under normal circumstances, surgeons perform an operation known as a pancreaticoduodenectomy, also called the Whipple procedure. It involves removing the head and sometimes the body of the pancreas. Parts of the stomach and small intestine, some lymph nodes, the gallbladder and part of the common bile duct also are removed, and the remaining bile duct is attached to the small intestine so that bile from the liver can continue to enter the small intestine. Even under normal circumstances it is a very complex operation with a relatively high risk of complications that may even be fatal.
But Baker's circumstances were far from normal. "The Whipple is well known, but the medical literature includes fewer than five descriptions of it in a patient who has had gastric bypass surgery," Dr. Gervasoni says. In bypass surgery, a small stomach pouch is created and then linked to the small intestines, bypassing the rest of the stomach and large intestines. It in essence rearranges the digestive organs. And because Baker had needed that surgery revised, along with all her other abdominal surgeries, "there was so much scar tissue around the old stomach, I couldn't get to the pancreas," Dr. Gervasoni says.
As if that wasn't enough, Baker also had cirrhosis of the liver from her hepatitis. "So if there was too much cutting, she could bleed to death," he adds.
"Dr. Gervasoni pulled no punches with me," Baker says. "he told me he needed some time to figure out how to do this. But I could feel he was confident enough to take me on. I felt accepted by him. He wasn't like the other doctor, who blew me off." he assembled a team that included Charles Franco, M.D., a vascular and general surgeon, chief surgical resident John Theodoropoulos, M.D., Dr. Kastuar, nurse and team coordinator Rosemary Roche, physician assistant Jennifer Battiato and several other nurses and physician assistants.
"This was going to be the most difficult procedure i had ever done, and i knew that going in," says Fr. Gervasoni. "We all knew it and did quite a bit of planning. we are a team, and we needed a team approach to tackle this case." as they were nearing the surgery date, Baker developed pneumonia and spent a week in the hospital battling that. once her lungs cleared, she was taken into surgery on March 30, 2011.
The operation lasted 10 hours. "This was probably the most difficult whipple procedure anyone will ever do," says Dr. Gervasoni. "It took three hours just to get to the pancreas because of all the scar tissue." gaining access to the pancreas also required him to remove part of the intestine. He and his partners removed half of the pancreas and the other nearby organs that were still there, but left the old stomach in place because scarring made it too dangerous to remove. They then had to reroute her digestive tract and place a drain in her liver, which Dr. Gervasoni describes as "rock-hard and cirrhotic." Thanks to the team's surgical skill and precise care, Baker survived the surgery. "The hospital staff was excited for me after the operation," Baker says. "I had no jaundice and had beautiful coloring back. Dr. Gervasoni gave me the biggest hug."
But she was slow to heal. She spent a total of 38 days in the hospital recovering. and she is not out of the woods yet. Pathology of the tumor revealed it was stage 3 cancer. She is currently undergoing chemotherapy, and although Dr. Gervasoni reports that "there is no evidence of disease right now," pancreatic cancer is particularly dangerous. Baker will continue to see the doctor every three months for two years. "We follow our patients for the rest of their lives," Dr. Gervasoni says.
He believes that Baker was fortunate to find Saint Peter's University hospital. "You don't have to go to New york or Philly," he says. "We have experienced surgeons who can take care of complex upper gi cancers. She received really personal, individualized cancer care here. Our team was available to her 24/7. It's a well-oiled machine with a homey feeling." Dr. Gervasoni is submitting a paper on this case to surgical journals. He believes it's the first time a patient has undergone the whipple procedure after both open gastric bypass surgery and later revision. "It's never been done before," he says.