Saved by Surgery
Days after starting her new job, a receptionist undergoes brain and lung procedures for cancer.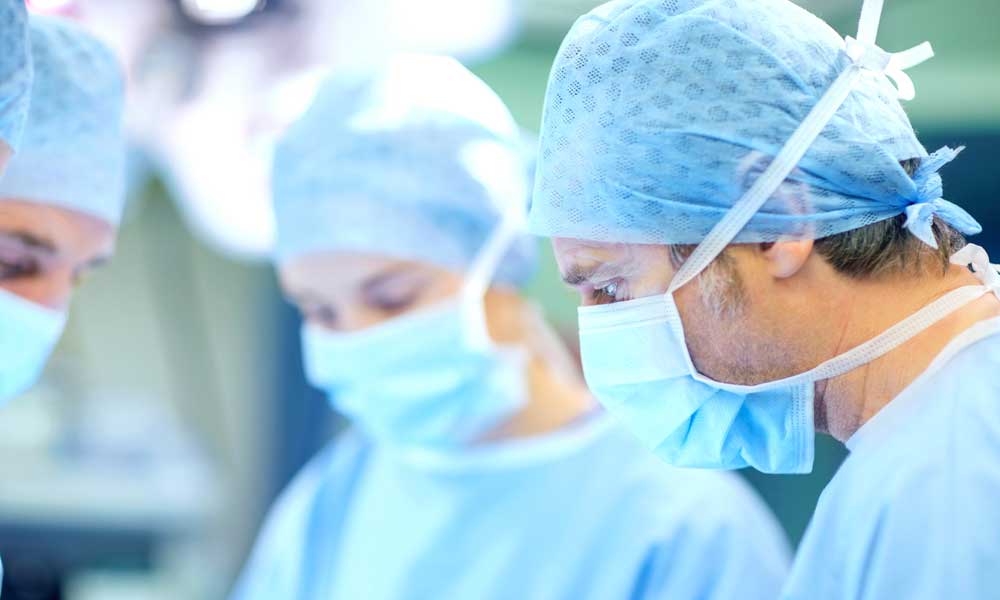 Cheryl D'Aries got a diagnosis wrong, but who can really blame her? She was only a brand new hospital receptionist, and the patient was herself.
Recently hired, East Hanover resident D'Aries, 54, attended a new employees' orientation at Saint Barnabas Medical Center last September and happened to sit next to new President and CEO Stephen P. Zieniewicz. The new director of thoracic surgery for Barnabas Health, Subroto Paul, M.D., was there too. She says she left the session "feeling really good about being part of Saint Barnabas."
But she wasn't feeling so well—physically—a few days later. On Sept. 26, she began the day "just a little off." Driving to work, she pulled over to call her husband to tell him something was wrong and discovered she couldn't talk. "He asked if I was OK, and all I could get out was 'No!'" she says. She drove herself to her office at the medical center and signaled to her co-workers to bring her a pen and paper. "I wrote S-T-R—," she says. "I thought I was having a stroke." Doctors in her office rushed to her aid and called 9-1-1. She doesn't remember the next two days.
It wasn't a stroke. Tests soon revealed that her symptoms were caused instead by a malignant tumor in her brain that had traveled from a primary tumor in her lung, perhaps related to her history of smoking. Following treatment at Saint Barnabas, she is feeling much better.
Because D'Aries' brain tumor was solitary, she was a good candidate for surgery, says Otakar R. Hubschmann, M.D., chief of neurosurgery. It did worry him that the tumor was in an area of the brain responsible for speech and movement, but new techniques, some of which were developed at Saint Barnabas, improved her chances of avoiding long-term disability.
Using state-of-the-art, real-time magnetic resonance imaging (MRI)-based frameless stereotaxic neuronavigation, Dr. Hubschmann and his team were able to precisely pinpoint the lesion's location. "A computer creates a 3D-image of where the lesion is, and we then measure several distances along the curve of the skull to find the exact spot," he explains. This allows him to make a small opening in the skull. He then makes a tiny, 1-centimeter (less than ½-inch) incision in the brain itself, minimizing damage to surrounding tissue. An ultrasonic aspirator is inserted into the brain to emulsify and then extract the tumor.
After she awoke, D'Aries learned that she had just had brain surgery. "It was surreal," she says. "But I knew I was in good hands. I had the 'A' team and guardian angels above me and beside me."
Her speech came back quickly, and over the next few weeks follow-up scans and pathology reports continued to show that the surgery had gone well. "I kept getting good news, and I felt great," says D'Aries, who lives with her husband, Michael, 57, a contractor, and has four children ages 17 to 27. "My family yelled at me for doing laundry and cooking when I should have been taking it easy."
She still needed lung surgery. So she walked every day to boost her strength. Three weeks after her brain procedure, she had her lung lesion removed by Dr. Paul—who remembered her from the orientation a month earlier. "She was sitting right next to our new CEO, so I kept seeing her there," he recalls. "What an odd constellation of events to bring her to me as a patient!"
Dr. Paul was able to remove the tumor using a minimally invasive approach that required just three small incisions. She left the hospital the next day. "She was one of the fastest-recovering patients I've ever had," he says.
Now six months removed from the surgeries, she says she feels great and, even though her cancer was Stage 4, her prognosis is excellent. "I still stutter a little when I am excited," she reports, but otherwise she has a lot to be thankful for. She returned to work March 1, and in July she and about two dozen members of her family are taking a vacation in the Dominican Republic to celebrate her good fortune—which began, she believes, when she became an employee and attended that orientation.
"One part of the presentation that day was about how you never know what people are going through, so you should treat everyone with compassion and kindness," she says. "We have to wear our name badge over our heart to represent this idea, and I thought that was great."
The way things turned out, the medical center staff quickly proved that that sentiment was more than just words. "Everyone at Saint Barnabas showed great kindness to me and to my family and friends—I will be forever grateful," says D'Aries. "Now I'll be able to see my daughters walk down the aisle."
To find out more about services available for you or your family at Saint Barnabas Medical Center, please call 888.724.7123 or visit barnabashealth.org/sbmc.