Saving a Leg
A local man's treatment preserves a limb—and a life.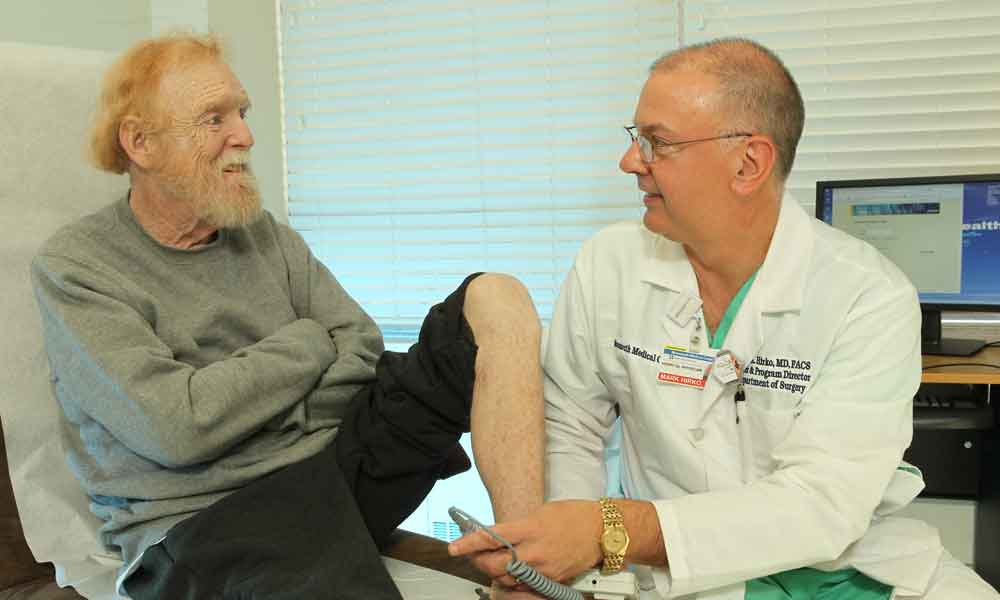 People often think leg pain isn't serious— just sore, tired muscles. But chronically aching legs can signal a dangerous condition: clogged arteries throughout the body, called peripheral arterial disease (PAD).
That was the case with John McDonald, 65, whose legs started hurting three years ago. Eventually the pain got so bad the Hazlet man couldn't walk. When a local senior center offered screenings for leg circulation problems, John went— and learned he had signs of PAD. He was advised to see a vascular expert immediately.
John turned to Monmouth Medical Center's Comprehensive Vascular Center, where he received care that saved both his limb and his life.
"I thought something was wrong with my leg," recalls the retired security-system installer. "When I went to Monmouth Medical Center, I discovered I needed heart work."
Indeed, multiple Monmouth Medical Center specialists worked together to identify blocked arteries in John's left thigh, pelvis and heart.
"If John had waited a few more weeks, the tissue in his leg would have started dying," says Mark Hirko, M.D., medical director of Monmouth's Vascular Center and chairman of the hospital's Department of Surgery. "We would have had to amputate."
But before Dr. Hirko could safely treat the damaged leg, he had to make sure John's heart was healthy. He brought in Monmouth Medical Center cardiologist Peter Farrugia, M.D., who diagnosed blockages in that vital organ.
Working collaboratively, the physicians provided optimal, coordinated treatment for John's multiple health issues. They addressed John's heart disease first, to help prevent a heart attack during the leg repair. When Dr. Farrugia implanted a stent (a metal mesh tube) to hold open an artery in John's heart, he used a non-medicated version. The reason: A medicated stent requires use of blood thinners for up to a year, making leg surgery too risky.
Just eight weeks after the heart procedure, Drs. Hirko and Farrugia teamed up again to operate on John's leg. They cleared a major pelvic blood vessel—the left common iliac artery— and placed a stent in it. Then they created a new artery from one of John's leg veins and implanted it as a bypass for the blocked thigh (femoral) artery.
"From the first test at the hospital, everything went very smoothly," says John, whose legs have been nearly painfree since the operation two months ago. "I'm very happy."
"The staff at Monmouth Medical Center did a great job," adds wife Jacqueline, noting that John is walking and becoming more active each week.
He's even learning to ride an adult tricycle he bought so the couple can pedal around together for fun and exercise. "I always wanted one!" John says.
Plus, Jacqueline has much more peace of mind now. "I'm not worried about John's circulation causing problems," she reports.
To learn more about the Comprehensive Vascular Center at Monmouth Medical Center, call 732.923.5030 or visit barnabashealth.org/mmcvascular.