Screening Young Hearts
Pre-season testing of student athletes for cardiac problems can save lives.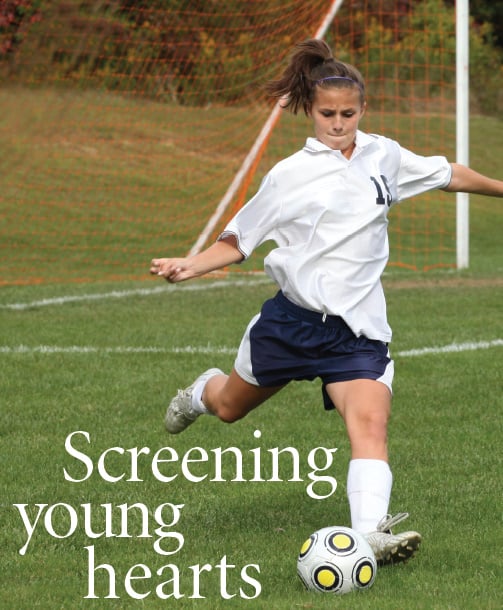 Two years ago, the Middlesex County high school community was rocked when two 17-year-old athletes died while playing sports. One, an Edison High School football star, collapsed during a track practice. The other, a South Brunswick High School senior, died playing pickup basketball. Both were victims of a disorder called hypertrophic cardiomyopathy (HCM), more commonly known as enlarged heart syndrome. This detectable but often symptomless form of cardiovascular disease can cause sudden cardiac arrest and death in seemingly healthy teens and young adults.
With the new school year upon us, this is a good time to remind parents to screen their scholastic athletes for cardiac abnormalities, including HCM. "Beginning in high school and through college, all athletes should be screened, especially those in high-exertion sports like football, basketball, soccer and track," says David E. Jacob, M.D., chief of cardiology at Saint Peter's University Hospital.
Saint Peter's has just entered into a pilot program to screen freshmen athletes at Rutgers University for cardiac abnormalities, Dr. Jacob says. "Screening should be done by a physician qualified to do a thorough cardiovascular exam," he says. This exam includes taking a full health history. "Certain questions need to be asked, such as 'Have you ever had a heart murmur?', 'Has a pediatrician ever said you had a heart condition?' and 'Do you get excessively fatigued, short of breath or feel faint when you exercise?'," he says.
A physical exam should include testing blood pressure in both arms and legs, a heart-murmur check and an electrocardiogram. Testing should be done every year, the doctor says. "Even if problems aren't apparent at age 14, they can show up at 16 or 20," he says.
If screening raises any red flags, the patient should be referred to a cardiologist for a full evaluation. Treatments can vary. Medication is the first line of defense, and if the patient is at a higher risk because of family history or symptoms like fainting, he or she may need a defibrillator implanted. "That's really the only thing that can prevent sudden death in high-risk individuals," says Dr. Jacob.
The key is screening for heart disease before any problems arise. "A thorough health history plus judicious testing by professionals would all but eliminate the risk of sudden death from these kinds of problems," he says.
WHAT IS HYPERTROPHIC CARDIOMYOPATHY?
Hypertrophic cardiomyopathy, or HCM, is a genetic disease in which the cells of the heart muscle grow abnormally thick. This can cause blockages in blood flow or a sudden, severe interruption in the electrical activity of the heart, leading to a massive heart attack that can be fatal. Data collected by the National Center for Catastrophic Sport Injury Research in North Carolina suggests that heart-related problems such as HCM claim the lives of 15 high school athletes in the U.S. each year