Seal of Approval
Thanks to a dedicated effort, a hospital keeps improving health care according to "core measures"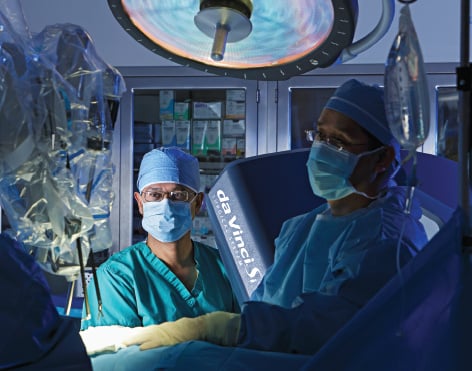 Even the best of organizations can always get better. In fact, it can be argued that what defines excellence is a continual striving for improvement. And that's exactly what Saint Peter's University Hospital was thinking when it created the position of of chief quality officer, a post first held by Anthony Passannante Jr., M.D., vice president and chief medical officer at Saint Peter's University Hospital.
The chief quality officer and his or her staff are charged with raising the bar for all the hospital's procedures, processes and outcomes. And the new position has helped the hospital achieve "significant improvements over the past few years," says Joan Gleason- Scott, assistant vice president for quality and safety. "It's been a great success story." And you don't have to take her word for it. The Joint Commission, the leading accreditor of health care organizations in America, recently named Saint Peter's Healthcare System one of only 620 hospitals in the nation to earn the distinction of "Top Performer on Key Quality Measures" for 2011.
That represents just 18 percent of the more than 3,300 Joint Commission-accredited hospitals reporting core-measures performance data. In addition, Saint Peter's is one of only 14 health care providers in New Jersey— and the lone hospital in the New Brunswick–Somerset County region—to be cited for excellence in 2012 by The Joint Commission, an independent, not-for- profit organization that is the nation's oldest and largest standards-setting and accrediting body in health care. The Joint Commission is also a partner with the U.S. Centers for Medicare and Medicaid.
Saint Peter's was recognized for exemplary performance in the use of "evidence-based care processes closely linked to positive patient outcomes" —medical-speak for following the scientifically proven ways that lead to the best results for patients—in 45 specific areas and measures. "Several required core measures include patient care for heart attack, heart failure, pneumonia and surgical care," says Gleason-Scott. One example of the processes and practices that the Joint Commission measures is delivering discharge instructions for heart-failure patients. "We made a big improvement in this area," says Dr. Passannante.
Enhancements included creating new instruction sheets for patients—including low-literacy instructions for those with limited reading or English skills—and new checklists for staff. Among procedural improvements was an initiative to make sure members of the quality staff are present at discharge. "All these changes are very important for patients because they are a big way to prevent readmission," Dr. Passannante says. "We make sure we communicate why patients were in the hospital and what they need to do to prevent an exacerbation of their illness. We also established a 'transitions in care' clinic for patients to be seen after discharge, to reinforce their education and ensure that they have the proper medications and follow-up appointments."
Hospital staffers also worked harder to include family members and to reach out to nursing homes and other facilities to incorporate them in the discharge planning process. "We really looked outside the hospital boundaries and expanded into the community," Gleason-Scott says. And all these changes have resulted in lower readmission rates, she reports. Of course, the credit for this success really goes to the "boots on the ground." "We are really proud of our nurses, who work with the doctors to improve outcomes, particularly with cardiac patients," she says. "The Joint Commission award is a celebration of our staff's hard work and our ministry here at Saint Peter's."
"To achieve 100 percent compliance in all these measures shows our commitment to our patients," says Dr. Passannante. The award is "an outward manifestation of our pledge to continually improve quality and put the resources behind that. When we do this as collaborative team, it results in improved outcomes."
Q and A:
What is the "Top Performers on Key Quality Measures" program?
It recognizes accredited hospitals that attain excellence in performance judged by accountability measures. Recognition in the program is based on data reported to The Joint Commission during the previous calendar year. The data report on evidence-based clinical processes that are shown to be the best treatments for certain conditions, including heart attack, heart failure, pneumonia, surgical care, children's asthma care, inpatient psychiatric services, venous thromboembolism (VTE) and stroke.
Why did the Joint Commission launch this program?
To help hospitals achieve the goal of excellent care for every patient, the Joint Commission has undertaken a multifaceted accountability measures initiative that seeks to enhance patient care by helping hospitals improve their performance on key measures and identify target areas for improvement. The Joint Commission launched this initiative to honor those hospitals that consistently demonstrate excellent performance on evidence-based process-of-care measures. This program is intended to encourage hospitals to consistently improve their performance on accountability measures by publicly recognizing those that ultimately achieve excellence in this arena.
When did "Top Performers" begin?
The program was launched in September 2011. Recognition of selected institutions occurs in the fall of each year and coincides with the publication of The Joint Commission's annual report titled Improving America's Hospitals.
Source: The Joint Commission
Related Read: The New World of Women's Health Care