See a Champion Crowned
FOR YOUR NEXT VACATION, TURN OFF THE TV, PACK YOUR BAGS AND PREPARE TO WITNESS SPORTS HISTORY—LIVE.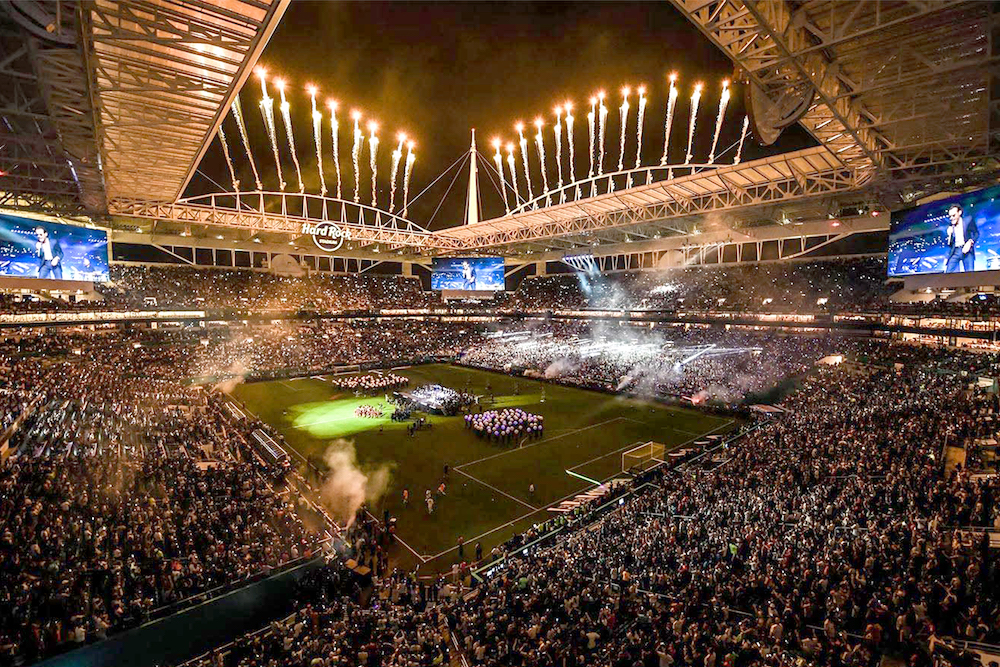 The winning of a championship in sports is an event of peak excitement and emotion— whether or not your rooting is victorious. And while your usual perch for observing such moments may be the living room sofa in front of your television, think how much more exciting it would be if you're actually there. We won't lie—tickets for an up-close-and-personal view of the most thrilling finales in sports can be pricey. But wouldn't a trip built around such a spectator high—with all its flags, fouls and "Fore!"s—be something to remember for a lifetime? Here are five ideas:
SUPER BOWL LIV
Miami, Florida; February 2020
Skip the gimmicky commercials and pack your bathing suit, because next year's Super Bowl will take place at Hard Rock Stadium in sunny Miami. Spectators who are looking to unwind before grabbing their seats at the big game can book a stay at the award-winning Acqualina Beachfront Resort, complete with easy access to seaside spa treatments, yacht rentals and scuba-diving lessons. Or, for a truly immersive Super Bowl experience, reserve a room at the Stadium Hotel, just a five-minute drive from the action, where you'll be sure to rub elbows with fellow fans. While in town for the game, check out the "Gridiron Glory" Hall of Fame exhibit to see more than 200 artifacts from NFL history. When you're not tailgating on brats and beers, take advantage of Miami's rich Latin culture with some authentic Cuban grub from Cuban Guys, or try the shrimp-jeweled paella from Estefan Kitchen (yes, it's owned by Gloria and Emilio Estefan) on a night when you feel a little fancier. Game-day tickets and upgrade packages can be purchased at tickets.nflonlocation.com.

THE MASTERS GOLF TOURNAMENT
Augusta, Georgia; April 2020
Rub elbows with the greatest golfers in the country when you book a trip down to the annual Masters Tournament. Explore the historic Augusta National Golf Club, where legendary players have congregated for 85 years for the championship tournament. Book a stay at the city's star hotel, The Partridge Inn, where Southern eclectic meets upscale luxury. The hotel even offers a package for Masters Week, including tickets for the entire five-day championship tournament, premium bar and food service and shuttles to and from Augusta National. While you're in town, check out the Rock Fore! Dough charity concert sponsored by the Masters, where notable artists like Lady Antebellum and Cheap Trick have headlined in past years. For some golfing of your own, putt at the nearby greens at the Forest Hills Golf Club. A real hole-in-one meal beckons with the fresh Georgia seafood at Beamie's at the River, where you'll dine on local oysters and crawfish right next to the scenic Savannah. Tickets for the Masters Tournament can be obtained by submitting an application for daily match attendance at tickets.masters.com.

DAYTONA 500
Daytona Beach, Florida; February 2020
No need to wait for a waving checkered flag to book a trip down to Daytona Beach for the 62nd annual Daytona 500. Surround yourself with autographed memorabilia from champions past when you stay at The Daytona, a boutique Marriott resort that has been specially designed to celebrate the car culture of the nation's biggest auto racing event. Prepare for race day on Feb. 16 with programs like the NASCAR "Rookie Experience," in which you can take the wheel of an actual stock car on the Daytona International Speedway. For even more auto-obsessed visitors, the Motorsports Hall of Fame is a must-see, with cars and cycles from its 250 inducted drivers on display as well as vintage gas tanks and helmets. After the final stretch, head over to Stonewood Grill and Tavern, Daytona's local chophouse and sports bar, for a buttery filet mignon and pale ale to wash it down. Tickets for the weekend and events are available at daytonainternationalspeedway.com.

KENTUCKY DERBY
Louisville, Kentucky; May 2020
Springtime, derby hats and mint juleps can only mean one thing: The Kentucky Derby is coming around again! Attend the 145th running of this famous horse race, and it just might be the social event of a lifetime. Book your stay at the Omni Louisville Hotel, just 15 minutes from the big race at the Churchill Downs racetrack—it features everything from an underground bowling alley/speakeasy to Mokara Spa, where facial treatments can ensure you have a natural glow in that Kentucky sunshine. Before the race, be sure to find a fascinator that shows off your unique style from Hat Girls in downtown Louisville. For a night out, secure your spot at the Fillies and Lilies Party, the annual exclusive gala that kicks off Saturday's race where high society and celebrities alike enjoy five-star cuisine and live music from such acts as Martina McBride and LeAnn Rimes. During your stay, check out local hangouts like Griff's, a tap house that serves up fried pickles, catfish and a mean "hot brown"—an open-faced turkey sandwich smothered in melted cheese and brown gravy. Tickets for derby events can be purchased at kentuckyderby.com/2020.

U.S. OPEN TENNIS CHAMPIONSHIPS
Queens, New York; August–September 2020
The latest of these events is the one right nearby: tennis' annual U.S. Open, held at Billie Jean King National Tennis Center in Queens. In between matches, take advantage of the programs the United States Tennis Association offers on the outskirts of the courts, such as the Kids' Zone play area and free live concerts. Stop by the "Fan Week Center Stage," where racquet- wielding champs like Rafael Nadal and Serena Williams may pop in for surprise appearances and autographs. Stay close to the action when you retire at The One Boutique Hotel in Flushing, where the high-end rooftop bar and neighboring spa facilities will give you all the right big-city vibes. If you've worked up an appetite from all of that volleying, have no fear; Queens is the Empire State's most culturally diverse borough, and its food scene lives up to that label. Check out the cuisine in Flushing's own Chinatown, with trendy treats such as steamed pork dumplings from Dumpling Galaxy and refreshing bubble tea from CoCo Fresh Tea. Tickets and "experience" packages are available at usopen.org.
A SPORT WHERE PATIENCE PAYS OFF—EVENTUALLY
As Monmouth Health & Life went to press, host cities for this fall's baseball World Series weren't known. The Cubs, who won baseball's crown in 2016, have been eliminated but they're already thinking next year—and you should too. The Chicago Cubs' (mlb.com/cubs) Wrigley Field anchors a charming neighborhood called Wrigleyville, which well rewards an autumn visit. Dine with a view of Wrigley at Dutch and Doc's, or venture a few blocks south to Belmont Avenue and browse in the quirky Gallery Bookstore, taste the famed cinnamon rolls at Ann Sather Restaurant or catch an improv act at The Annoyance Theatre & Bar. And if the Cubbies don't make the fall classic next year, be patient and eat healthy—the team's last wait to get into the Series was 71 years long.