Shaina Felsentein, D.M.D. • Jay Felsentein, D.D.S.
Kids Dental Kare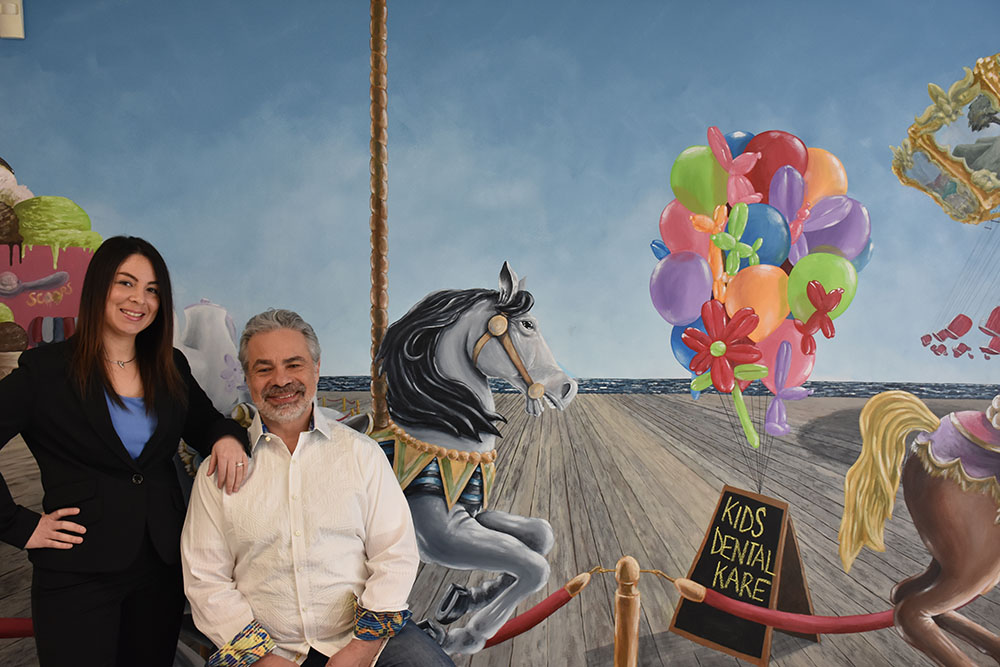 NOT EVERY DENTIST can work with children. As with great teachers, it takes a special type of dentist to be able to connect with kids, in addition to training three more years after dental school to make sure children are appropriately treated. It's these qualities that Dr. Jay Felsenstein and daughter Dr. Shaina Felsenstein have that led them to work together at Kids Dental Kare, founded by Dr. Jay, and voted by peers as a Top Dentist. "While I'm humbled for being nominated as a Top NJ Dentist, my authenticity, sincerity and devotion are some of the top strengths that have landed me here," says Dr. Shaina.
Choosing pediatric dentistry came naturally to Dr. Shaina. She grew up in and around her father's pediatric dental office, taking cues from his quality dentistry and patient care and her mother's notable ability to make a patient and their family feel at home. Today, the well-being of their patients continues to be most important to both dentists. They're able to wear many hats as pediatric dentists, from being as fun-loving, gentle and approachable as possible for children, while keeping a skilled, knowledgeable and reliable demeanor for their caretakers.
"I found the greatest reward is making little ones feel comfortable in a situation that can often seem threatening and frightening," says Dr. Jay, whose talents also include the ability to make children's noses squeak. Included in the many ways they make children relaxed is the office environment, where team members are busy making balloon animals and kids are busy collecting prizes and playing video games in the reception area.
Kids can enjoy a pain-free treatment thanks to a current product, called Icon. "Icon is a pain-free topical liquid applied to teeth which helps change the appearance of unwanted white spots and discolored areas," Dr. Shaina says. It's one of the many ways this duo helps their young patients grow up with a healthy smile that will last a lifetime.
Dr. Jay Felsenstein, known as "Dr. Jay," grew up in Brooklyn, New York. He graduated from Columbia University with a BA degree in Biology and graduated from the State University of New York School of Dental Medicine at Stony Brook. He received his specialty training in Pediatric Dentistry at the Eastman Dental Center in Rochester, New York. He's a member of the American Dental Association, New Jersey Dental Association, American Academy of Pediatric Dentistry and New Jersey Academy of Pediatric Dentistry.
Dr. Shaina Felsenstein, known as "Dr. Shaina," is a board certified pediatric dentist. She's an active member in the American Academy of Pediatric Dentistry, New Jersey Academy of Pediatric Dentistry, American Dental Association and the New Jersey Dental Association. She keeps up to date with current dental topics to provide optimal patient care, striving to make the dental experience one of ease for both children and their parents. She attended Nova Southeastern University College of Dental Medicine. Dr. Shaina completed her pediatric specialty training at Long Island Jewish Cohen Children's Hospital, where she was appointed chief resident in her last year and developed the specialized skills needed to treat children individually.
4521 Route 9, Howell, NJ 07731 • 732.905.0808 • kdkinhowell.com