Shaping the Future of Breast Care
Today's clinical trials help the next generation of cancer survivors.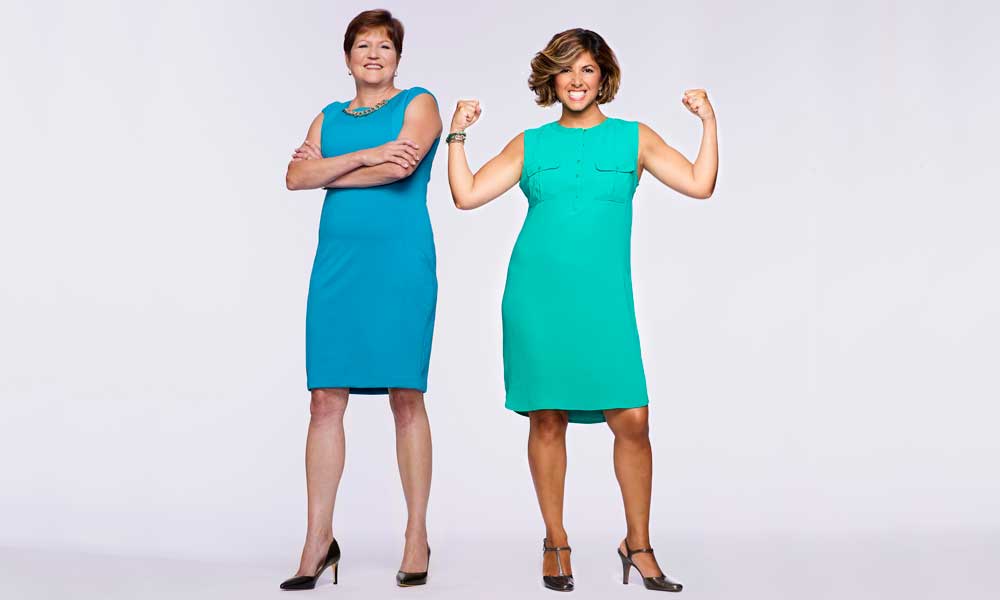 Although October is designated as Breast Cancer Awareness Month, we cannot forget about our health the other 11 months of the year. Breast cancer develops over time and can be present before any symptoms appear or the tumor can be detected by a physical exam. Establishing a pattern of annual mammography, ongoing physical exams by your physician and being aware of any changes in your breasts are the best ways to take an active role in maintaining good breast health.
Saint Barnabas Medical Center has one of the largest breast centers in the region at the Barnabas Health Ambulatory Care Center, caring for thousands of women every month. What follow are the stories of women who have received their care at Saint Barnabas Medical Center. Each woman in this article chose to participate in a clinical research trial at Saint Barnabas Medical Center. Read their stories and learn why they chose to help future generations of survivors.
Don't Skip Your Check-up
Jacqueline Trzyna-Ciekurs
Jacqueline Trzyna-Ciekurs "I was the healthiest person you would ever meet," says Jacqueline Trzyna-Ciekurs (left). She was extremely physically active and watched her diet. Because she felt she took great physical care of herself, she admittedly neglected her mammogram for several years. Then while on a skiing trip, she felt a burning sensation in her breast and discovered a lump. Having a physical for her new job, she mentioned the lump to her doctor and was sent for additional testing. She was diagnosed with cancer, which required a mastectomy followed by chemotherapy and reconstruction.
But soon after her treatment and just 10 months after her diagnosis, Jacqueline completed her first 5K run. It was an emotional milestone and an accomplishment she cherishes. "As part of my treatment, I chose to participate in a clinical trial because I wanted to lessen any chance of this recurring. I hope it never returns, but I want to hedge my bets and do all that I can do to ensure that it won't come back," she explains.
Today, she is back to normal and as active as ever. "I am certainly more conscious about eating fresher, more wholesome food and doing all that I can do to avoid cancer," she explains. "I cannot stress enough how important it is to get your mammogram. And if you think something is not right, you need to get it checked out."
Trust Your Doctors
Nicky Sandels
Though there was no history of breast cancer in her family, Nicky Sandels (right) felt a lump in her breast at age 41 and she went in for her first mammogram soon after. The radiologist knew from experience that the lump was suspicious, and Nicky was immediately sent for a biopsy, which confirmed cancer. After her surgery, she required chemotherapy and radiation. She joined a clinical trial because she felt more secure with the additional monitoring that comes with being part of the trial. To this day, not knowing whether she received the drug or a placebo, she feels there wasn't any downside to her participation.
A mother of three and a personal chef, Nicky has learned a lot from her cancer journey. "Trust your medical team and be wary of the Internet," she says. "There is so much information that can be overwhelming and misleading. Don't let it distract you from your healing."
Don't be Afraid to Ask for Help
Andrea Adewale-Adebowale
Andrea Adewale-Adebowale never missed her annual mammogram. Even though she did not have any symptoms, her mammogram detected abnormalities and she was sent for an ultrasound—which proved inconclusive. After getting a breast MRI , a small lump was found, and Andrea was presented with her options. As a mother of five and as a new grandmother, she did not have time to be sick, so she opted for a lumpectomy and radiation. But she had a challenging time tolerating her treatment and faced a number of struggles and complications. As a result, she had to take a leave from work and started to have feelings of depression. The psychosocial team in The Cancer Center at Saint Barnabas recognized she was struggling and intervened by providing her with tremendous support and helping her move forward to a more positive place.
Andrea agreed to participate in a clinical trial at The Cancer Center in hopes researchers would discover something about cancer that could ultimately help other people.
Andrea, now 49, is back to her high-pressured job and loving every minute of life. Her advice to others is to not be afraid to trust your family and take help. "I wouldn't wish cancer on anyone. However, it was an experience that I wouldn't trade for what it has done for me and my family," she says.
Mammograms Save Lives!
Schedule your appointment by calling 973.322.7888. Learn more at pinkcrusade.org.
To find out more about The Breast Center at the Barnabas Health Ambulatory Care Center, please call 973.322.7888 OR Visit barnabashealth.org/sbmc.