Sharing Strength and Confidence
Peloton's Robin Arzón delivers inspirational keynote speech at Monmouth Medical Center's Power of Pink Luncheon.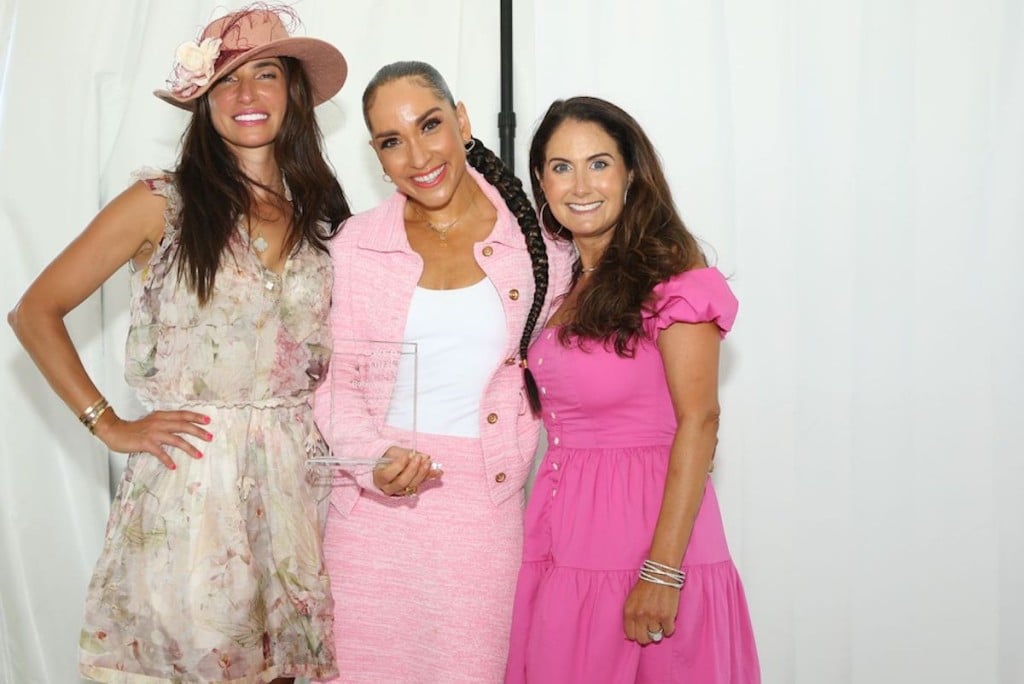 A capacity audience at the July 21st Power of Pink Luncheon, a premier fund-raising luncheon for Cancer Services at Monmouth Medical Center (MMC), welcomed keynote speaker, Robin Arzón, Vice President of Fitness Programming at Peloton. Arzón provided a rousing address, stressing that "movement is medicine" and encouraging everyone to "focus on what you can do rather than any limitations."
"Instead of calling someone out, call them in, call someone in to this community," she said in concluding her remarks. "And let us continue to ask ourselves these three questions: 'What is my why?', 'Why not me?' and 'What decision would we make if we were twice as strong and twice as confident?' When we are able to invoke the heroism in ourselves, our communities are unstoppable."
An avid ultra-marathon runner, best-selling author and global fitness leader, Arzón's life mission is to redefine, reform and rethink possibility through movement. In 2020, she was named one of the most influential people on Fortune magazine's 40 Under 40 list, and in 2021, she became the first-ever recipient of Glamour's "Daring to Disrupt" Award.
"The RWJBarnabas Health mission 'Let's Be Healthy Together' fits perfectly with Robin's joy of movement and its transformative powers," says Caitlin Olson, Regional Vice President of Development for MMC and its southern campus. "Her powerful and positive message is in keeping with our healthcare system's mission to ensure people of all ages have the means and ability to live healthier, more fulfilling lives."
The luncheon, presented by dedicated MMC Foundation community leaders who make up the Leon Hess Cancer Center Council, was held at the Rumson waterfront home of Mary and John M. Kiely. John M. Kiely is the CEO of the Kiely Family of Companies, Tinton Falls.
The event was co-chaired by Sima Yakoby Epstein, DMD, and Debbie Menkowitz, along with boutique co-chairs Jessica Buchner and Michelle Kutsak. Providing welcoming remarks was New Jersey First Lady Tammy Murphy, a past chair of the MMC Foundation Board of Trustees. One of the Foundation's flagship events, the Power of Pink Luncheon raises funds to enhance the care delivered to oncology patients at MMC, and its dedicated volunteers have raised more than $6,000,000 to benefit the hospital's Leon Hess Cancer Center. This year, proceeds from the event will benefit the development of innovative cancer services at the new Vogel Medical Campus in Tinton Falls.
"The Council has been a wonderful partner and I want to assure you that Monmouth Medical Center is here with you, every step of the way," says Eric Carney, President & CEO of MMC and Monmouth Medical Center Southern Campus. "The resources you help provide allow us to move forward as an institution and expand in the region, while at the same time, making sure each patient receives the personalized, individual care they need. As we take this journey together, we are so grateful to those who step up and lead the way."
Also on the program, two respected RWJBarnabas Health Southern Region oncology physician experts—board-certified internal medicine physician and medical oncologist, Seth D. Cohen, M.D., Regional Director of Oncology Services for the RWJBarnabas Health Southern Region, and Richard S. Lazzaro, M.D., FACS, Southern Region Chief of Thoracic Surgery—discussed the new regional thoracic oncology program. In partnership with Rutgers Cancer Institute of New Jersey, the state's only NCI-Designated Comprehensive Cancer Center, the new program is bringing state-of-the-art treatment to patients with lung cancer and other thoracic diseases.
---
To learn more about how you can support Monmouth Medical Center, visit rwjbh.org/monmouth-medical-center/giving.