She's in Charge
A little silver woman selects a top-notch team from Monmouth Medical Center to join her in the battle against cancer.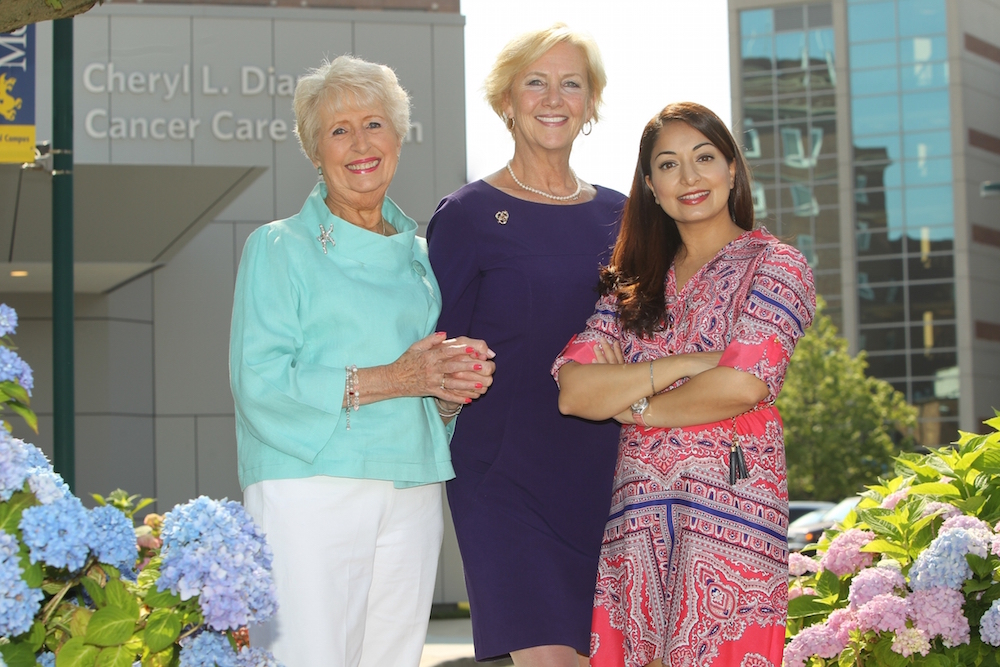 To describe Jean as highly accomplished is an understatement. As the founder of WOMEN Unlimited Inc., an international business that she recently sold to two mentees, and an author of women's leadership business books, she is accustomed to taking risks, overcoming obstacles and helping women cultivate leadership excellence.
But Jean's ability to successfully tackle life's challenges is not limited to the business world. The 78-year-old Little Silver resident recalls bragging to others how she never experienced any health issues, despite constantly being on the run. Over the years, she maintained her good health by regularly scheduling preventive doctor's appointments, undergoing annual mammograms and more.
Despite her efforts, Jean's world changed suddenly after a routine mammogram this past fall. The results came back clear, but just three months later, she experienced soreness in her left breast. On the advice of a friend, Jean visited her gynecologist, who believed a cyst was the source of the pain and ordered a 3D mammogram. After the report came back as a "suspicious distortion," Jean met with Cynthia Barone, D.O., a board-certified radiologist at the Jacqueline M. Wilentz Comprehensive Breast Center at Monmouth Medical Center, to undergo a biopsy for further testing.
As Dr. Barone wasn't satisfied with the image at the time of Jean's planned biopsy, she asked her colleague, Manpreet Kohli, M.D., a fellowship-trained, board-certified breast surgeon with Barnabas Health Medical Group and Monmouth Medical Center, to weigh in. Dr. Kohli noticed that Jean had very subtle nipple thickening and vague asymmetrical retraction of the breast. "There wasn't an obvious mass in the breast, but we decided to perform a biopsy of the thickened tissue that felt abnormal," says Dr. Kohli.
The Diagnosis We Dread
The results of the biopsy revealed a lobular carcinoma—a less common type of cancer found in only 20 percent of breast cancers. "This type of cancer is notorious for being difficult to detect with breast imaging and occurring in multiple locations throughout the breast, as well as possibly being present on the other side," says Dr. Kohli. "In these cases, it can be very difficult to determine the extent of the disease prior to surgery."
Jean notes how Dr. Kohli spent time with her and answered all of her questions. "Dr. Kohli was truly amazing," says Jean. From the very beginning, Jean felt embraced by a warm and supportive team—not only her radiologist and surgeon, but also her oncology nurse navigator, social worker and the breast center staff.
Taking charge of her health, Jean meticulously interviewed many doctors to select each member of her health care team. After consulting with her doctors, Jean decided to undergo a mastectomy, followed by reconstruction at Monmouth Medical Center. During the surgery, it was evident that the cancer was more extensive than originally thought. Pathology results showed stage III cancer, with a significant number of lymph nodes involved.
"It was clear that in the short time between our initial encounter and the time of surgery the cancer had already progressed significantly; with what I was seeing in the operating room, I knew immediately there would be a higher chance of needing chemotherapy and radiation," says Dr. Kohli. "We knew with the breast reconstruction initially planned that issues could arise, potentially interfering with the important post-operative treatments Jean required. Therefore, a collaborative decision was made intraoperatively with the plastic surgeon to hold off on breast reconstruction. We discussed Jean's priorities—it was an obvious agreement that cancer treatments took precedence over all else."
Dr. Kohli notes that as a comprehensive breast center, the Jaqueline M. Wilentz Comprehensive Breast Center at Monmouth Medical Center offers advanced breast surgery—from breast conservation to mastectomy with reconstruction—by a panel of board-certified plastic and reconstructive surgeons tailored to each patient's specific needs and ranges. Jean says that although he didn't perform the reconstructive surgery after all, the surgeon still called her at home to make sure she was doing well after surgery and to talk about the potential for reconstruction down the road.
Her Dream Team
Throughout this process, Jean has come to know the team of doctors like family. She describes Dr. Kohli as her BFF—breast friend forever. "Dr. Kohli and Erin Dooley, the oncology breast nurse navigator, were wonderful, caring and helpful to my family and me. I'm unbelievably impressed with the whole Wilentz Center, the level of care, and, in particular, Dr. Kohli and Erin—my guardian angels," says Jean, who also points to the unwavering support of her sister, two sons and many friends, along with her church, St. John's of Little Silver, which she describes as her "cheering section" for the "Jean Dream Team."
Knowing that her team's intentions are to have her beat cancer without residual frailty or disability, Jean continued her fight with a tailor-made treatment plan with medical oncology and radiation oncology. Jean also gives high praises to Monmouth Medical Center radiation oncologist Sang Sim, M.D., and her medical oncologist Susan Greenberg, M.D., who worked with her on the plan for her postoperative care.
"Our goal was to allow Jean to continue to enjoy life and travel the world as she had previously planned," says Dr. Kohli.
Living Life Cancer-Free
Jean is currently cancer-free but will be monitored closely by her doctors. Now, Jean's travel plans are coming to fruition. In celebration of her good health, Jean and her sister have booked a trip to Paris and London to mark the one-year anniversary of her surgery.
Jacqueline M. Wilentz
Comprehensive Breast Center named one of America's best
For the fourth year in a row, the Jacqueline M. Wilentz Comprehensive Breast Center at Monmouth Medical Center has been named one of America's Best Breast Centers by the Women's Choice Award, America's trusted referral source for the best in health care. The award signifies that Monmouth Medical Center is in the top 7 percent of 4,789 U.S. hospitals offering breast care services.
Monmouth Medical Center is the only hospital in Monmouth County to have earned the award for four consecutive years, and one of only eight in the state to have earned that same distinction.
"We empower women to make educated, confident decisions about their health," says Delia Passi, founder and CEO of the Women's Choice Award. "By identifying America's Best Breast Centers, we're helping women find the top accredited centers in their communities."
The list of 352 award winners, including the Jacqueline M. Wilentz Comprehensive Breast Center, represents breast centers that have met the highest standards of breast care in the nation as set by the National Accreditation Program for Breast Centers (NAPBC) and carry the Breast Imaging Center of Excellence (BICOE) seal from the American College of Radiology.
The Jacqueline M. Wilentz Comprehensive Breast Center recently received an additional marker of quality: It achieved another three-year reaccreditation from NAPBC, with the surveyor commenting on "an overall excellent program with dedicated staff delivering robust patientcentered care." The Wilentz Center is the only NAPBC-accredited program in Monmouth County and the first to be accredited in Ocean County.
The Wilentz Center was also the first in New Jersey to introduce the Affirm™ prone biopsy system, the world's first and only dedicated prone biopsy system to offer both 2D and 3D™ imaging-guided breast biopsies that treats breast cancer in the prone position, or face down. The addition of this innovative technology continues to make Monmouth Medical Center the leader in breast care.
"Once again, the Jacqueline M. Wilentz Comprehensive Breast Center has proved that compassionate, multidisciplinary care from our top physicians, combined with state-of-the-art technology and cancer treatment, distinguishes us in health care," says Bill Arnold, president and CEO of Monmouth Medical Center. "We are honored to accept the designation of America's Best Breast Center."
For more information about the 2017 America's Best Breast Centers, visit womenschoiceaward.com/awarded/healthcare/.
To learn about the services of the Jacqueline M. Wilentz comprehensive breast center, visit monmouthwilentzbreastcenter.com.
To share this article on your Facebook page, visit monmouthhealthandlife.com.