Shining Knights
Rutgers salutes two Brick brothers as they battle, raise awareness for cystic fibrosis.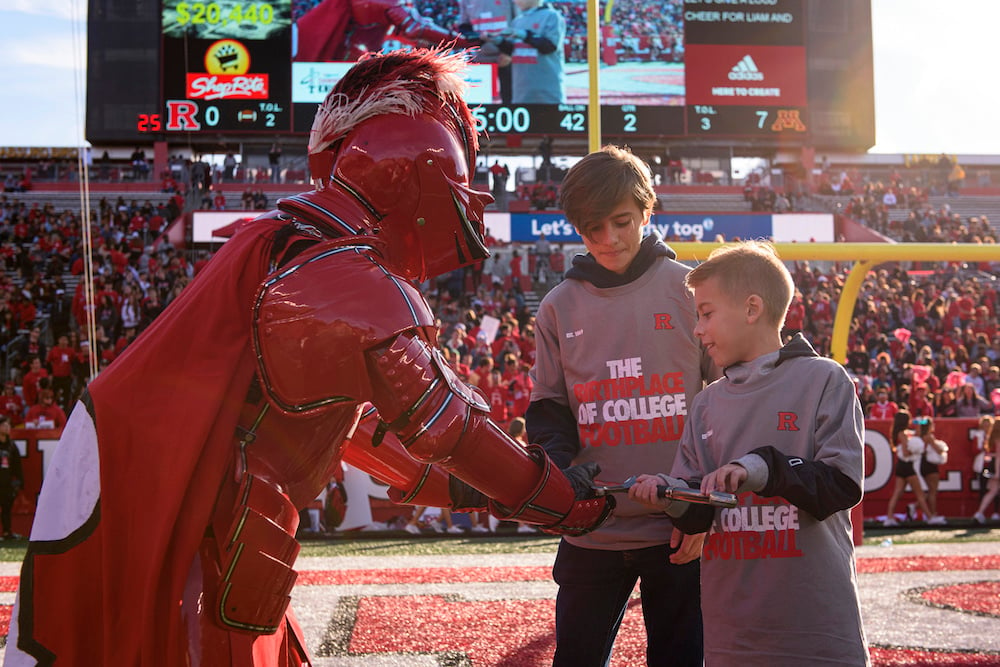 Rutgers University and RWJBarnabas Health celebrated the Harm brothers of Brick, saluting them as "Shining Knights" of the Scarlet Knights' football game against University of Minnesota on Oct. 19. Brothers Liam, 15, and Nolan, 11, both of whom are battling cystic fibrosis, were honored during the first quarter intermission at SHI Stadium.
The Shining Knight of the Game is an initiative designed to lift the spirits and shine the spotlight on a pediatric patient, teenager or young adult enduring various healthcare challenges. Liam and Nolan were celebrated for their bravery and strength to fi ght, while raising awareness for, cystic fibrosis.
At 9 days old, both Liam and Nolan were each diagnosed with cystic fibrosis, a progressive, genetic disease that causes persistent lung infections and limits the ability to breathe over time. They have been patients of Robert Zanni, M.D., chief of pediatric pulmonology and medical director of the Cystic Fibrosis Center at The Unterberg Children's Hospital at Monmouth Medical Center (MMC). The Harm boys visit the CF clinical care team every few months for cutting-edge treatment to complement their daily breathing and digestive treatments.
Liam and Nolan do not let the disease slow them down, as both boys are very active, which helps to maintain lung function. Nolan plays travel soccer year-round and is the point guard for his school's basketball team. Through Make-A-Wish, he recently experienced a day with YouTube sensation Dude Perfect. Liam is a runner at Christian Brothers Academy.
For their Shining Knight of the Game celebration, Liam and Nolan were met in the south end zone by the Scarlet Knight mascot for a special Knighting ceremony. Alongside the Scarlet Knight, Liam and Nolan were saluted, promptly raising a sword in triumph to a rousing ovation from Scarlet Nation.
This initiative further supports RWJBarnabas Health's commitment to the health and well-being of the communities served across New Jersey through treatment and preventative education, screen-ings and much more.
EXPERT CARE FOR CYSTIC FIBROSIS
The Comprehensive Cystic Fibrosis Center at Monmouth Medical Center is the oldest and largest center of its kind in New Jersey. A multidisciplinary team of specialists provides care for both pediatric and adult patients. The center, which is accredited by the Cystic Fibrosis Foundation and is a member of the Foundation's Research Network, offers clinical trials of new therapies. A team of trained research clinicians oversees multiple studies. As a result of its expertise in conducting clinical research, the Center has been named a Therapeutics Development Center by the Cystic Fibrosis Foundation's Therapeutics Development Network. The center is also designated by the State of New Jersey as a referral center for newborn screening.