Shop Local 2012: Best in Fitness and Exercise
Take your business to these independently-owned fitness studios and gyms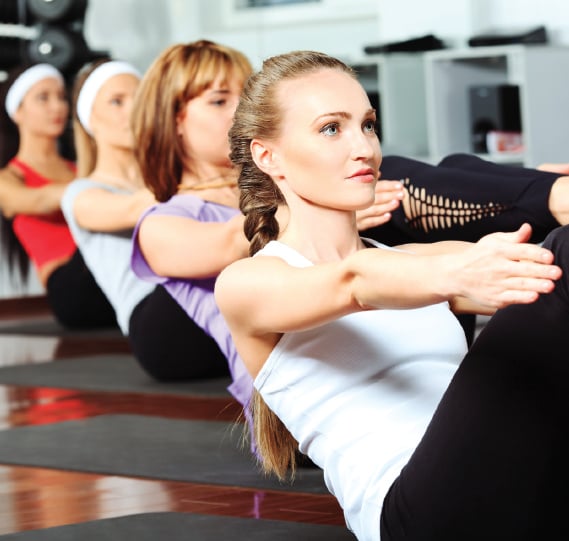 SHOP LOCAL 2012: Best Fitness Studios and Gyms in Morris and Essex Counties
BEST YOGA STUDIOS:
TOP PICK: BAKER STREET YOGA
97A Baker St., Maplewood 973.761.7272 bakerstreetyoga.com
The owners and instructors at this comfortable and welcoming studio radiate their passion for the discipline they practice— vinyasa, a style of yoga that links breath with movement. And the open, loftlike space encourages concentration and relaxation in equal measure. Baker Street also offers restorative and children's yoga and a choice between hot yoga (taught at 98 degrees) and warm yoga (88 to 90 degrees).
GARDEN STATE YOGA
71 Washington St.
Bloomfield
973.680.1400
gardenstateyoga.com
LOTUS YOGA
544 Bloomfield Ave.
Bloomfield
973.783.5060
lotusyogabloomfield.com
460 Washington St.
Newark
973.642.8000
lotusyoganewark.com
MIA YOGA
4 Erie St.
Montclair
973.337.5088
miayogamontclair.com
SHAKTI YOGA & LIVING ARTS
1861 Springfield Ave.
Maplewood
973.763.2288
shaktinj.com
SOUTH MOUNTAIN YOGA
18 South Orange Ave.
South Orange
973.763.4433
southmountainyoga.com
STARSEED
271 Grove Ave.
Building C
Verona
973.783.1036
starseedyoga.com
STUDIO YOGA
2 Green Village Rd.
Madison
973.966.5311
studioyoganj.com
TRANSFORM YOGA
435 Hollywood Ave.
Fair field
973.334.2787
transformyoga.net
YOGA MONTCLAIR
107 Forest St.
Montclair
973.233.9642
yogamontclair.com
BEST GYMS:
TOP PICK: CAN DO FITNESS
750 Morris & Essex Tpk., Short Hills 973.218.9100, candofitness.com
This high-tech gym has tons of top-notch equipment and separate studios set up for spinning, Pilates, boxing and more. And if you're looking for a class, we challenge you not to find it here: Group lessons include body sculpting, core strengthening, cardio dance, boot camp, Zumba, kickboxing, BodyArt, extreme burn and half a dozen different styles of yoga, all taught by highly trained, dedicated pros. You'll also find an extensive selection of workout wear, an appealing shake bar and outpatient rehab services like chiropractic, acupuncture and physical therapy.
THE CHATHAM CLUB
484 Southern Blvd.
Chatham
973.377.1900
chathamclub.com
THE CLUB AT MORRISTOWN
118 Headquar ters Plz.
Morristown
973.644.9590
the-club-at-morristown.com
DFIT
4 Erie St., Montclair
973.337.5088
dfitstudio.com
THE GREATER MORRISTOWN YMCA
79 Horsehill Rd., Cedar Knolls
973.267.0704
morriscenterymca.org
JCC METROWEST
760 Northfield Ave.
West Orange
973.530.3400
jccmetrowest.org
MENDHAM HEALTH & RACQUET CLUB
90 E. Main St., Mendham
973.543.4900
mendhamhealthandracquetclub.com
MONTCLAIR YMCA
25 Park St.
Montclair
973.744.3400
montclairymca.org
MOTION FITNESS CLUB
187 Millburn Ave.
Millburn
973.921.0500
motionfitnessclub.com
WEST ESSEX YMCA
321 S. Livingston Ave.
Livingston
973.992.7500
westessexymca.org
TOP EXERCISE AND PILATES STUDIOS:
TOP PICK: Core Mind & Body
195 Maplewood Ave., Maplewood 973.378.9000, coremindandbody.com
This super-clean, super-comfortable Pilates studio offers small classes in a supportive atmosphere for beginners and experienced students alike. It offers a range of Pilates classes, from the introductory Basic Mat to Intermediate Reformer/Tower, a challenging, fast-paced class for skilled practitioners. And there are great specialty classes, including Cardiolates (a hybrid method combining Pilates with an effective cardiovascular workout), IntenSati (designed to empower students physically and mentally) and pre- and postpartum classes.
The Bar Method
135 Hawkins Pl., Boonton
973.263.2279
mountainlakes.barmethod.com
493 Bloomfield Ave., Montclair
973.783.1227
montclair.barmethod.com
Equilibrium
427 Bloomfield Ave., Montclair
973.744.3555
pilatesequilibrium.com
Fitness 121
5 Becker Farm Rd.
Roseland
973.535.1177
fitness121online.com
Full-Time Fitness
17 Bank St.
Morristown
973.401.9000
full-timefit.com
Longevity Pilates
16 Grove Ave.
Verona
973.632.0830
longevitypilates.com
Mind Over Movement
21 Kings Rd.
Madison
973.520.8888
mindovermovementnj.com
Six Degrees of Wellness
518 Main St.
Boonton
973.265.4441
sixdegrees06.com
The Total Workout
127 Grove St.
Montclair
973.783.2857
totalworkoutmontclair.com