Shop Smart for School
12 tips for buying what your kids need without breaking the bank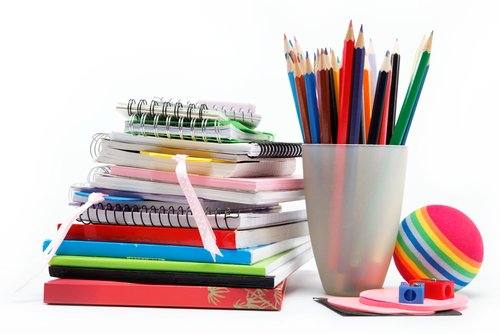 1 Make social media work for you.
Whatever your retailers of choice—Old Navy, Target, Striderite—like 'em on Facebook and follow 'em on Twitter to get discounts. and sign up for their e-newsletters, advises Stephanie Nelson, a.k.a. Coupon Mom (couponmom.com), whose blog has 6 million followers. Do this with shoe brands like New Balance, she says, and "you may get an e-mail coupon for $5 to $15 off a pair!"
2 Turn hand-me-downs into must-haves.
Capitalize on kids' desire to be older. Show them a photo of their big brother or sister wearing the same outfit they're about to get. Suddenly that plaid hoodie will seem way cooler.
3 Ditto with consignment shop finds.
Let the kids know that getting their duds at secondhand shops is totally cool because (1) "recycling" clothing helps the planet; and (2) "vintage" = hip. Bergenmama.com blogger Jennifer Law recommends the green kids' closet (greenkidscloset.com), a traveling consignment shop featuring steep sales that'll save you 50 to 90 percent off the original retail price.
4 Bag Freebies at office supply stores.
Here's how it works: sign up for a loyalty program at Office Depot or Staples. For every purchase you make, you'll earn reward points. Then once a quarter you'll get a gift card in the mail for what you've accumulated. "That's how I stock my business with supplies," says Nelson. "I get free binders and free pens! And at back-to-school time there are lots of deals."
5 Go green with lunches.
Tap into your child's tree-hugging instincts with reusable lunch items too. "I buy reusable sandwich containers, fruit containers, thermoses and water bottles and I invest in lunch boxes so we don't have to paper-bag it every day," says Law. "One investment takes you through a whole year of healthy packed lunches."
6 Find deals nearby.
Want to know what deals are on tap at stores near you—without spending precious minutes scouring paper ads, making calls or even surfing the web? Check out salescircular.com and saleslocator. com. The sites list all the sales in your area on one site.
7 Get the lowest prices on the go.
Have a smartphone? Check out redlaser, shopsavvy and pushpins, apps that let you scan or photograph items for instant price comparisons.
8 Score rock-bottom prices.
Done scrounging around the house for school supplies like folders, binders and paper? Try classroomdirect.com—an online clearinghouse that boasts some of the cheapest prices around, says Nelson, who's a mother of two boys. Best of all: free shipping on any order!
9 Visit the mall websites.
You might find coupons you can print out or special promotions that will help you save 30 to 40 percent off your bottom line, says Nelson. Example: Go to monmouthmallonline.com and click on "Sales & Promotions.". While you're at it, visit websites of individual stores (like Kohl's, Lord & Taylor, etc.) and type "coupons" into the subject line. Also, don't forget about outlet malls. Sure, you know you can pick up that $5 coupon booklet at the information kiosk once you get there, but Nelson says that booklet may be free if you sign up on the outlet's website: "you can just go pick it up once you get there."
10 Take advantage of the competition.
"Walmart and Target are competing at back-to-school time," says Nelson. That means they each have stationery items—notebooks, pens, folders— that are loss leaders (items sold at a loss just to lure consumers into the store). Nelson's strategy? She scours their ads for the deeply discounted items, and because Walmart and Target will price-match, she heads to one of the retailers to get the lowest prices on whatever she needs for the whole year—often at 80 to 90 percent off! That means you could possibly get everything at one store instead of doing a parking lot crawl.
11 Know when to go first class.
When kids are little, $5 backpacks at Walmart are fine, says Nelson. But as they hit high school, a new strategy is in order: "rather than buying cheap new ones each year, invest in a better quality backpack," she says. "My son has had the same L.L. Bean backpack for five years. Get them with free shipping and a coupon code. And remember, they have lifetime guarantees!" Another worthwhile splurge: a good all-purpose jacket, says Law, a mother of two girls. "My kids have gotten great use out of the North Face girls' denali fleece zip-ups," she says. "They give bang for your buck."
12 Give kids a say.
They want to wear a new outfit on their first day, and that's ok. But set limits. Tell them they can pick out two or three items and no more. Since it's still warm out when school starts, steer them to the sales racks of summer clothes. If they need a bigger wardrobe boost, wait at least two weeks after school starts, says Nelson. "By then, they know what they want to wear, and those clothes have already been marked down." Another tip: consider carrying envelopes with all the moolah you budgeted for each child in cash. When the bills are depleted, shopping is done—a concept the kids will grasp easily.
Related Read: Budgetary Wellness 101