Shore-Worthy
Making a Sea Bright house a truly bright companion to the sea meant, for one thing, overcoming the kitchen's hex.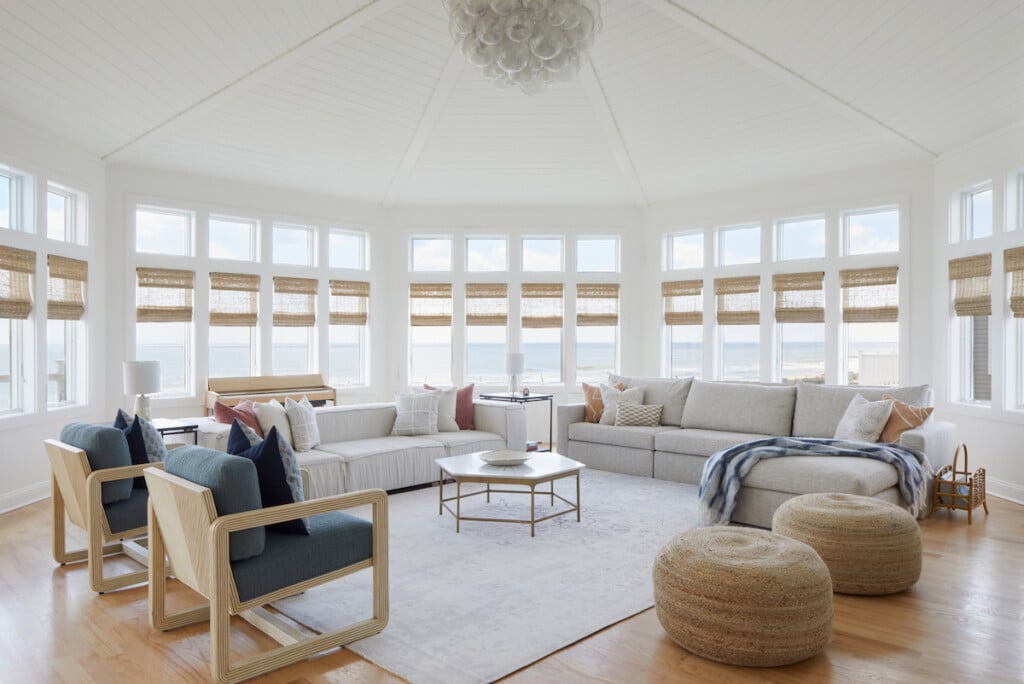 Design by Christina Kim
Photography by Raquel Langworthy
Text by Darius Amos
Nobody's blaming the ocean. Its beachy aesthetic was spot on, but the Sea Bright house itself was a hectic hodgepodge that didn't seem to know where it was sitting. Then, in early 2021, Christina Kim, owner and creative director of a Manasquan-based interior design firm, was tasked with bringing the serenity of the Shore into several rooms of the home.
"The owners looked to us to create a clean, warm modern beach house that reflected the beautiful surroundings," she says, explaining that the kitchen was the primary focus of the yearlong project, while other areas also needed light renovation and updates. But the job wasn't as simple as adding a splash of new paint and seashells. The unusual architecture of each room presented a challenge to Kim and her team.
"Many of the rooms were hexagonal," she says. "Creating a cohesive design throughout the home took some creativity. The kitchen and main dining area in particular needed a transformation. I can confirm that hexagonal kitchens are not straightforward."
The kitchen, in fact, required a total overhaul. "It was an absolute gut, and we took it down to the studs," says Kim. As soon as the slate was cleaned, however, the designer planned a space to serve the homeowners' socializing lifestyle, which emphasized hosting friends and family during summer weekends.
She created ideal areas for meal preparation and cooking, sourcing perfect slabs of honed Danby marble from PMI International Stone in Marlboro for the center island and countertops. The showstoppers of the space, however, are the bright backsplash and range hood. Working with Town and Country Design Studio in Red Bank, the design team navigated the kitchen's geometry and selected a distinct tile "to ground the space."
"It was difficult to create a focal point, which is why we selected a backsplash with pattern and color," Kim says. Next she designed a custom marble hood—fabricated by Oceana Designs—that wouldn't distract from the backsplash but instead added "a layer of luxe while keeping it soft."
In the adjacent dining area, a large white oak table with seating for eight sits beneath a subtly elegant chandelier from Currey and Co. "I love this chandelier for this room," she says, "because we needed a fixture with generous width to take up visual space, but we also did not want to block the view."
And that magnificent vista is front and center in the ocean-facing living room, another six-sided space. Though it didn't require a total renovation, this space did need special consideration. "A hexagonal room forces you to choose pieces that can float in a room and be lovely on all sides," says Kim. "There's not a single piece of furniture up against the wall in these rooms."
Using a light neutral base, the design team selected low-profile, lounge-type seating for the living area. Its location on the second floor gives the homeowners and their guests an expansive view of the ocean and the sky, which even on a cloudy day creates a feeling akin to staring at a landscape painting. Motorized woven shades control the light that filters through each of the 18 windows—and assure privacy.
"They envisioned entertaining late into the evening and filling the room with friends and music," Kim says. And if they ever tire of their charming interior (but who would?), well, the beach is still there too.