Showing Their Support
Two generous, recent donations from The Healthcare Foundation of New Jersey ensure the safety of staff and patients at Saint Barnabas Medical Center—during the pandemic and beyond.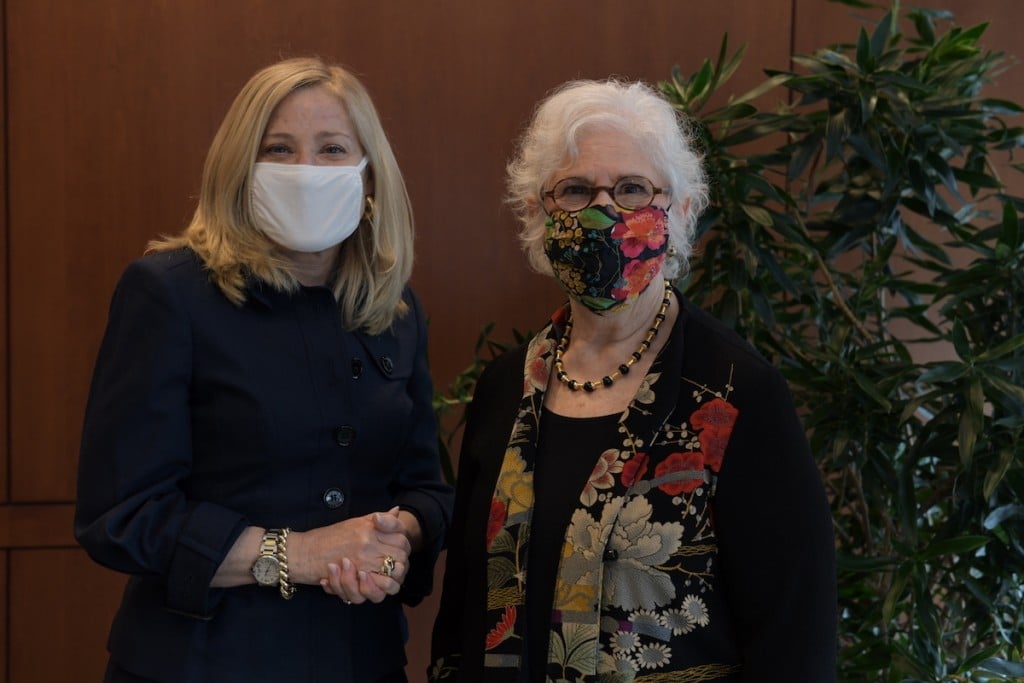 The local community has shown unwavering philanthropical support to Saint Barnabas Medical Center (SBMC) and RWJBarnabas Health as a whole since the start of the COVID-19 pandemic last year, and that includes local foundations such as the Millburn-based Healthcare Foundation of New Jersey (HFNJ). Its goal is to "connect underserved people in greater Newark/Essex County to quality health care," says Marsha Atkind, the foundation's outgoing executive director and CEO. "We want to help patients from all over the area get the best care possible at Saint Barnabas Medical Center."
So, when the pandemic began, HFNJ focused all its grant-giving efforts on COVID-19, and in April 2020 gave the Medical Center and other affiliate hospitals within the northern region $50,000 emergency grants. Then, earlier this year, HFNJ approved a grant of $455,350 that provided SBMC with two pieces of technology, each of which has helped tremendously to keep staff and patients safe.
One item supported by that grant is the Roche 6800 ($350,000), a molecular lab testing apparatus used in renal transplants and to detect the coronavirus and other pathogens. This machine is housed in SBMC's labs, and "complements the Medical Center's existing testing equipment," says Amy Schechner, board chair of The Healthcare Foundation of New Jersey. "It increases our capabilities of testing for COVID," adds Kelly Goss, vice president for development at SBMC. "Typically we would test 300 [patients] a day for the virus, but the Roche allows us to administer 1,600-1,800 tests a day."
The second item is the $105,350 Xenex light-strike robot, which is a UVC-disinfecting machine that sanitizes rooms between patients. SBMC had two of these robots pre-COVID, so the staff is trained on it and comfortable with its use. Adding a third to the hospital dramatically increases efficiency, as the robot sanitizes more quickly and effectively than any human could.
Ultimately, says Schechner, HFNJ approved these grants because "the Foundation felt they would lead to greater peace of mind for both the SBMC staff and patients," she says. "They help alleviate the increased medical challenges that SBMC faced due to COVID."
Both of these grants have longevity and impact beyond the pandemic too, says Goss, which she says was in part why HFNJ gave them the green light.
It's always important to support one's community hospital, but never has it been more imperative than now. "Especially over the last 16 months, hospitals have been overrun and overwhelmed," says Atkind. "When people in this community need urgent or critical care, we don't want them to neglect going to the hospital because they're afraid of COVID—we want to minimize that fear and that risk."
Stephen P. Zieniewicz, FACHE, president and CEO of Saint Barnabas Medical Center, is grateful for the support shown by both individuals and organizations like HFNJ. "We are pleased with the strong relationship we have with The Healthcare Foundation of New Jersey. This partnership helps to advance safety, quality and access, enhancing the care we provide patients and our community," he says.
---
To learn more about donating to Saint Barnabas Medical Center, call 973.322.4321 or go to sbmcgiving.org.