Sips to Celebrate
Sparkling wine, a holiday tradition, is more varied than you think.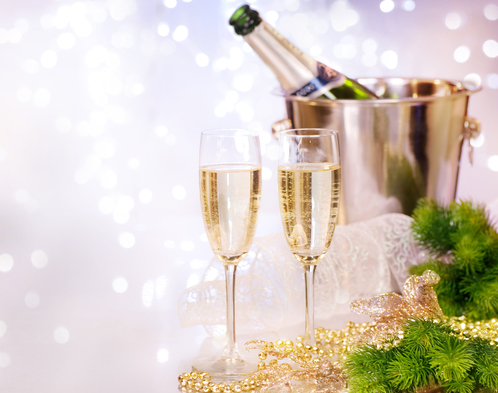 Bubbles, bubbles and more bubbles! Yes, it's that time when we toast the year past and the one to come with a pop and a hiss and tons of holiday cheer. While headlines tell of economic woes, champagne and sparkling wine sales remain effervescent: They're expected to be up at least 7 percent this year over 2010, with some brands like California's Iron Horse seeing as much as a 24 percent jump.
Each December, champagne and sparkling wine sales skyrocket—in some years they've spiked 90 percent—as many of us choose these wines as our go-to celebratory drink. But for some, they're the pour of choice all year long. Hugh Davies, winemaker at California's Schramsburg Vineyard (a.k.a. America's House of Sparkling Wine), says there are three reasons: "First, sparkling wine quality has never been higher. Second, more people, especially Gen-Xers and millennials, like the way bubbly tastes. Third, because it's so food-friendly, people are incorporating it into their everyday dining."
Sparkling wine can be called champagne only if it's made in the Champagne region of France from three grapes: Pinot Noir, Chardonnay and Pinot Muenier. It's rich, luscious and often the most expensive bubbly-wine option. Then there's Prosecco, from Italy's Veneto region, whose popular brands Mionetto and Lunetta have almost doubled their sales in the last two years, nipping at the heels of champagne for most popular girl in the glass. Spain's budget-friendly bubbly is called Cava.
Many sparkling wines, which start at less than $15 a bottle, are made from different grapes and in different methods than champagne. They offer fun bubbles at great prices but not the finesse and sophistication of true champagne, and their big bubbles tend to fizz out quickly. While they can still be dry like champagne, these less expensive styles are often fruitier in aroma and flavor. Champagne has more complex aromas and taste profiles including yeasty, fresh-baked bread as well as fresh-fruit attributes.
Sparkling wine that is made like champagne produces endless strands of teensy bubbles that create a frothy mousse (like the head of beer) when poured. There are now 10 to 12 California wineries making $20-and-up sparkling wines using the traditional methods. Says bubbly maker Davies: "The best of California's sparkling wines rival the best made in Champagne or anywhere else in the world."
From pale yellow to pink and from dry to sweet, there are many great California sparkling wines to choose from. Our top picks include Schramsburg Blanc de Blanc, $35, (Blanc de blanc means it's made from 100 percent chardonnay), a lively and crisp wine that is still rich on the palate; and Mumm Napa Brut Rosé, $22, (Brut means it's dry, not sweet, and rosé means this sparkler will have a slightly pink or salmon color either from staying in contact with the skins of the red grapes during fermentation or from a dose of finished red wine), which smells of strawberries and raspberries with cream and pairs wonderfully with chocolate.
These other American sparkling-wine producers will also help you celebrate in style: Iron Horse Vineyards, Scharffenberger Cellars, Roederer Estate, Gloria Ferrer, Domaine Carneros and Argyle Winery.
Related Read: Beer Gets Crafty