Skin Scan
A new surveillance system helps doctors spot melanoma early so that potentially lifesaving treatment can begin.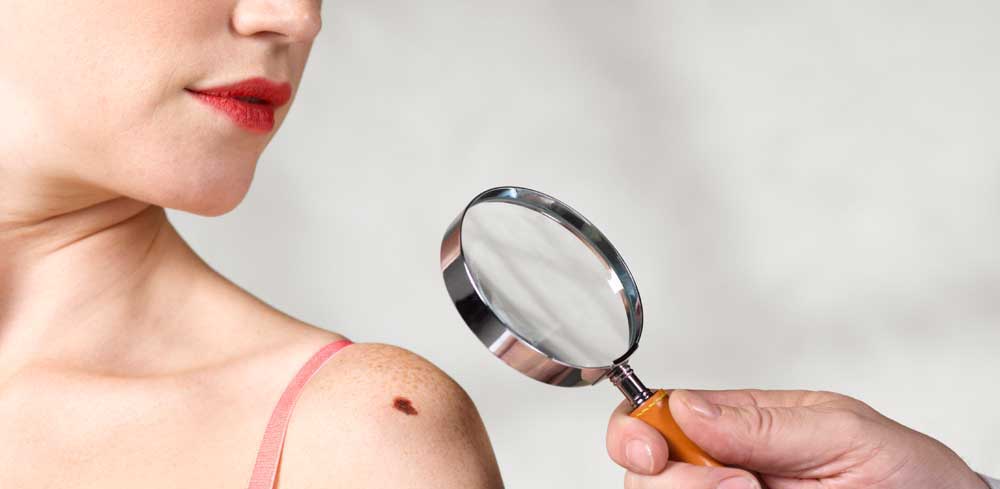 Each year more than 200 New Jerseyans die of melanoma, the most lethal skin cancer—and this cancer, unlike most others, is on the rise. Early detection is key. Fortunately, Saint Barnabas Medical Center is working with MoleSafe, a national company based in Millburn, to apply an advanced methodology to catch melanoma at the earliest possible stage, while avoiding unnecessary biopsies and excisions.
"Since 2013, specialists at our Melanoma Center have been using a broad strategy to treat and prevent all types of skin cancer," says Franz Smith, M.D., a cancer surgeon at Saint Barnabas Medical Center. "Our newest service expands our scope, using an advanced tool so that we can better focus on early detection as well."
That advanced tool is MoleSafe's Skin Surveillance Program, a comprehensive skin documentation system that uses high-resolution imaging "to expose," as the company says, "layers of skin lesions not typically viewed during a regular exam."
The program combines photographs of 96 percent of a patient's skin and "electronic dermoscopy" to magnify the skin for visual inspection.
For any unusual-looking area of skin, called a lesion, a specialist at the Melanoma Center will take further steps to either treat the patient or simply monitor him or her using MoleSafe during future examinations. For some patients, monitoring can last months or even years.
Because the program includes storing high-quality images in the patient's medical record, physicians can closely compare lesions over time with ease. "This allows us to be very proactive for those who have high risk for skin cancer and who have lesions that we want to watch," Dr. Smith says. "Also important, it allows patients to avoid biopsies they don't need."
Who's At Risk
Dr. Smith says MoleSafe is especially important for those with multiple moles and those who have a personal or family risk of skin cancer. Significant sunburn or sun exposure, or use of tanning beds, also puts people at higher risk, he says.
To make an appointment for MoleSafe, based at Barnabas Health Ambulatory Care Center at 200 S. Orange Ave., Livingston, call 1.877.MOLESAFE.
"If you're in one of these high-risk groups, we recommend you see your doctor or dermatologist for a full-body exam," he says.
To learn more about The Skin Surveillance Program, visit molesafe.com/barnabas-health.