Small Room Gloom – 5 Ways to Make Your Cramped Room Look Bigger
5 Ways to turn your uncomfortably tiny room into the Ritz without spending a fortune!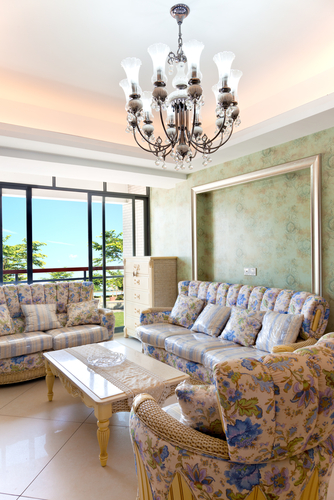 The time has come to downsize, so if you're one of the many moving from a spacious home to something a little more quaint, you're not alone! MORRIS/ESSEX health&life feels your pain and that is why we are presenting you with the 5 best ways to make even the tiniest space appear LARGER THAN LIFE! (well, maybe that's a bit of an exaggeration)
1. LIGHT UP YOUR LIFE: Nothing brightens up a room like a little bit of color! When dealing with a smaller area it is best to paint the walls a solid color in order to add depth to the room. Choose a neutral, light, or bright color (soft blue's or green's) as your base, and use a monochromatic color scheme to accent the room. If you keep the wall colors neutral, select an accent color and layer it throughout the room with different accessories. Tone-on-tone woven upholstery fabrics and delicate drapery fabrics are the best to use. If you have the budget to add a light trim around the room, this also helps to create the illusion of more space. Good lighting is another tool you can use to make your room look more spacious. Overhead track lighting is a simple way to save space and brighten up any room!
*Creative Idea: Continuing a single color theme in two connecting rooms helps blur the line of separation, making it appear larger. Keep in mind that this only works when used with adjoining rooms that fall in the same line of sight. Also, for tiny bathrooms, painting the walls with vertical stripes makes the ceiling appear higher up, therefore making the room seem less crowded.
*Stay away from: Patterned wallpaper!
2. MIRROR, MIRROR ON THE WALL: Some people avoid them at all costs, while others can't tear their eyes away from them, but when it comes to confined spaces mirrors are DEFINITELY your friend! A large, well-placed mirror can make any room seem commodious. The key is to position the mirror facing a window or a focal point of the room. This reflects light, adding warmth and depth to the congested area.
*Creative Idea: Placing a large mirror on a long wall of a narrow room will make the space seem wider.
*Stay away from: Tiny mirror over-kill!
3. SIZE MATTERS: When it comes to furnishing a tight space, this phrase holds true! Contrary to popular belief, decorating with a bunch of smaller items is not a smart idea. Finding one extravagant staple piece, whether it is a piece of furniture, or a wall ornament, is the best solution to creating the illusion of more space.
*Creative Idea: Placing a piece of furniture diagonally, like a couch for example, to elongate the room.
*Stay away from: Ridiculously over-sized items! Be realistic as to what will fit in your room. For example, if you need an abnormally large kitchen table, look for one with collapsible leaves so that you can maintain more free space during the day.
4. ORGANIZATION STATION: One of the easiest ways to produce more space in a room is by organizing your stuff! You know those flowers that died 6 months ago? GET RID OF THEM! Yes, those old magazines that have been lying on your coffee table since 2008 can get the boot too! The more organized a room is, the more free space you will have. Items that do not need to be showcased should be stored away. Shoe racks, storage bins, and cabinets are a good way to keep your personal items out of the public eye.
*Creative Idea: Decorate the room with a couple of the same type of accessory. For example: dress up the couch with a few matching throw pillows or put a vase on each end of the coffee table.
*Stay away from: Clutter! Less is more!
5. TRANSFORMERS: Technology isn't the only thing evolving these days, now our furniture is too! Why buy just a plain old couch when you can get one that turns into a bed? A great way to free up space is to purchase multifunctional furniture! Look for floor to ceiling corner bookshelves, or space saving shelves, that only take up about 12 inches of floor space. These shelves can house everything from your massive DVD collection to your countless photo albums. Trunks are also a great way to save space, functioning as a coffee table as well as a storage box.
*Creative Idea: Investing in a daybed will save space and provide you with an extra spot for guests to sleep.
*Stay away from: Useless items that take up space!
GET THESE LOOKS LOCALLY:
Suburban Furniture & Mattress: 10 State Route 10 W, Succasunna NJ.
(973) 927-7100
Once Upon a Table: 105 Main Street, Chester, NJ
(908) 879-2903
Ricciardi Brothers: 160 Route 46 W, Parsippany (*Other Locations Available)
(973) 276-0400
Maison Décor: 36 Main Street, Madison, NJ
(973) 520-8396
Hampton House: 467 Bloomfield Ave, Montclair, NJ
(973) 744-0900
*photos courtesy of: shutterstock.com