Small Space, Big Impact
After an inspired redesign, a guest bathroom in West Long Branch punches way above its weight.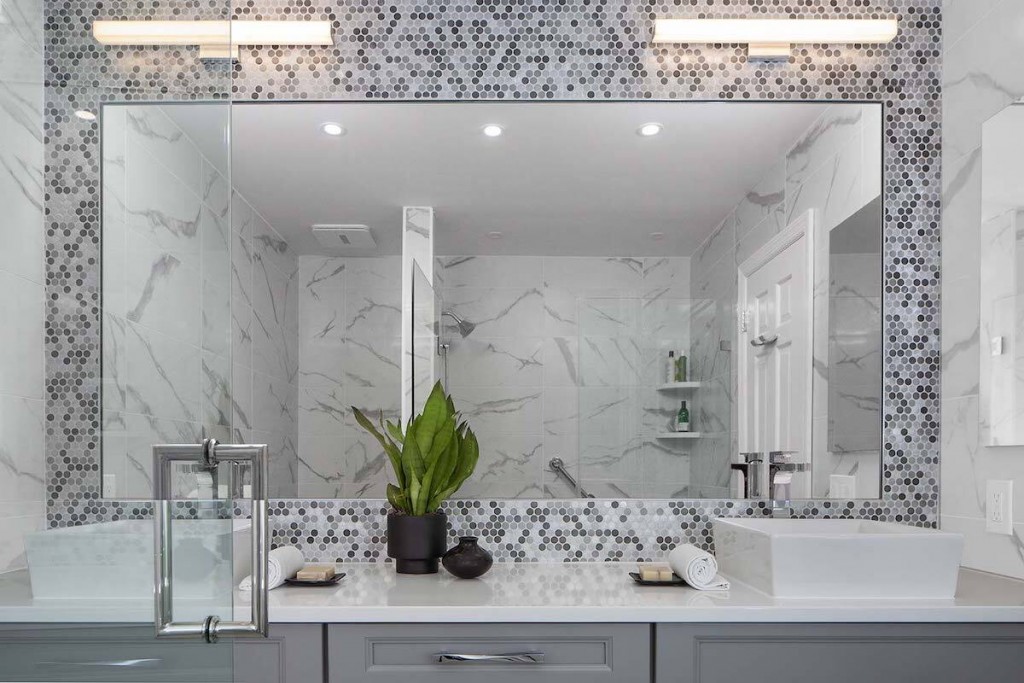 With three children all grown up and in nests of their own, it was time for change back at the ranch they left behind in West Long Branch. The hall bathroom where the kids had spruced up for school was showing its age, with a shower/tub in a dated mix of beige tiles and green walls.
The traditional-style room had remained basically unchanged since the house was built a half-century before. "I was really tired of looking at a tired bathroom that wasn't really functional for our growing family," says the homeowner.
Now, when the kids and their kids come to visit, they enjoy luxe contemporary ease thanks to the room's 2020 redesign by Sheila Rich Interiors. With a comfort height vanity and dual vessel sinks that minimize bending, it's just as accommodating for the couple's older friends.
"These homeowners required a bathroom that would add value to their house, that guests of all ages and stages could use comfortably," says Rich. "And they wanted a "wow" factor. They wanted all that in a small bathroom, which this does in a nice way."
Surrounded by metal penny rounds in silver, gray and charcoal, the huge mirror above the gray vanity creates the feeling of depth. "Because it's a small bathroom, the colors are muted," says Rich, but a variety of geometric shapes such as square Kohler sinks with square polished-chrome faucets build on the room's overall wow. The penny rounds by Glazzio from Ideal Tile find their size contrast in the large-format, easy-care porcelain tile that mimics statuary marble and contributes to an open feel. "Everything is very linear, no extra [grout] lines," Rich says. (Score one more for openness.)
Designed by Rich, the seven-foot-wide double vanity complements the faux marble's veining with its gray cabinetry and white quartz top. To free up floor space, the vanity's makeup area conceals a stool, a streamlined toilet is tucked away in an alcove and a recessed medicine cabinet fits into the side wall but opens easily. Above the vanity, two cylindrical LED lights contribute clean lines and polished chrome finishes in harmony with the faucets and cabinet doors.
"It's a small bathroom that functions large," says Rich of the remodel, which received an award in 2020 from the American Society of Interior Designers (ASID), New Jersey Chapter.
One highlight for the homeowner is the full walk-in shower, which stands out for the continuation of that large-format tile visible through the rimless shower door. The design is not only elegant, but ageless, because of safety features such as a quartz seat, grab bar and 2×2-inch skid-resistant shower floor tiles.
By Donna Rolando
Design by Sheila Rich Interiors
Photography by Lauren Hagerstrom