Soup's On
What's more comforting than a piping-hot bowl of soup? Knowing that it's fewer than 250 calories per serving! Enjoy!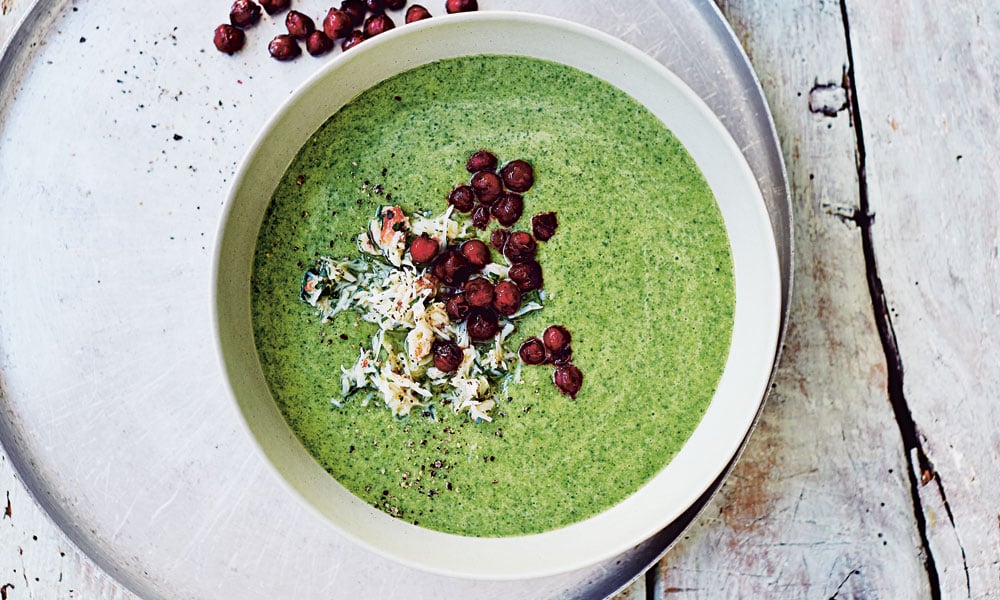 Watercress with Balsamic Beet-Roast Chickpeas and Parsley Crab
Yield: 4 servings
Calories: 238 per serving
Ingredients
For the Chickpeas
1 cup beet juice
1 Tbs. balsamic vinegar
1 14-oz. can of chickpeas, drained, rinsed and dried
Salt and pepper
For the Soup
½ small leek, finely chopped
1 garlic clove, chopped
1 celery rib, coarsely chopped
1 large zucchini (approximately 9 oz.), coarsely chopped
½ Tbs. olive oil
2¼ cups vegetable or chicken stock
3 sun-dried tomatoes
3½ oz. fresh white crabmeat
Few sprigs of parsley or tarragon, finely chopped
Squeeze of lemon juice
12 oz. watercress
1½ cups unsweetened soy milk
Directions
To make the chickpeas, place the beet juice and balsamic vinegar in a small saucepan and bring to a boil. Simmer for 20 to 25 minutes, until the liquid has reduced to about ¼ cup and has a thick syrupy consistency.
Preheat the oven to 400°F. Place the chickpeas in a small baking pan and pour over half of the syrup, mixing well. Season and roast for 10 minutes. Remove from the oven, pour over the remaining syrup and roast for another 10 to 15 minutes, keeping an eye to make sure the syrup does not burn. When ready, set aside.
Sauté the leek, garlic, celery and zucchini in the olive oil and 1 tablespoon of water for about 5 to 8 minutes. Add a splash more water if necessary. Pour in the stock, then the sun-dried tomatoes.
Bring to a boil and simmer for 15 minutes.
Mix the crabmeat with the chopped parsley or tarragon, and then season with salt, pepper and a squeeze of lemon juice. Refrigerate until needed.
Removed the sun-dried tomatoes then add the watercress and soy milk. Simmer for a couple of minutes to soften. Blend until smooth and season to taste. Serve, topped with a spoonful of crabmeat and a scattering of chickpeas
More Recipes
Carrot, Coconut and Ginger with Cilantro Sambal »
Reprinted with permission from Skinny Soups by Kathryn Brouton © 2017 Kyle Books, and photographs © Laura Edwards. No images may be used, in print or electronically, without written consent from the publisher.