Soup's On
What's more comforting than a piping-hot bowl of soup? Knowing that it's fewer than 250 calories per serving! Enjoy!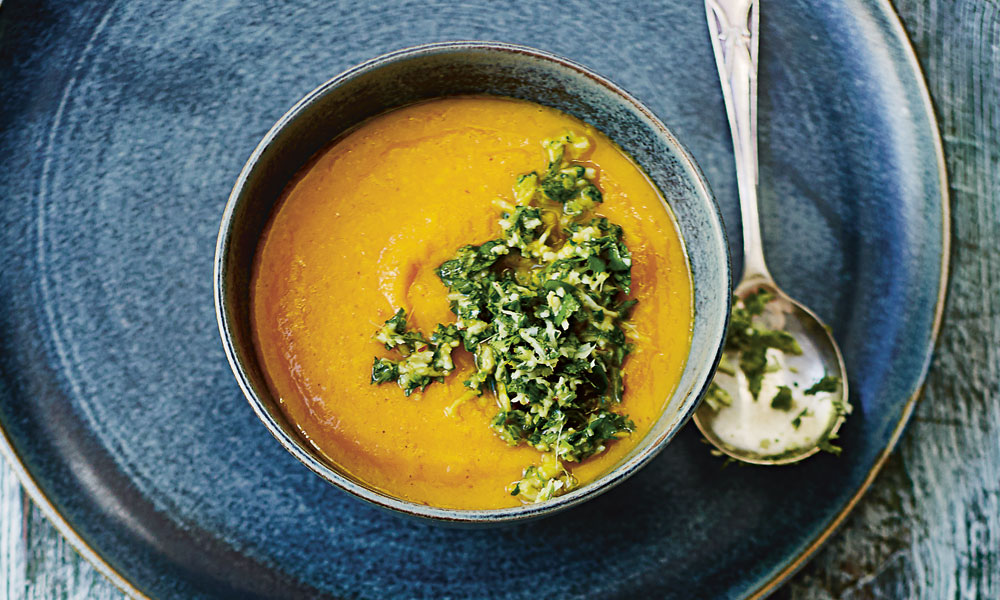 Carrot, Coconut and Ginger with Cilantro Sambal
Yield: 4 servings
Calories: 227 per serving
Ingredients
1¼ cups fresh coconut, grated
½ tsp. cumin seeds
½ tsp. coriander seeds
2 shallots, diced
1 garlic clove, coarsely chopped
5 Tbs. ginger, peeled and grated
½ tsp. chile flakes
½ Tbs. coconut oil
1½ lbs. carrots
3 cups vegetable or chicken stock
Cilantro Sambal
2 cups cilantro, coarsely chopped
1 /3 cup grated fresh coconut
1 Tbs. ginger, peeled and grated
1 small green chile, seeded and coarsely chopped
Juice of 1 lime
Salt and pepper
Directions
If using a whole coconut, prepare it by piercing the three eyes with a skewer, and drain out the liquid. Then, wrap it in a towel, place on a hard surface, such as the floor (or take it outside), and give it a firm blow with a hammer to crack it open. Use a spoon to gently lift the flesh away from the harder exterior and remove the brown skin using a potato peeler if desired.
Toast the cumin and coriander seeds in a small frying pan for about 2 minutes, then grind in a mortar and pestle.
Sauté the shallots, garlic, ginger, chile flakes and ground spices in the coconut oil and 1 tablespoon of water for about 5 minutes, stirring occasionally. Add a splash of water if the mixture sticks to the pan. Add the carrots, fresh coconut and stock. Bring to a boil and simmer for 30 to 35 minutes until the carrots are soft.
To make the sambal, place the cilantro, grated coconut, ginger and chile into a mini food processor and pulse to a coarse, dry paste. Stir in the lime juice and season to taste.
When the soup is ready, blend until smooth, season and serve topped with the sambal.
More Recipes
Watercress with Balsamic Beet-Roast Chickpeas and Parsley Crab »
Reprinted with permission from Skinny Soups by Kathryn Brouton © 2017 Kyle Books, and photographs © Laura Edwards. No images may be used, in print or electronically, without written consent from the publisher.