Soup's On
What's more comforting than a piping-hot bowl of soup? Knowing that it's fewer than 250 calories per serving! Enjoy!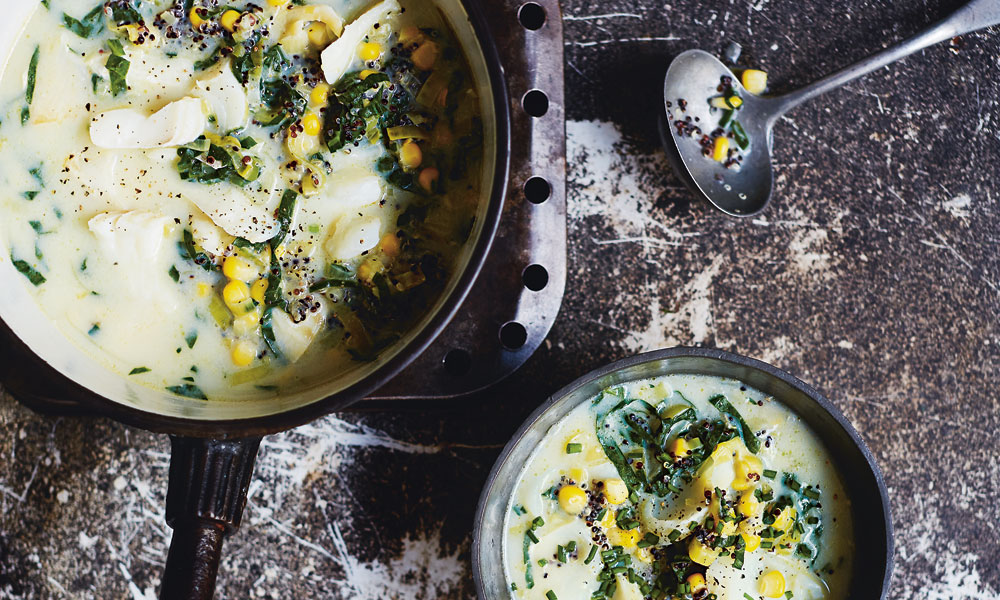 Superfood Chowder
Yield: 4 servings
Calories: 241 per serving
Ingredients
1/ cup black quinoa n
Pinch of salt
1½ cups unsweetened soy milk
9 oz. smoked haddock
1 bay leaf n 1 onion, peeled and halved
6 peppercorns
1 medium leek, finely sliced
1 garlic clove, chopped
½ Tbs. olive oil
1 fresh corn on the cob
3 cups vegetable stock
5½ oz. spinach, finely shredded
3 Tbs. chives, finely chopped
Directions
Place the quinoa in a strainer and rinse under cold water. Transfer to a small saucepan, cover with cup water, add a pinch of salt, bring to a boil and cook with the lid on for 10 minutes. Remove from the heat and leave undisturbed for 5 minutes so that the grains absorb any remaining water. Return to the strainer and run under cold water again to cool completely. Set aside until needed.
Place the soy milk in a medium saucepan with the smoked haddock, bay leaf, onion halves and peppercorns. Slowly bring to a boil and simmer for 3 minutes. Remove from the heat and let stand, covered, for 5 minutes. Strain and set the cooking broth aside.
Clean the saucepan and return to the heat. Sauté the leek and garlic in the oil and 1 tablespoon of water over low heat for about 5 minutes, until soft and translucent. Stand the corn upright and slide the blade of a sharp knife along the length of the cob, removing the kernels as you do so. Add these to the saucepan, along with the reserved cooking broth and the vegetable stock. Add the cob for added flavor. Bring to a boil, immediately reduce to a simmer, and cook for 7 to 10 minutes. When ready, remove the cob and used a slotted spoon to skim any foam that has formed on the surface.
Add the cooked quinoa, along with the spinach and fish. Bring to just below boiling point, season to taste, garnish with some chopped chives and serve immediately.
More Recipes
Watercress with Balsamic Beet-Roast Chickpeas and Parsley Crab »
Carrot, Coconut and Ginger with Cilantro Sambal »
Reprinted with permission from Skinny Soups by Kathryn Brouton © 2017 Kyle Books, and photographs © Laura Edwards. No images may be used, in print or electronically, without written consent from the publisher.