Space Time
Needing expanded room to accommodate their two teenaged children, homeowners did a huge addition on their 1950s Livingston split-level—and a major design overhaul too.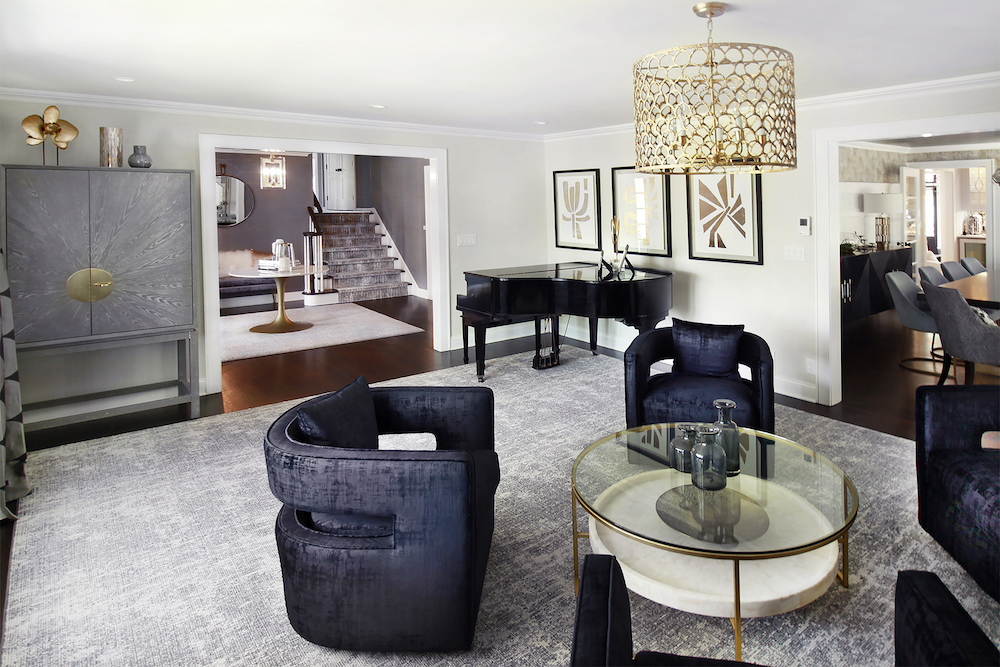 Design by Danielle Palmadessa of DRP Interiors
Photography by Katelyn Mangin
Architecture by Meredith Colon-Reiman of mC Architecture + Design
The interior designer couldn't help what she was thinking. Three years ago, when Danielle Palmadessa revamped a daughter's upstairs bedroom in a family's Livingston 1950s split-level, she wondered why that room in particular was the chosen focus. Palmadessa confesses: "The rest of the house was outdated so I kept thinking, 'Why are you doing this bedroom when the rest needs so much help?'"
Of course it was far more tactfully that she broached the subject with the homeowners. "They were like, 'We're getting to it!'" she recalls.
Well, they got to it. The family rehired Palmadessa and her team at DRP Interiors to redo the entire main floor. After 13 years in the home and with two growing teenaged children, the clients were in dire need of more space, so, with the help of the homeowner's architect sister, Meredith Colon-Reiman of mC Architecture + Design, they expanded upon their living room, dining room and kitchen and did an addition onto the back of the house with a new family room, butler's pantry and powder room. This gave them an open floor plan and the seamless flow their previous footprint lacked.
From there, Palmadessa used the kitchen as a starting point. "The client wanted white cabinets with quartz and brass, and because you can basically see the kitchen from every other room, that set a vision for me," she said. "I thought a soft, neutral palette would work best. She didn't need pops of bright colors." The all-white kitchen is all about functionality, with a large center island with breakfast stools in stain-resistant Duralee Crypton fabric and a desk built right into the custom cabinets by Colon-Reiman. But the designer's favorite features of the kitchen are the gold-accented light fixtures by Visual Comfort— "without the chandelier and pendants, it's just a pretty kitchen," she says—and the adjacent butler's pantry. "We did a reflective hexagonal antique mirror backsplash, which opens up the small room and gives it a special, glamorous feel," she adds. "I love it."
The foyer has a bit of that glam vibe too, with its patterned, metallic-specked geometric wallpaper from Ferm Living providing a "wow" factor when you first walk in. Right next to it is the enlarged living room, featuring a custom-cut broadloom rug that elongates the whole space; a unique bar cabinet; a piano (the only item from the previous home that was used in the new design); and four navy open-back TOV swivel chairs. "I haven't done a formal living room with a sofa and chairs in a long time because you want it to feel more loungey," Palmadessa says. "It's a nice addition to another sitting room."
Seating is maximized in the family room as well, deliberately sunken and with vaulted ceilings to add height and dimension. The design team arranged this space's aesthetic around the rustic stone fireplace, which the homeowner and her sister chose together. "It inspired me with its natural, organic, modern California feel," she says. "We put an almost grass-cloth wallpaper by Brewster on the accent wall, used contrasting wood tones and a cool, open sculptural light by Hudson Valley with black metal and silver," the last of which melded in well with the room's gray tones.
Finally there is the "moody"dining room, where the ceiling was painted in a deep plum color with a mirrored silver églomisé overlay, but it's still linked to the rest of the rooms by the black, white and gold accents. The designers also installed wainscoting three-quarters of the way up, added a shimmery abstract wallpaper for the other quarter and designed a semi-custom black, 96- inch, high gloss Modshop buffet to house the homeowner's vast china collection.
Beyond financial reasons, why was now the right time for this family to take the plunge and redo about half of their house? "Even if they're soon-to-be empty nesters, they wanted to have a house they could entertain in and host family events in," Palmadessa says. "But they also want to keep its value so it would appeal to other buyers when they eventually sold it."
Those future offers are sure to come rolling in—a long while from now, of course.