Special Delivery
For women with high risk pregnancies MMC's maternal-fetal medicine specialists deliver top-notch care.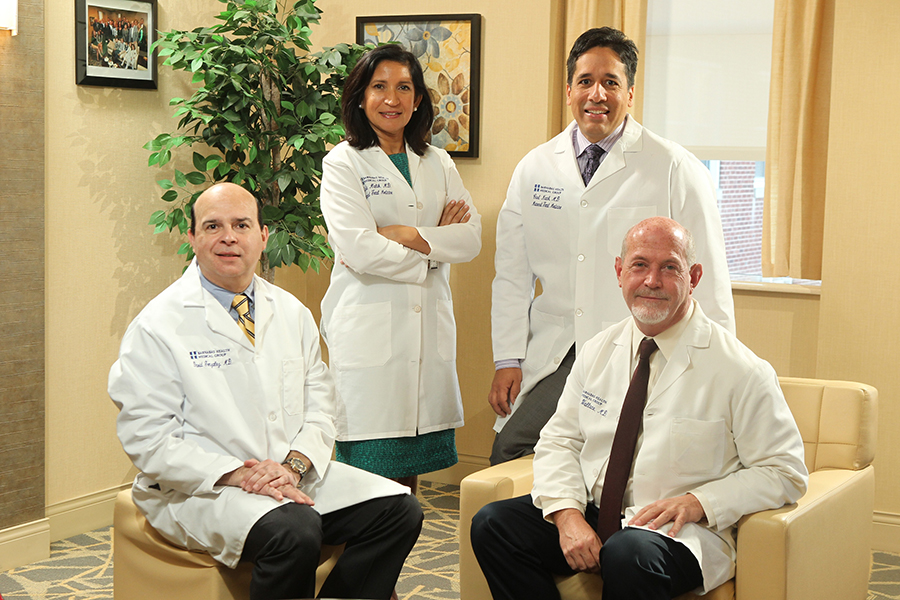 Each year, more women choose to deliver their baby at Monmouth Medical Center than any other hospital in Monmouth and Ocean counties. And while most of the nearly 5,500 annual deliveries at Monmouth follow uncomplicated pregnancies, problems can occur in any pregnancy, and the hospital's team of maternal-fetal medicine physicians are trained to handle the numerous complications that can arise during gestation.
The members of the Division of Maternal- Fetal Medicine at Monmouth Medical Center are experts in the treatment of women who anticipate or are experiencing a high-risk pregnancy. High-risk pregnancies can be associated with women having multiple births, those with diabetes, high blood pressure, a history of blood disorders or pre-term labor, as well as other pregnancy complications.
"High-risk pregnancies can be managed with special testing and procedures to promote the health of both the unborn baby and the mother," says David Gonzalez, M.D., chief of maternal-fetal medicine at Monmouth. "Our Maternal-Fetal Medicine team is dedicated to providing expectant mothers and their babies with the most advanced, complete and professional care before delivery, as well as the sensitivity and caring our patients deserve."
The busy practice draws patients from a four-county area that includes Monmouth, Ocean, Middlesex and Mercer counties. Each week, the physicians handle 250 patient visits at their Long Branch office in addition to 135 each at their Lakewood location and at the Antenatal Testing Center at Monmouth Medical Center.
Care of the very high-risk patient often needs to begin prior to pregnancy and may continue past delivery into the post-partum period. Testing during pregnancy can include everything from advanced diagnostics including ultrasound, amniocentesis and chorionic villus sampling and direct fetal assessment. Also offered is the latest advances in testing, noninvasive prenatal testing (NIPT), a blood test used to screen for Down syndrome and a few other chromosomal conditions that is performed as early as the 10th week of pregnancy. Counseling and education also form an integral part of the care of the high-risk patient.
Many obstetricians-gynecologists are qualified by training and experience to manage complicated pregnancies. Maternal- Fetal Medicine specialists are obstetricians with advanced training in the subspecialty of caring for high-risk patients and are boardcertified in Obstetrics and Gynecology, as well as Maternal-Fetal Medicine.
"We work with the referring obstetricians to optimize the care of the patients by providing consultations, co-management or direct care for complicated patients both before and during pregnancy," Dr. Gonzalez says.
The most common reason for a patient to be referred to a Maternal-Fetal Medicine specialist is to determine if the fetus appears to be developing normally. Through the use of tools such as ultrasound, amniocentesis, chorionic villus sampling, the maternal-fetal medicine team can help expectant parents know if their baby appears to be healthy.
"Many women have pre-existing medical conditions, such as diabetes, sickle cell, anemia, hypertension or lupus that may worsen because of pregnancy and threaten the health of mother and baby," Dr. Gonzalez says. "The Maternal-Fetal team evaluates and treats these women with specialized care, such as fetal echocardiograms, antepartum fetal surveillance, postpartum care and a diabetic program that includes everything from preconceptional counseling to home glucose monitoring."
Some women develop complications unique to pregnancy, such as preterm labor, premature ruptured membranes, preeclampsia or complications due to multiple pregnancies, and require assistance. Women also are referred to Maternal-Fetal Medicine specialists for evaluation of prior pregnancy losses. Women with multiple first-trimester losses or fetal loss of any kind in the second and third trimester may benefit from a detailed evaluation to help determine the potential cause of these losses. Many losses may be due to a correctable condition that can be treated.
Additionally, Monmouth Medical Center has a state-of-the-art level III neonatal intensive care nursery (see related story, page 30). When problems develop, the physicians work closely with other subspecialists at Monmouth Medical Center, including the neonatologists, the pediatric surgeon and the pediatric cardiologist, to ensure that each baby receives the best care possible. The multidisciplinary team provides families with the most empathetic, knowledgeable and up-to-date care.
Prenatal evaluation services are available at the Maternal-Fetal Medicine team locations on South Bath Avenue in Long Branch and at the Women's and Children's Specialty Center in Lakewood. Each location offers easy access and convenient on-site parking. Additionally, the Antenatal Testing Center at Monmouth Medical Center provides parents-to-be-with similar services within the confines of the hospital.
The Role of Genetic Counseling
As an expectant mother, your physician may refer you to a genetic counselor for a host of reasons including:
Advanced maternal age (35 or older at due date).
Following an abnormal serum screen, to evaluate the risk of a chromosome abnormality or spina bifida.
Family history of a genetic condition or birth defect.
Exposure to certain forms of medications, infections, radiation or chemical agents.
Having an ethnic background with an increased risk for a genetically inherited disease, such as cystic fibrosis, Tay-Sachs disease and sickle cell anemia.
Meet Our Maternal-Fetal Medicine Physicians
David Gonzalez, M.D.
Dr. Gonzalez earned his medical degree from Temple University Medical School and completed residency training in Obstetrics and Gynecology, and fellowship training in Maternal Fetal Medicine at UMDNJ. He is board certified in Obstetrics and Gynecology and Maternal Fetal Medicine. Dr. Gonzalez, who has been recognized as one of New Jersey's Top Docs in his specialty in several publications, is the section chief for Maternal-Fetal Medicine at MMC.
Carl A Nath, M.D.
Dr. Nath, who completed his undergraduate degree in Molecular Biology at Princeton University, obtained his medical degree from Mount Sinai School of Medicine. He trained in Obstetrics and Gynecology at St. Luke's Roosevelt Medical Center and completed a fellowship in Maternal-Fetal medicine at UMDNJ. Dr. Nath is board certified in Obstetrics and Gynecology and Maternal- Fetal Medicine and has been published in several peer-reviewed journals.
David M. Wallace, M.D.
Dr. Wallace received his Bachelor of Science degree in biology from Wilkes College and his medical degree from Hahnemann (now Drexel) University School of Medicine through an accelerated sixyear combined program. He completed his residency in Obstetrics and Gynecology at Monmouth Medical Center and fellowship training in Maternal-Fetal Medicine at Pennsylvania Hospital. Dr. Wallace, who is board certified in Obstetrics and Gynecology, served as chairman of MMC's Obstetrics and Gynecology Department from 1993 to 2006 and is past president of the hospital's Medical and Dental Staff.
Nisha Malik, M.D.
Dr. Malik earned her medical degree from The Medical College of Wisconsin, Milwaukee. She completed her residency in Obstetrics and Gynecology and her fellowship in Maternal-Fetal Medicine at UMDNJ. Board certified in Obstetrics and Gynecology and Maternal-Fetal Medicine, Dr. Malik's research has been published in several peer-reviewed journals.
To learn more about perinatal services, or for a referral to a Monmouth Medical Center maternal-fetal medicine specialist, call 732.870.3600. to share this article on your Facebook page, visit MONMOUTHHEALTHANDLIFE.COM.