Specialized Dentistry of New Jersey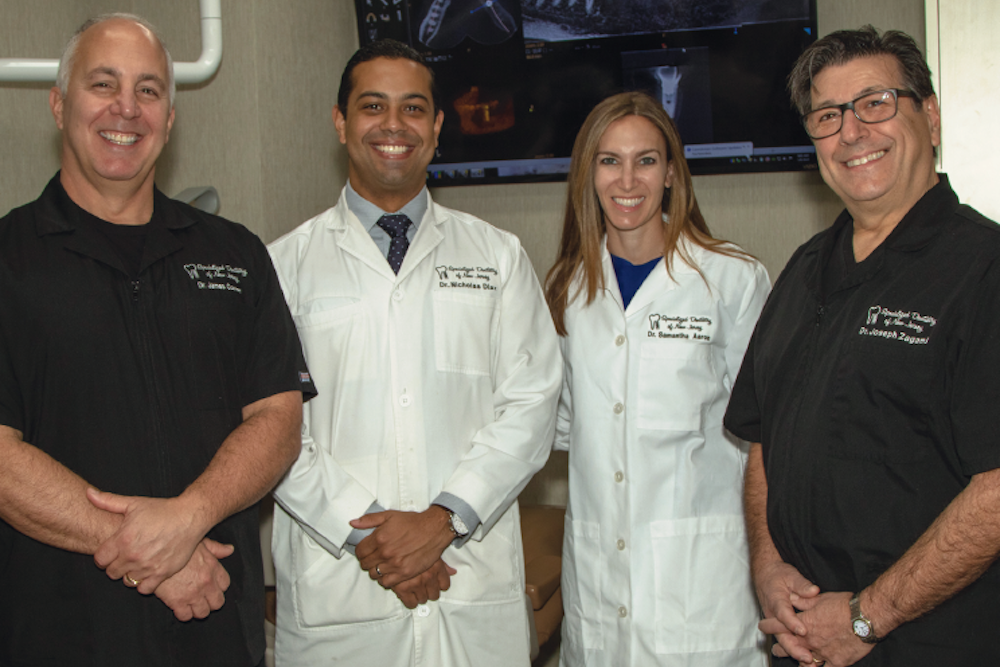 SPECIALIZED DENTISTRY OF NEW JERSEY (SDNJ) is a team of highly respected dentists leading in the areas of implant, restorative, cosmetic and family dentistry. SDNJ provides comprehensive care for adults and families at the highest level of expertise and compassion. Working with a team of specialists gives our patients access to dentistry's best results – beautiful, functional and long-lasting restorations.
Their one-of-a-kind office consists of leading prosthodontists, including Dr. James Courey and Dr. Joseph Zagami, Periodontist Dr. Samantha Aaron, General Dentist Dr. Nicholas Diaz and specialty trained hygienists and assistants who work in synergy with the team. "We know our patients, and together we attend to the details necessary to achieve their dental goals," says Dr. Zagami. "As a team of specialists, we have a multitude of diagnostic and treatment resources at our fingertips. I am proud of our surgical and restorative track record. Our patients get their money's worth and their investment with us returns successful, long-lasting dentistry." In addition to providing cosmetic and comprehensive dentistry, SDNJ specializes in working with patients who have missing teeth due to unique situations such as trauma, cancer, chemotherapy and radiation, diabetes, digestive disorders, congenital conditions like cleft palate and ectodermal dysplasia, and eating disorders that may have damaged teeth and gums. Dr. Courey and Dr. Zagami have the training, experience, and compassion to embrace each patient and help them achieve an attractive, healthy and functional smile.
As New York University College of Dentistry graduates, Drs. Courey, Zagami and Aaron received training from dental pioneers and leaders in periodontics, prosthodontics and implant dentistry. "Ongoing study of medical, dental and surgical disciplines provides us wide range of diagnostic insight and diversified approaches to tooth replacement solutions," says Dr. Courey. "There are many resources, tools, and technology available today, however, knowing how and when to utilize them is what distinguishes a good dentist from a great dentist. This is what sets us apart."
224 Taylors Mills Road Ste. 110, Manalapan, NJ 07726 • 732.410.7101 • buildinggreatsmiles.com