Spectrum of Spuds
When it comes to potatoes, plain old white isn't your only option . These days, you can choose colorful new varieties that make it easier than ever to eat the rainbow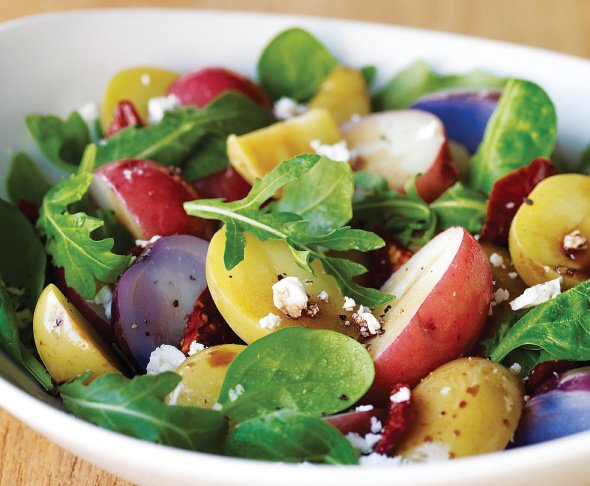 DID YOU KNOW?
Considering the average American's annual potato consumption (130 pounds), spuds may seem the most ordinary of side dishes. But they have a long history, having first been cultivated more than 10,000 years ago in Peru, and an apparently bright future too—potatoes were the first vegetable grown in outer space. And while russets, red skins and whites are ubiquitous in American supermarkets, more than 7,000 varieties exist globally. That includes the moist and firm Purple Majesty, the slightly sweet Yellow Finn and the delicate, pink-fleshed Cranberry Red.
POWERS
All potatoes are good sources of potassium and vitamin C, making them great for protecting your heart and bolstering your immune system. Choose a colored spud over a white variety, and research published in The Journal of Nutrition shows you'll have lower levels of oxidative stress and inflammation, decreasing your risk of chronic disease. In fact, it's the phytochemicals, which give the tubers their hue, that also impart such health benefits. Yellow, orange and some red potatoes owe their color to carotenoids. These antioxidants include beta-carotene as well as zeaxanthin and lutein, nutrients known to protect your eyes. Other red, blue and purple potatoes get their hue from anthocyanins, known for their ability to stave off heart disease as well as to protect against colon and liver cancers.
BUY · STORE · GROW
Potatoes are grown in all 50 states—in New Jersey, the best time to plant is midspring, using so-called "seed potatoes" available at nurseries and garden centers. New potatoes can be harvested about eight weeks later, although you can wait until fall when the foliage has dried up to unearth the spuds. If you're buying potatoes, look for ones that are smooth and firm with no bruises or discoloration. They fare best when stored in a dark, well-ventilated place with temperatures between 45 and 55 °F—that said, keeping them in the refrigerator is not ideal because the cold can cause discoloration. To get the most health benefits from your potatoes, steaming or microwaving is best—boiling can cause nutrients to leech into the water (although adding some of that water back if you're mashing your spuds can help offset this). Another hint: Eat the skin! It's rich in heart-healthy fiber. And for an even bigger boost, look for smaller spuds— you'll get a higher skin-to-flesh ratio, giving you more fiber and minerals in every bite.
MEDITERRANEAN SAVORY POTATO SALAD
Courtesy of the U.S. Potato Board
Ingredients:
3 pounds potato of your choice (try russet, red, white, fingerling and/or purple/blue gems)
4 sun-dried tomatoes in oil, drained and chopped
¼ cup crumbled feta cheese
5 cups spinach or lettuce of your choice
2 Tbs. balsamic
vinegar
¼ cup olive oil
1 tsp. salt
Pepper to taste
Preparation:
Place potatoes in a saucepan. Cover with water to 2 inches above potatoes; bring to a boil. Reduce heat and simmer 20 minutes or until tender. Drain. (Or place potatoes in a large microwave- safe bowl and cover. Microwave on high for 10 to 12 minutes or until potatoes are tender.) Refrigerate until cool. Cut potatoes into quarters and place in a large bowl. Add feta cheese, sun-dried tomatoes and spinach or lettuce. Combine balsamic vinegar, olive oil and salt and pepper; mix well and add to salad mix.
Related Read: Grass-Fed Beef