Spice Up the Season
Cinnamon, that aromatic, sweet spice that makes holiday dishes special, has myriad health benefits—and a surprising history.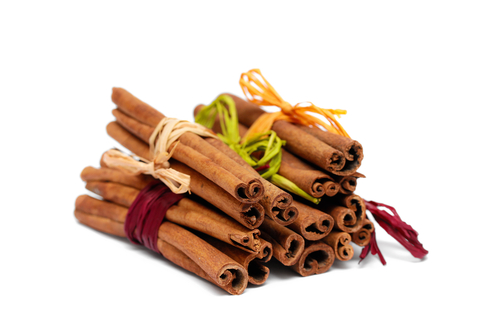 Did you know?
The spicy powder you sprinkle on your morning latte has a rich history spanning centuries. One of two varieties of cinnamon now available, ceylon ("true" cinnamon), was craved by Egyptians as early as 2000 B.C., when they imported the precious spice from its native Sri Lanka and used it to embalm dead pharaohs. Ancient Romans used ceylon as currency worth more than gold, paying tribute to the sun god Apollo by laying it in his temple as a gift. In medieval times, people appreciated ceylon for its more practical powers such as treating sore throats and preserving meat. But this sweet treat also has a dark past: The Dutch, Portugese and English enslaved natives on the island of Ceylon, now known as Sri Lanka, in efforts to monopolize production of ceylon and reap the pricey spice's rewards. By the late 18th century, however, the Arab delicacy had begun to lose prominence with the emergence of cassia cinnamon as an acceptable substitute. Dating back to 2800 B.C., Chinese doctors used cassia to treat colds, the flu and digestive problems. While Europeans still prefer the citrusy taste of ceylon, Americans favor cassia, made from the bark of the Cinnamomum cassia, an evergreen found throughout Asia.
Powers
Cinnamon packs a lot of healthy heat: These deceptively sweet sticks are high in fiber and nutrients like calcium and iron. Studies have shown the spice can relieve arthritic pain, combat E. coli bacteria and curb the proliferation of leukemia and lymphoma cells. People living with diabetes may find cinnamon especially powerful, as it has been shown to regulate blood sugar levels and lower cholesterol. But beware: Cassia could cause liver irritation if you get too sprinkle-happy. Modern cooks are wise to do as the Romans did, using cinnamon as a food preservative.
Buy · Store · Grow
Check the supermarket for ground cassia powder. Ceylon can be found in specialty spice stores and ethnic stores. Buy small quantities so the cinnamon doesn't go stale and lose its flavor. To crush your own cinnamon from sticks, try using a coffee grinder. Both cinnamon powder and sticks are best stored in the cool darkness of your spice drawer.
RECIPE: Mexican Hot Cocoa
Ingredients
4 tbs. unsweetened cocoa powder
4 tbs. sugar
2½ cups whole milk
3 oz. bittersweet chocolate, chopped
½ vanilla bean, split
½ tsp. ground cinnamon
¼ tsp. ground nutmeg
2 cinnamon sticks
Whipped cream
Chocolate shavings (Use a vegetable peeler on a block of semisweet chocolate to make shavings.)
Preparation
Mix together cocoa powder and sugar.
Heat milk in a medium saucepan over very low heat with vanilla bean, chocolate, cinnamon, nutmeg and cocoa mixture.
Whisk thoroughly until chocolate has melted and milk begins to simmer. Do not boil.
Pour into two mugs and top with whipped cream and chocolate shavings.
Recipe Courtesy of Whole Foods Market, Serves 2