Spicy Isle
When they ask where you got that (Grenada) tan, just smile.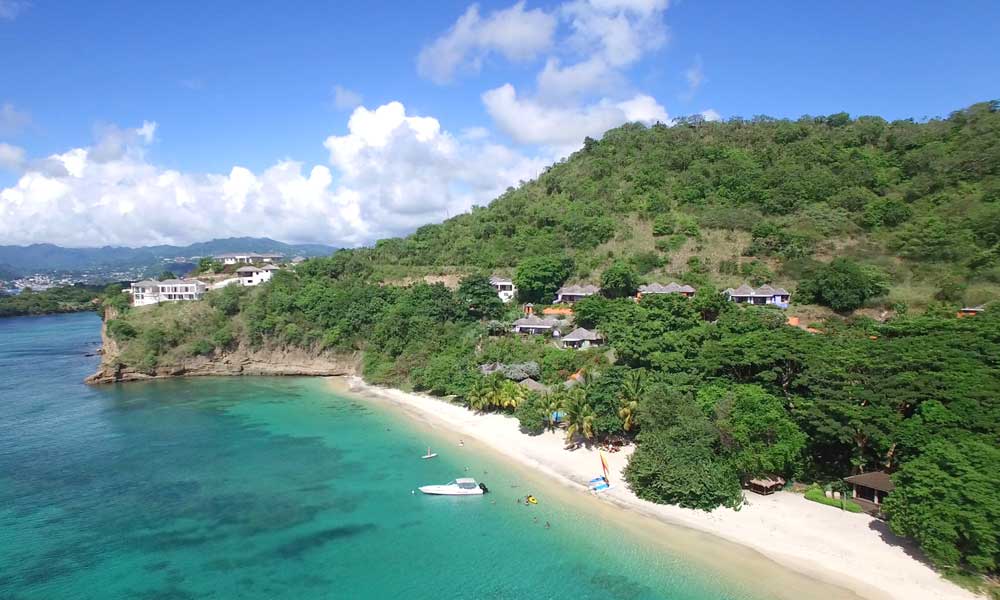 Admit it: When you find an amazing restaurant or boutique you're sometimes tempted to keep it to yourself lest it "go mainstream." That's how I felt when I visited Grenada. Though it was spotted by Christopher Columbus on his third voyage in 1498, it's not on many Caribbean travelers' radar, so it's unpretentious, rugged and real. How nice it would be to keep it that way.
I'd visited the island 100 miles north of Venezuela years ago and marveled at how relaxed I felt—even though that was the first (and so far, thankfully, only) time my luggage was lost. So recently when I was in dire need of a little R&R, I headed back, with plans to do nothing more than morning yoga, some vegging on the beach and a little sightseeing.
I found the perfect home-away-from-home at Laluna, a bohemian-luxe resort on Morne Rouge Bay. Its 16 one- and two-bedroom cottages and villas are set in the hills amid 25 secludedacres, each cottage with its own private veranda and plunge pool. Designed by Gabriella Giuntoli, creator of Giorgio Armani's villa on Panarea in the Aeolian Islands, the intimate bungalows feature open floor plans, thatched roofs and indoor/outdoor bathrooms. "It's all about barefoot luxury," explains Bernardo Bertucci, the resort's owner and as unlikely a hotelier as you'll ever meet. A 15-year fashion-industry marketing executive, he had no experience in the hospitality business, unless you count simply being from Italy. Working for brands including Prada, Armani and Bell Logo, parent company of Tod's, he fell in love with Grenada and decided that clothing the elite wasn't so different from catering to their vacation needs. As a result, there are daily complimentary classes in yoga and meditation in a beachfront pavilion and an authentic Asian spa with Balinese therapists.
When I met Bernardo, he declared us paisanos—compatriots, more or less—as he's from the same region, Calabria, as my father. But when he discovered that my mother hails from Sicily, he took to calling me Siciliana, a nickname that stuck during my visit. Unlike larger resorts, this one makes you feel like a treasured houseguest of a host who's kind and gracious without being overly intrusive.
Then there's the food. A beachfront Italian (natch) restaurant serves up Bernardo's favorite dishes with ingredients flown in from his native land. These include tuna preserved in extra-virgin olive oil for 12 months, olive oil from the Bertucci family farm in Calabria, Parmesan cheese, tomatoes, olives (which are delicious!) and Pasta Conte, artisanal pasta from southern Italy, which is only available there. To this mix, Bertucci adds local fish and Grenada's spice bounty—not for nothing is this place known as "the spice island"; it's a leading producer of cinnamon, cloves, ginger, allspice and nutmeg. My favorite plates included an octopus salad with potatoes, chickpeas, sun-dried tomatoes and snap peas and olives; a chilled seafood salad loaded with shrimp, calamari and scallops with olives and capers; and Grenadian spiced pumpkin soup, which was creamy without being heavy and had a nice ginger taste.
To wash down the great food, there's a full bar. The resort's signature drink, the Laluna Mist, is made from pineapple-lime slush, citrus vodka and blue Curaçao and is both pretty and tasty. In keeping with the Italian vibe, however, my drink of choice was a refreshing Aperol Spritz, a combo of prosecco with a splash of Aperol, a bitter liqueur, and club soda garnished with an orange. For those who've never tasted it, Aperol is akin to Campari but less bitter (and with far less alcohol).
Between the sunshine and the great food and drink, it's easy to become a true sloth here—Grenadians like to "lime," a verb that basically means "chill out"—but that would be a mistake. The 120-square-mile island boasts beautiful waterfalls (Seven Sisters Falls inside Grand Etang National Park is the one we visited), nutmeg factories, cocoa plantations and a rum distillery, and all are worth seeing. Or do as we did and check out the island from the sea. We set sail for a few hours aboard Savvy, a 43-foot sloop, which leaves St. George's harbor. Go snorkeling at Molinere Underwater Sculpture Park and then take in one of the most gorgeous sunsets I've ever seen.
Keep Grenada secret? Ah, but the guilt would torment me. This place is too special not to share