Spicy Korean Pork Bulgogi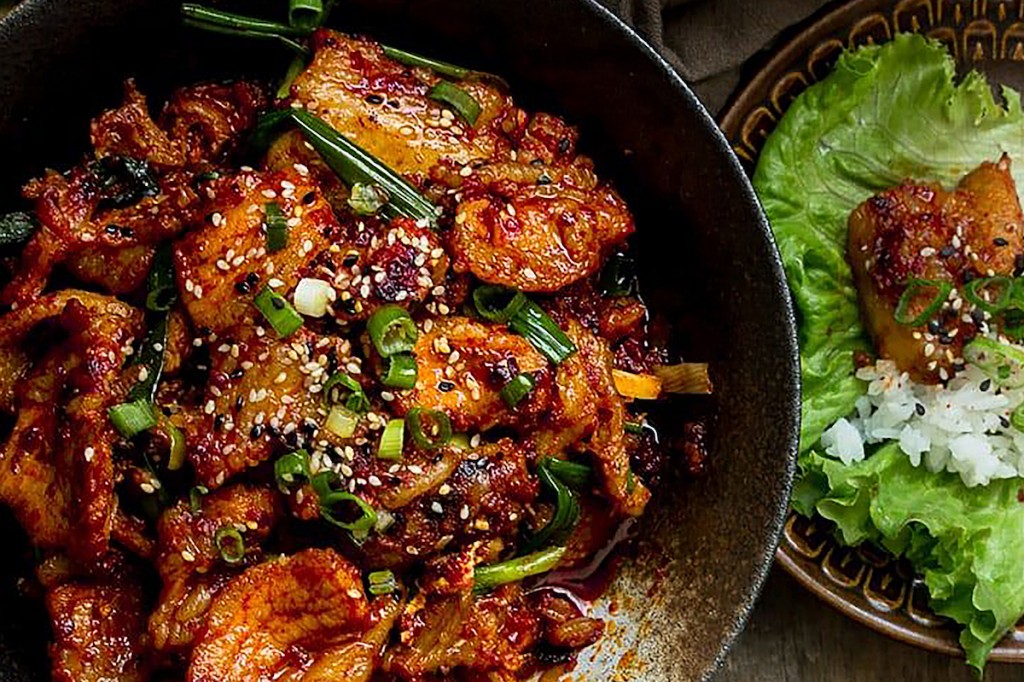 Yields 4 servings
INGREDIENTS
11⁄2 lb. pork belly (or pork shoulder/pork butt)
3 stalks green onions (cut into 11⁄2 inch chunks, including the whites)
MARINADE
2 Tbs. garlic (grated, approximately 5–6 cloves)
11⁄2 Tbs. ginger (grated, approximately 1 inch of ginger)
1 medium onion
31⁄2 Tbs. Gochujang
1 Tbs. soy sauce (or 1⁄2 Tbs. fish sauce)
2 Tbs. honey (or sugar)
1 Tbs. sesame oil
2 Tbs. mirin cooking wine
3 Tbs. Water
1 Tbs. gochugaru (Korean chili flakes), optional, if you like it spicy
DIRECTIONS
Remove the root end of the green onions and cut them into 11⁄2-inch- long chunks (including the whites of the green onions). Slice the thicker, white ends length-wise again so that they are the same thickness as the greens.
If your pork belly comes with skin, remove the skin and discard it.
Freeze the pork belly for 1 hour. This will make it easier to slice thinly. If you are using a larger cut of meat like a pork shoulder, you may need to freeze it for a longer period of time.
MARINATE THE PORK BELLY
Peel the garlic, slice the ginger and cut the onion into 1-inch cubes.
In a food processor, blend the garlic, ginger and onion together into a paste. (You can also grate it by hand if you don't have a food processor.) Place the blended garlic, ginger and onion in a large bowl.
Add the ingredients under "marinade" into the bowl with the garlic, ginger and onion and mix everything together.
Remove the pork belly from the freezer and thinly slice it, approximately 1/8 inch or thinner.
Add the pork belly into the marinade and mix everything well. Marinate it in the fridge for a minimum of 1 hour.
To cook the bulgogi, set the stove on high heat and set a non-stick frying pan or a high walled pot (to prevent splatter) on the stove and add a bit of oil into it.
Once the oil is hot, add the pork belly in the pan (including any extra marinade, as this will be the sauce).
Pan fry on high heat for 8-11 minutes. Pork belly splatters quite a bit, so be careful or wear an apron to prevent staining on your clothes.
Once the pork belly is cooked, turn off heat, add green onions and mix the onions around to let the heat wilt it.
Recipe and photo courtesy of pupswithchopsticks.com