Spine Surgery Is A Family Affair
'Dr. P' helps mom, dad and daughter get back on their feet again—and they continue to travel from their Florida home for follow ups at MMC.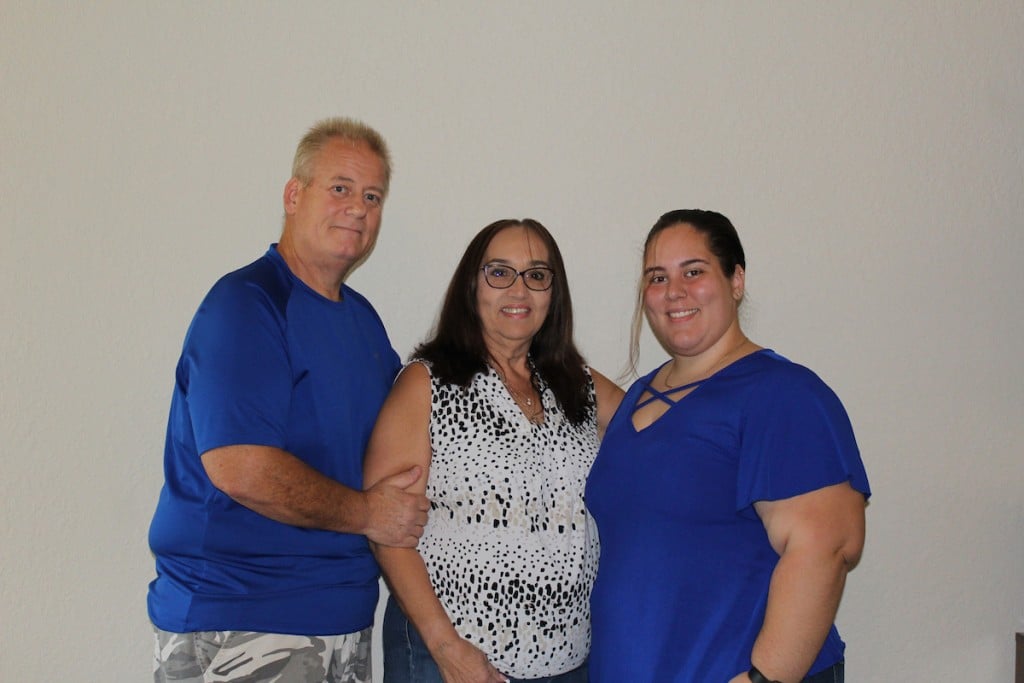 As Program Director of Orthopedic Surgery at Monmouth Medical Center, Steve Paragioudakis, MD, has performed spine surgery on members of the same family many times over the years. However, the Weizenecker family was a first: "I've done parents and children, but never on multiple members from the same household," says Dr. P, as he is commonly known. 
Michael and Doreen Weizenecker, 59 and 58, respectively, and their daughter Brianna, 21, lived in Jackson, N.J., until recently when they moved to Ocala, Florida. Doreen, a former supermarket manager, was evaluated by Dr. P first. She had previous spinal fusion surgery with another surgeon, but "there was no improvement, in fact it was getting worse," she says. Dr. P told her she needed to wait a year prior to any further intervention. 
In the meantime, Brianna, who had been suffering back pain for a while, was on a school trip to Disney World when, suddenly, "I collapsed. I couldn't walk. The pain was excruciating," she says. She flew home and saw Dr. P, who determined she needed emergency surgery. "I was numb from the waist down, and he was concerned I might never regain feeling again," she said. Dr. P performed a laminectomy (removing bone inside the spinal column) and diskectomy (removing herniated disc material) to relieve the pressure on the nerves that was causing the pain and numbness. Following the procedure, Brianna regained sensation and her ability to function, allowing her to finish her studies and continue with professional school.
Michael Weizenecker was a 40-year career plumber. He also had back and leg pain with numbness, and his symptoms prevented him from working and living comfortably. He had already had surgery in 2000 by another surgeon, but some symptoms continued. By 2021, his symptoms increased, and non operative treatment was not working. He was evaluated by Dr. P, who recommended a laminectomy on three vertebrae. That procedure helped him keep working till retirement, "but Dr. P told me it would probably come back, and I will need a spinal fusion," Michael says. "I will definitely use him for that."
Finally, it was Doreen's turn. She needed "a big revision" of her previous fusion, in which he removed and replaced several screws and rods. "She did great like the others," he says, though recovery will take longer.
Now in Florida full time, the parents are retired, and Brianna is in college studying radiology technology. But they return to New Jersey to see Dr. P for follow ups. "His office really worked with us" on payment options, Michael says. "He has the best bedside manner, he explains everything clearly and makes you feel so comfortable. We trust his decisions." Brianna adds, "He is very compassionate person."
"It's a feel-good story," Dr. P admits. Especially with everyone feeling well and recovering. "Our team strives to provide excellent and compassionate care to every patient we encounter. My partner, Dr. Menkowitz, and I perform nearly all of our surgeries together providing unparalleled expertise and attention to our surgical patients. We are experts in robotic assisted spine surgery and use minimally invasive techniques when appropriate. Our nurse practitioner, Courtney Ellenberger is also an integral member of our team and ensures excellent perioperative services. We are very proud to service our community in such fashion."
About The Spine Center
As a high-volume program dedicated to treatment of the spine, The Spine Center performs more procedures than any other program in the region and ranks second in all of New Jersey for the number of spine surgeries performed. The Spine Center provides patients with highly customized treatment designed to deliver long-term success. Surgeons perform leading-edge and minimally invasive reconstructions procedures designed to eliminate and reduce cervical, thoracic and lumbar pain, while restoring function.
The Spine Center also offers the following: a dedicated operating room for orthopedic surgery; a dedicated orthopedic unit for recovery and rehabilitation; physical and occupational therapy seven days a week, on the unit; a pain management program that ranks in the 99th percentile for patient satisfaction; comprehensive patient education programs and convenient pre-hospital screening; clinical coordinator/patient navigator; discharge planning and coordination; and pain management service.
MMC has successfully achieved Joint Commission Disease Specific Certification for Spine Surgery in recognition of the program's commitment to excellence. The hospital was also the second health care facility in the state to introduce the cutting-edge Globus Medical Excelsius GPS robot for minimally invasive spine surgery.
---
For more information about The Spine Center or for a calendar of upcoming spine surgery information sessions, visit rwjbh.org/jointandspine.