Starter Home, Reborn
With 30 years of memories invested in this space—the couple's first home, which they share with their daughter, a grad student—they found it hard to say goodbye.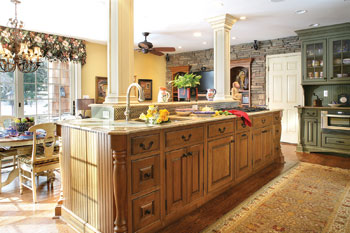 It was a battle of head versus heart: having made do for decades in their too-small 1950s Cape Cod in Kinnelon, the homeowners knew it made sense to simply buy a bigger home, rather than embark on an extensive redo. But with 30 years of memories invested in this space—the couple's first home, which they share with their daughter, a grad student—they found it hard to say goodbye.
"So much has happened here—you become attached," explains the wife. "We didn't want to give up something we've come to love."
Their hearts won. The couple hired Joel E. Jenkins Architect in Sparta to add approximately 1,000 square feet to the home, which is set on 2 wooded acres in the Smoke Rise community.
The construction included a complete gutting and expansion of the once-small kitchen: A wall dividing the space from the family room was removed and sliding-glass doors were installed, allowing sunlight to pour in and giving the residents a glorious view of the landscaped backyard. New cherry cabinetry brought warmth to the larger space. "Before the room was more enclosed and far less functional," the homeowner says. "Now it's open and gives you a feeling of home."
But once construction was complete, another daunting task presented itself: decorating the newly enlarged home. Realizing that they
needed professional guidance, the wife began searching for an interior designer who was eclectic, down-to-earth—and local.
"As a businessperson myself, I always try to work with members of the community," she says. And when she met Tamara Dunner of Kinnelon's Tamara Dunner Interior Design, she recalls, "we had a good connection. She's very personable, and we clicked."
Dunner's vision was to draw on some of the home's existing style elements, but heighten the flair factor. "I tend to work with what my clients have, but use an approach to make them 'pop' more," the designer explains.
Take, for example, the dining room. The inspiration for the space came from the cranberry-hued trim on the room's existing custom window treatments, which the wife adored.
"The previous color scheme was a bit cautious," Dunner notes. So while she kept the pale-pink wall color for contrast, she updated the homeowners' once pale-pink chairs with both a rich red, mini-patterned fabric and a coordinating stripe. Formerly white built-in cabinets were transformed with the room's signature color, while a glass table now provides a clear view of an antique rug that ties it all together. "The cranberry color just livened the space up," Dunner says. "The room became warm and inviting."
In the adjacent living room, Dunner encouraged the homeowners to display meaningful pieces— family heirlooms, as well as gems from their extensive travels—and then juxtaposed these treasures with interesting patterns.
"I love that room because it's not about decoration, it's about sharing things that have meaning," the wife says. Among the eclectic items featured are a trunk from Mexico, a painting from Sicily, an antique lamp from the wife's mother and a pair of candlesticks (once hidden in a closet) that were a gift from a grandmother. A quirky knickknack—a simple-yet-elegant marionette showcased on a stand—adds interest in the corner.
While Dunner kept the bold patterned wallpaper, she replaced floral window treatments with the quieter style of a luxe Pindler & Pindler fabric over just one window. A bevy of textiles gave new life to the homeowners' original furniture; thus, a Duralee gold-and-green plaid, a vibrant coral with a small print, a bold stripe and an intricate flame stitch by Lee Jofa all peacefully coexist in the space, while a sprawling antique rug anchors the room.
Pattern takes center stage again in a petite powder room, where the designer opted for whimsical Thibaut wallpaper that reflects the homeowners' love of the outdoors with its topiary and avian touches. "Putting a large pattern in a small room is a great way to make a statement," Dunner notes. A black granite–topped cherry vanity with hand-painted greenery mirrors the look.
Upstairs, the master bedroom is a serene retreat. The comforting space features sage walls, silk window treatments, a custom-designed reversible duvet set and an upholstered bench that also provides storage for extra blankets. The en suite master bath has luxurious touches, including his-and-her stations and a heated floor. "All these years we've worked so hard, and now we splurged on ourselves," the wife notes.
The renovation complete, the family has no doubt that they made the right decision by remaining in their cherished dwelling. "We have deep roots in Smoke Rise, and this is now the perfect home," says the wife. "Why would I ever want to leave?"