STEVEN M. MOSS, D.M.D • JASON DIAMOND, D.D.S., M.D. • VINCENT NOVELLI, D.M.D., M.D. • CHANG HAN, D.D.S., M.D. • ANGELA ILLUZZI – RUSSO, D.D.S.
BERGEN ORAL & MAXILLOFACIAL SURGERY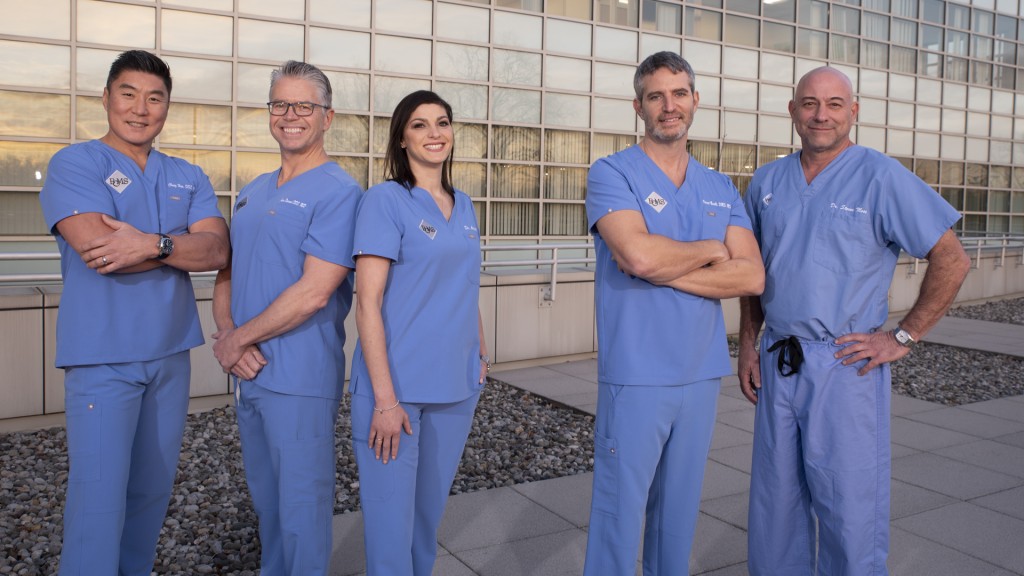 IT'S A NOTABLE DISTINCTION that all five doctors at Bergen Oral & Maxillofacial Surgery are winners of this year's Top Dentist award—an award that is granted based on the votes of other dental professionals. The five surgeons at the practice have risen to the top of their profession by acquiring industry-leading knowledge in the full scope of oral and maxillofacial surgery, including dental implants, wisdom teeth extraction, bone grafting and the revolutionary All-on-4® technique, which restores a full arch of teeth. Three of the surgeons hold dual-degrees in both dentistry and medicine, and a fourth holding those credentials will join the practice this year.
Bergen Oral & Maxillofacial Surgery is the only practice in Bergen County with a team of such specialists. The doctors' services are in high demand, resulting in the practice continuing to experience steady growth. What started as one office has grown to three locations–Hackensack, Westwood and Ridgewood–with the addition of a fourth office in Franklin Lakes in the coming months. Distinguished as leaders in their field, the doctors at Bergen Oral & Maxillofacial Surgery recognize a responsibility to educate other dental professionals.
The practice regularly hosts educational seminars on variety of dental topics, including implant procedures, treatment planning, CPR training and emergency management of patients; such issues touch patients in Bergen County on a daily basis. Bergen Oral & Maxillofacial Surgery is proud of their affiliation with Hackensack Medical Center in New Jersey and Columbia Presbyterian Hospital in New York City. The surgeons are available seven days a week for emergencies and have regular office hours Monday through Friday with selective Saturday scheduling. Patients looking for the best oral surgery treatment in Bergen County should contact Bergen Oral & Maxillofacial Surgery.
920 Main Street, First Floor, Hackensack, NJ 07601 • 201.343.8297
260 Old Hook Road, East Building, Suite 202, Westwood, NJ 07675 • 201.664.5656
1200 East Ridgewood Avenue, Suite 102, Ridgewood, NJ 07450 • 201.444.4137
COMING SOON: 794 Franklin Avenue, Suite 202, Franklin Lakes, NJ 07417 • 201.808.8700