Stir It Up!
A wok and a few fresh ingredients are all you need to make quick, healthy and super-tasty meals.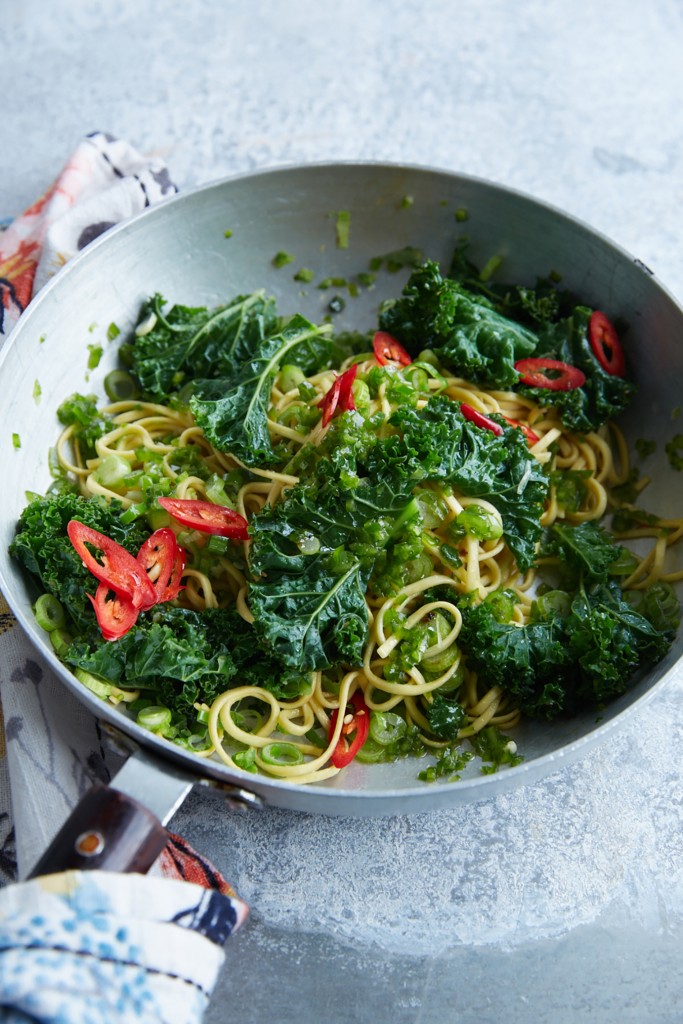 Chinese Wok-Fried Scallion Salsa Verde with Kale and Egg Noodles
Ingredients
1½ cups sliced curly kale
7 oz. dried Chinese egg noodles
1 tsp. toasted sesame oil
2 Tbs. canola oil
Pinch of salt
Knob of fresh ginger, peeled and grated
1 red chile, seeded and finely chopped
1 pinch of dried chili flakes
2 scallions, finely chopped
¼ cup cold vegetable stock
1 Tbs. low-sodium light soy sauce
Directions
Pour 4¼ cups cold water into a pan and bring to a boil. Add the kale and blanch for 30 seconds, then drain and remove. Cook the noodles according to the package instructions, then run them under the cold tap, drain and drizzle with the toasted sesame oil.
Heat a wok over high heat until smoking and add the canola oil. Add the salt and let it dissolve in the hot oil, then add the ginger, fresh chile, dried chili and scallions in quick succession to explode their flavors in the wok.
Add the vegetable stock and stir-fry over medium heat for 30 seconds. Add the kale and cooked egg noodles and toss all the ingredients well to warm through. Season with the light soy sauce and give it one final toss, then transfer to serving plates and eat immediately.
Tip: You can use less oil by steaming your vegetables in low sodium vegetable stock first, which pre-softens them. You won't need to cook your vegetables as long as you normally would in oil." – Susan Gralla, registered dietitian at Vernon Nutrition Center, Ramsey
More Recipes
Radish in Black Vinegar with Crabmeat and Black Sesame Seeds