Stir it Up!
A wok and a few fresh ingredients are all you need to make quick, healthy and super-tasty meals.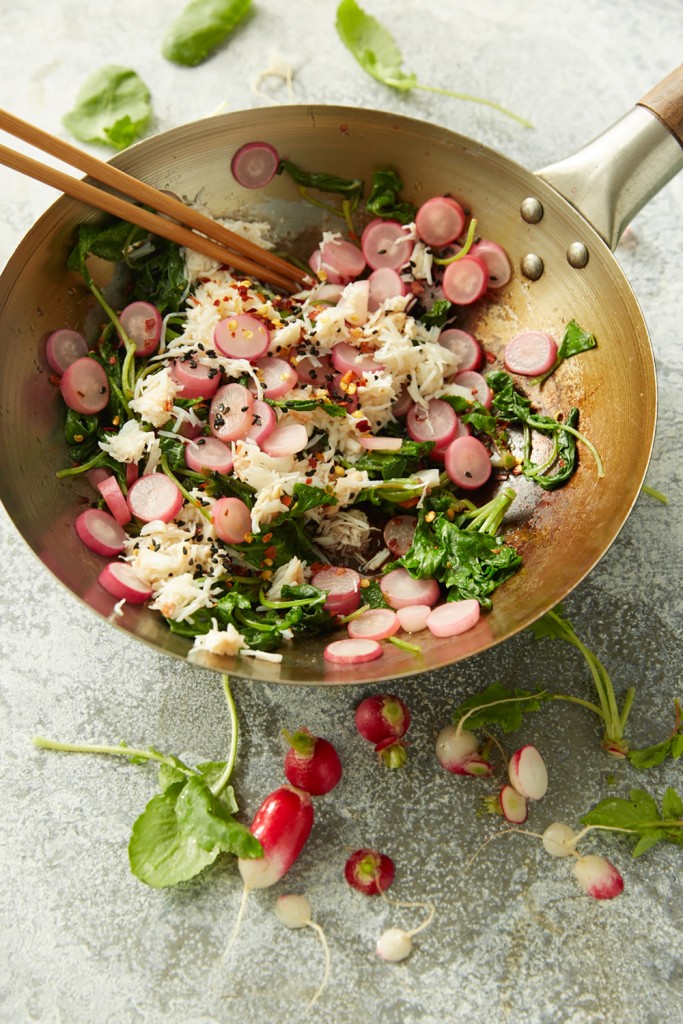 Radish in Black Vinegar with Crabmeat and Black Sesame Seeds
Ingredients
1 tsp. canola oil
10 oz. radish leaves
1 ¾ cup radishes, cut into ¼-in. slices
1 Tbs. Chinkiang black rice vinegar or balsamic vinegar
Pinch of superfine sugar
7 oz. fresh white crabmeat
1 Tbs. black sesame seeds, to garnish
Pinch of dried chili flakes, to garnish
Directions
Heat a wok over high heat until smoking and add the canola oil, then add the radish leaves and sliced radishes. Toss for 10 seconds, then drizzle 2 tablespoons cold water around the edge of the wok to create some steam to help cook the radishes. Season immediately with the vinegar and sugar and toss through.
Spoon the radish onto serving plates, then top with the fresh crabmeat and garnish with the sesame seeds and chili flakes.
Tip: You can stir-fry any kind of protein- I recommend salmon because it supplies your body with healthy Omega-3. – Robert Galarowicz, clinical nutritionist, Wood-Ridge
More Recipes
Chinese Wok-Fried Scallion Salsa Verde with Kale and Egg Noodles