Strength of the Community
Annual Pink events support Monmouth Medical Center's oncology services and cancer patients.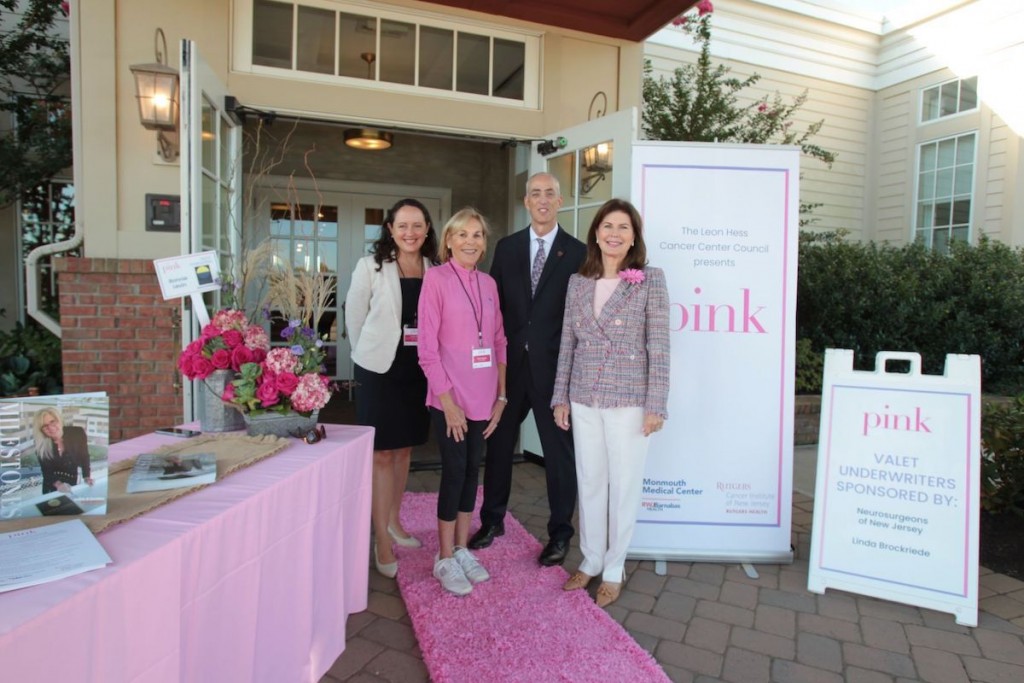 The COVID-19 pandemic has put a hold on many events and social gatherings over the past 18 months, but on Sept. 20, Monmouth Medical Center's Leon Hess Cancer Center (LHCC) Council used the power of pink to show its mettle, continuing its popular Pink fundraising events in both virtual and physically distant, in-person formats.
"One of the many things we've learned over the last year as a community is that we are flexible and resilient, just like our incredible patients," says Terry Ingram, who serves as Pink co-chair, LHCC council member and Monmouth Medical Center Foundation (MMCF) advisory board member. She is also the founder of the Swing Pink golf and tennis event.
"These patients deserve the very best quality care as they fight for their lives and their futures," adds Claire Knopf, Pink co-chair, LHCC council member and chair of the MMCF board of trustees.
Pink returned to the community with a full-day program featuring Swing Pink's traditional tennis and golf at Middletown's Navesink Country Club and the Power of Pink virtual luncheon presentation. Over the past 20 years, the council has raised more than $7 million to advance the hospital's oncology services, including the purchase of state-of-the-art equipment and offering programs for thousands of patients and families who face a cancer diagnosis.
Eric Carney, president and chief executive officer of Monmouth Medical Center and Monmouth Medical Center Southern Campus, notes this year that the hospital will be dedicating a significant contribution from Pink to support cancer survivor programs at RWJBarnabas Health Family Care and Wellness, a facility slated to open at the Monmouth Mall in Eatontown in January.
"This new facility will bring innovative and expansive cancer support programs to help our patients continue to live life to the fullest from treatment through survivorship," he says. "This is possible because of the work and generosity of this council; they have been a wonderful partner to Monmouth Medical Center."
The event also featured the presentation of the annual Judith W. Dawkins Ambassador of Excellence Award, given posthumously to the late Anne Vogel. "The Judith W. Dawkins Ambassador of Excellence Award is given to an individual who exemplifies the influence and personal achievement set forth by Judi to support doctors, patients and the community we serve," said Brigadier General and Heisman Trophy winner Pete Dawkins, husband of Dawkins' daughter, Noel Mihalow.
During the virtual presentation, RWJBarnabas Health Southern Region Vice President Bill Arnold shared his thoughts about Vogel's legacy. "Earlier this year, we lost a good friend, Anne Vogel," said Arnold. "She would have been so honored to receive this award. Anne first became involved with the MMC Foundation by attending the Power of Pink, and since then, she and her husband Sheldon have been long-time supporters and generous donors to Monmouth Medical Center.
"Those who knew her describe Anne as generous, gracious, humble and a wonderful storyteller; for Anne, giving from the heart was easy," Arnold added. "By presenting her posthumously with this award, we hope that her story continues to inspire future leaders in the Monmouth Medical Center community."
Vogel's sister, Judy Ziegler, accepted the award from Ann Unterberg, chair of Monmouth Medical Center Foundation from 2011 to 2017 and hospital trustee since 2005, along with her husband Tom. "My sister would be so honored today—the Power of Pink was her favorite event every year, and giving was her legacy," said Ziegler, whose own deep ties to MMC include a 40-year tenure with the hospital's Sleep Disorders Center. "I know she's smiling on us today."
---
For more information about Leon Hess Cancer Center Council events, call the Monmouth Medical Center Foundation office at 732.923.6886 or visit mmcevents.org.