Strengthening Our Minds and Bodies
An exercise and support program helps patients with Parkinson's.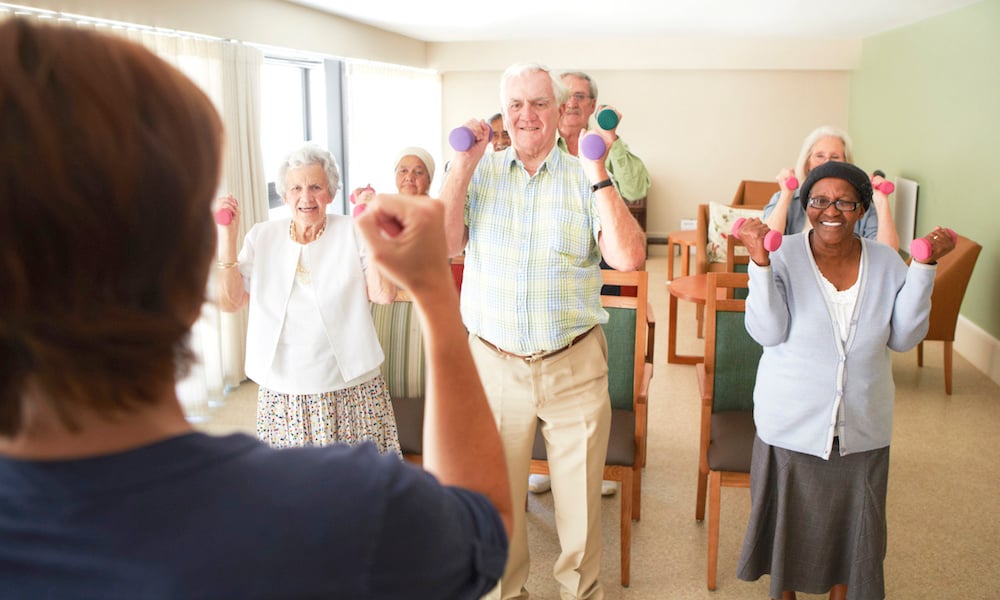 Stuart Cooper, of Livingston, and Michele Sutton of West Orange, are both 74 and suffer from Parkinson's disease. And they share one more thing in common—the two are regulars at the Parkinson's Disease Support Program, a collaboration between Saint Barnabas Medical Center and the JCC MetroWest. The program offers exercise and support groups for patients with Parkinson's and other neuromuscular/movement disorders and their family caregivers.
Exercise classes are held three days a week. On Monday, it's tai chi chih, a series of slow, controlled movements that focus on the development of an internal energy that the Chinese call chi. Wednesday's class helps attendees build strength and improve balance, both of which suffer from the debilitating effects of neuromuscular disease. On Thursday, participants get into the pool for water exercises. "I don't think we will vanquish the disease, but the classes improve strength and balance, and invariably I learn something," Cooper says.
The support groups meet one Friday every month. "We discuss new research and treatments, the challenges and frustrations the group members face, the importance of physical activity and nutrition, and how to manage the disease," Cooper says. "We share what works and what doesn't work. The caregiver support group is primarily spouses, and we talk about both the good and bad, as well as the frustrations they face as caregivers." Both Cooper's wife, Karen, and Sutton's husband, David, attend that group. "Couples go through this disease together," Sutton says.
Occasionally, the groups invite guest speakers. "Michael J. Fox once said that Parkinson's is the gift that keeps on taking," Sutton says. "The support groups are a lifeline for me and my husband."
Part of that lifeline is made up of the connections made with others battling the disease, which is a primary goal of the program. "These programs have brought this community of individuals living with this disease closer," Stephen P. Zieniewicz, FACHE , president and chief executive officer of Saint Barnabas Medical Center, says. "Participants find a lot of support being able to talk, laugh and joke with people who understand the challenges of living with Parkinson's."
To find out more about the Parkinson's Disease Support Programs offered through Saint Barnabas Medical Center, please call 973.322.5620 or visit barnabashealth.org/sbmc.