Summer Seining
Come participate in summer seining at Bayshore Waterfront Park, Port Monmouth, NJ, which takes place on Mondays, Wednesdays and Fridays through Aug. 26th.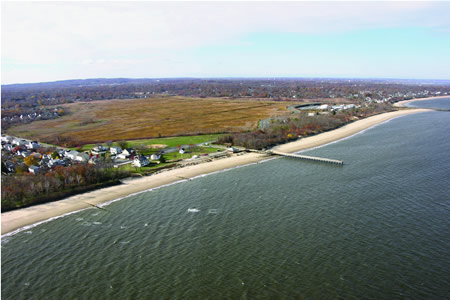 Enjoy going fishing? How about ditching the old fishing pole and trying a different way to catch those fish? Why not give seining a chance?
You may be wondering – what exactly is seine fishing? Seine fishing is fishing using a seine. Still unsure, huh? Well a seine is a large fishing net, which has weights on the bottom (lead line) and buoys on the top (float or cork line) to keep the net vertical when dragged through the water. These long flat nets, which resemble a fence, are used to entrap the fish. Seine nets are best used in shallow waters because most stay in continual contact with the bottom and the surface of the water. However, some seine nets are intended to sink or to float.
When Seining on a beach, the seine is set from the shore to surround a school of fish and then is blocked off to confine them alongside the shore. You would most likely catch bait fish being this close to the shore. If you want to participate in summer seining and discover marine life, it is being held at Bayshore Waterfront Park (719 Port Monmouth Road, Port Monmouth), located next to Monmouth Cove Marina. This area consists of a fishing pier, allows access to Raritan Bay, and has magnificent views of the NY skyline.
This unique way of fishing takes place on Mondays, Wednesdays and Fridays through Aug. 26th from 11 a.m. to 12 p.m. Everyone interested should head on over to the beach and meet near the fishing pier. Please remember to wear appropriate attire for getting wet and closed-toed shoes are a must. Unfortunately this sport is not open to groups but it will be an interesting experience nonetheless!