Super Healing for Feet
High-pressure oxygen therapy works wonders on stubborn foot wounds.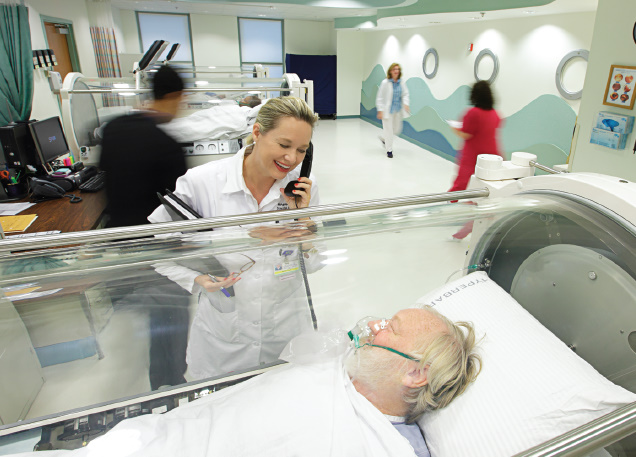 For most of us, cuts, blisters and other simple wounds on the feet heal quickly and easily. But for people with conditions such as diabetes, cardiovascular disease or nerve damage, healing is more difficult. without proper treatment, these small injuries can lead to serious infections and severe tissue damage. In some cases, amputation is required.
In the past few years, however, wound-care experts have found that treating these stubborn wounds with pure oxygen can help tissue heal more rapidly and completely. Saint Peter's University hospital has offered hyperbaric oxygen (HBO) treatment for years and is expanding its program to meet an ever-growing demand for state-of-the-art wound care. A third hyperbaric chamber was added to the wound care center in New Brunswick this summer, while two more chambers will be installed to complement a new wound care center slated for the Monroe adult community in 2012.
"There is a huge need for comprehensive wound care in the Monroe area," says Margaret Moss, program director of the wound care center and hyperbaric Services. She explains that aging is a significant risk factor for problematic wounds, adding that Monroe-area residents include 61,000 people 60 and older, of whom roughly 7,000 have diabetes. Diabetes compromises healing due to its damage to the blood and nerve vessels in the feet. other highrisk groups for problematic wounds are cancer patients who suffer from radiation burns, patients with chronic bone infections, those who have threatened skin grafts and the numerous patients with compromised arterial and vascular systems.
"In hyperbaric (literally, high-pressure) oxygen treatments, patients recline in a special HBO chamber that surrounds them in 100 percent oxygen at two to three times normal air pressure. each treatment lasts approximately two hours and is administered five days per week for a total of 20 to 40 treatments," says Charles Franco, M.D., the center's medical director.
Though this technology has been around for a long time, "there is still a lot of old thinking in wound care," says Dr. Franco. "We used to leave wounds open to dry and scab or treat them with solutions that actually injure tissues. We have learned to care for wounds better."
Newer treatments also include synthetic tissue that can be incorporated into wounds to facilitate healing. additionally, special shoes can be worn to help keep pressure off wounds. and new medicines and dressings have also been developed. "HBO is used as an adjunct to these other treatments," says nurse Karen Raviola, clinical coordinator.
These treatments are supervised by a specially trained HBO technician such as Tracey Juba. "To be able to take part in helping people get on with their lives is the best feeling," says Juba. "We are so happy for them."
Related Read: Battling Genetic Diseases