Supping at Suppa's
With its rustic sepia tones, dark wood and gleaming stamped brass ceiling, Suppa's Restaurant in Pine Brook harkens back to an earlier generation.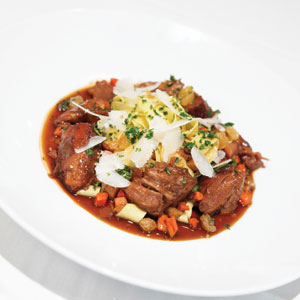 With its rustic sepia tones, dark wood and gleaming stamped brass ceiling, Suppa's Restaurant harkens back to an earlier generation. The Italian eatery is situated next to a dry cleaner just off Route 46 in Pine Brook, with a banquet room that's sometimes used for stand-up comedy. But sit amid the dim lighting, perusing the heavy leather menus while old Sinatra plays, and you very well could be in Little Italy circa the Mad Men era.
We began with Suppa's calamari, which comes with your choice of the usual (marinara) or unusual (balsamic ginger). Our server took our order without asking our preference, so we flagged her down to request the balsamic.
She told us there'd be an additional fee to get both cups- then brought both anyway, without charge. This exchange (a preview of the somewhat scattered service to come) seemed much ado about nothing much, as the ginger dressing merely gave a slight Asian kick to otherwise standard chewy squid.
Our rustica salad, however, was a pleasure: sliced portobellos and excellent fresh mozzarella pyramided on a bed of arugula with just enough Italian dressing, garnished with artichokes and sliced cherry tomatoes. Given the choice, our fork generally gravitates toward fried seafood over a plateful of greens, but not this evening.
We couldn't resist the cream of pumpkin soup special-a luscious delight. The golden bisque, as thick and speckled as Dijon mustard, was sweet enough to make for a pleasing dessert, but a sprinkling of sharp cheddar added a satisfyingly savory tang.
The pork osso bucco-a healthy shank braised until the meat was falling off the bones- was tender but a bit bland. This was easily remedied by swiping each forkful through the hearty, stew-like sauce of tomato and small cubed carrots. The dish was served with a side of nicely crisp zucchini slices cooked in a fair deal of butter and a somewhat out-of-place mashed-potato cake with a mozzarella stick-like coating.
Our pasta dish, goat cheese ravioli, was a bit of an enigma. Rather than the promised pine nuts and asparagus in garlic and oil, the pasta pillows were topped with walnuts, mushrooms and a thick française sauce. The goat cheese itself was not stuffed inside the pasta, but sprinkled atop regular ricottafilled ravioli. Though the dish had plenty going for it- the filling was creamy and tasty, and the earthy mushrooms nicely counterbalanced the biting goat cheese and lemony sauce-the unannounced substitutions made it feel like the kitchen's leftovers.
The chocolate mousse cake, a thick, rich wedge with a crumbly, coal-black crust, proved that sometimes the perfect complement to chocolate is … more chocolate. Even better was the tartufo-a big, quartered nugget of chocolate-coated vanilla and chocolate gelato with a cherry core. Offsetting the chilled treat with a hot cup of coffee made for a great end to the meal.
We left Suppa's and fully reentered the not-so-elegant 21st century, skirting the side of a busy road because we had parked by the dry cleaner. Though the eatery isn't perfect, it offers several delights and occasional bursts of creativity. And with its romantically nostalgic setting, it's a time capsule worth a visit.