Support Works Two Ways
Throughout the pandemic, community members and donors have shown their dedication and thanks to Saint Barnabas Medical Center, and the feeling is mutual.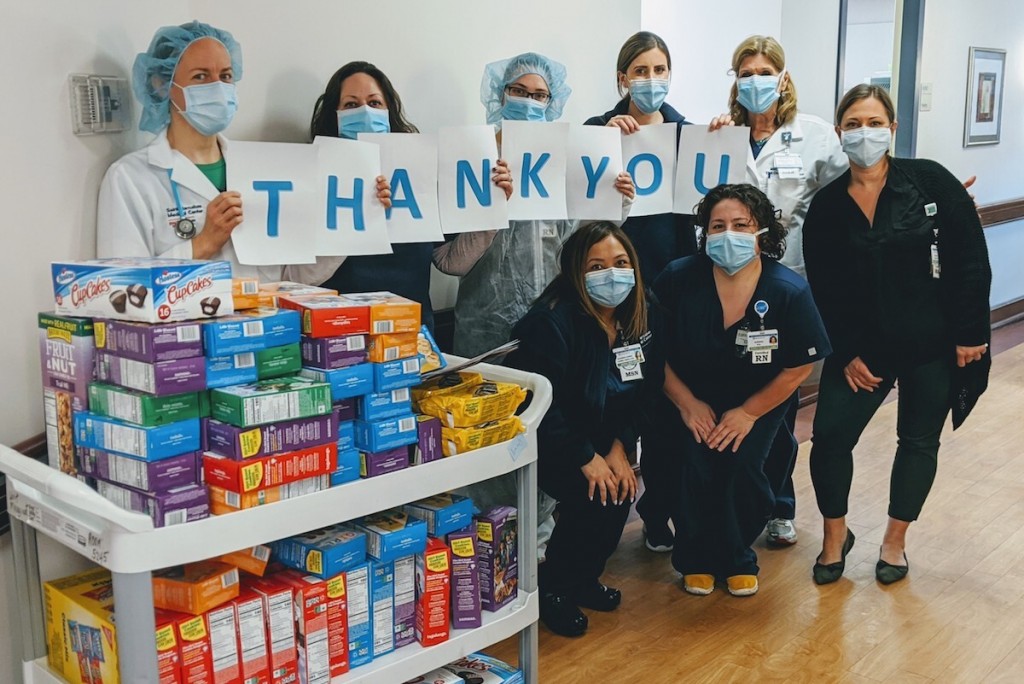 Saint Barnabas Medical Center (SBMC) and the community it serves go hand-in-hand. And perhaps never has this relationship been stronger or more palpable than amid COVID-19. In response to the pandemic, the RWJBarnabas Health organization as a whole established the Emergency Response Fund for all of its affiliate hospitals. "Originally it was used for supplies, PPE and equipment, but it's expanded beyond that," says Stephen P. Zieniewicz, FACHE, president and chief executive officer of Saint Barnabas Medical Center. "Then, people started asking how they could help."
As of press time, the Fund for SBMC has received upwards of 1,000 donations: about 250 food donations from local restaurants and individuals for staff on the front lines, and the remaining 675 or so in monetary gifts ranging from $25 to $150,000.
"This was a very unusual crisis that we're still making our way through and the community responded in such a heartful way," says Zieniewicz. "Without hesitation, our community members not only from Livingston but from the surrounding communities stepped forward to show their thanks and appreciation for the healthcare workers."
Many small organizations from local rotaries, chambers of commerce and soccer clubs donated money, as did Temple B'nai Jeshurun in Short Hills. "They felt like they wanted to support the Medical Center, so they started a donor drive page and they've donated over $50,000," the CEO says of the synagogue. Cumulatively, donations have now surpassed the $1 million mark.
And to ensure that SBMC shows its thanks in return for such generosity, each and every donor receives a personalized acknowledgment letter and a "thank you" call.
Gifts of the tangible variety were just as appreciated, especially by the frontline staff. "I don't think we ever expected the amount of generosity that came our way," says Maggie Lundberg, vice president and chief nursing officer and a 25-year veteran at SBMC. "Most of the clinicians on the front lines could not have gotten off their units to grab something to eat, so having food and beverages brought in was nothing short of amazing." Lundberg says some of her staff's favorite gifts included smoothies and Dr. Scholl's inserts, since they're on their feet all day. "We have always felt the community's support, but this was overwhelming and beyond anything I've ever seen before."
Additionally, on April 14, local community members and first responders showed their support in another way: by gathering for a Healthcare Heroes parade outside the Livingston facility. "Livingston, West Orange and other surrounding towns had their fire engines and their police cars all come into the roadway of the hospital," says Zieniewicz. "The healthcare workers came out and we were clapping and cheering, and it was great to see the community recognizing the work our healthcare heroes are doing."
SBMC is still working just as hard to serve its community as we pass the peak of COVID-19, fortunately seeing fewer COVID-positive patients coming into the emergency department and more patients getting discharged. "We are welcoming back services that had been put on hold during the pandemic," says Zieniewicz. "We are taking precautions and moving forward to safely and reliably serve our communities."
"There are incredible clinicians in the Medical Center who are committed to quality care every day. The community's support of them made those tough days a little easier, and they have people rooting for them to be successful and to provide exceptional care under extraordinary circumstances." — Stephen P. Zieniewicz, FACHE, President and CEO, Saint Barnabas Medical Center
---
To donate to Saint Barnabas Medical Center's Emergency Response Fund, call 973.322.4330 or go to sbmcgiving.org.