Surgery Restores Quality Of Life
Stress incontinence and uterine prolapse can disrupt daily life—but minimally invasive surgery can help.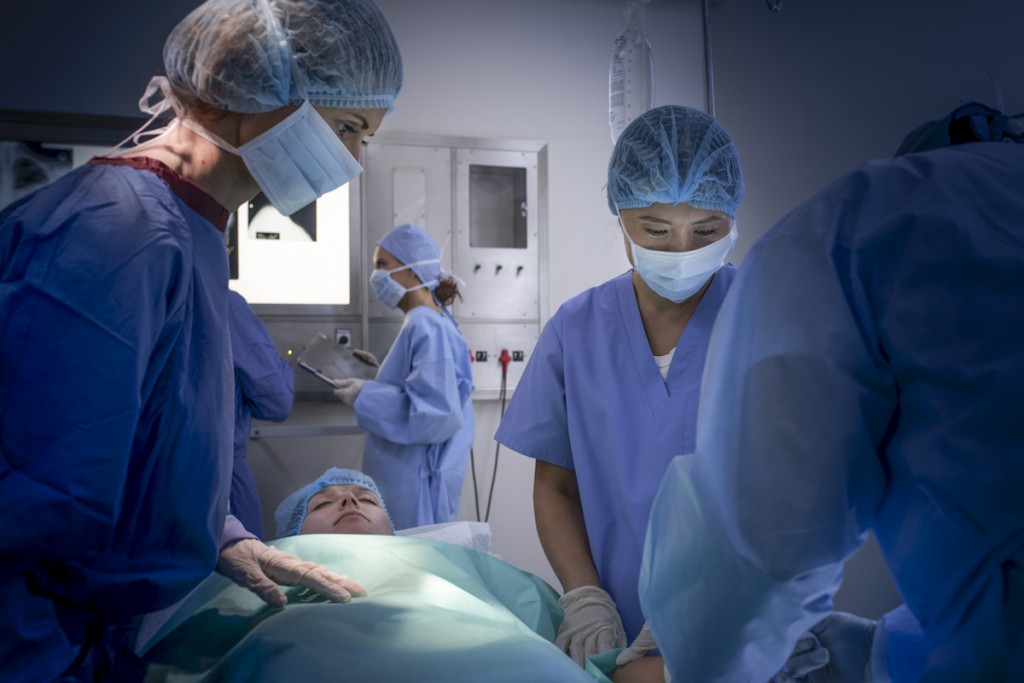 Debbie Clayton can make light of her medical challenges now, but there was nothing funny about the problems they had caused.
"I had plumbing issues," says Clayton, 59, of Oceanport, with a laugh. Specifically, Clayton, an administrative assistant at the Visiting Nurse Association, had urinary stress incontinence. The condition grew progressively worse over the years, and by last fall, "the urgency became quite frequent throughout the day," she recalls. "It was debilitating. I desperately needed to get to a restroom but was unable to move my body. Any movement caused embarrassment because I couldn't control my bladder."
She also suffered from uterine prolapse, in which the uterus sags through weakened pelvic floor muscles onto or into the vagina. "Gravity wasn't helping things any," she says. "It became a quality of life issue." In October, her primary care doctor referred Clayton to a specialist—Annacecilia Peacher, M.D., a urogynecologist with RWJBH Medical Group—who discussed treatment options.
"Dr. Peacher was great," Clayton says. "She explained everything to me and gave me detailed handouts on the surgical procedures to read. I had complete confidence in her."
Dr. Peacher explained that uterine prolapse is a common condition in which the muscles, ligaments and tendons of the pelvic floor become stretched, weakened or torn, allowing the uterus and sometimes other organs to slip through and into the vagina. This is typically a result of pregnancy and childbirth but also can result from aging or other injury.
They decided the best course of action was surgery. Testing determined that Clayton was a good candidate for a partial hysterectomy and bladder sling—"repairs so the bottom wouldn't fall out," Clayton says blithely. She had a supracervical hysterectomy, in which the woman's uterus, but not the cervix or ovaries, is removed. She also had procedures to tighten the support tissues that hold the abdominal organs in place. Finally, Dr. Peacher inserted a midurethral sling, a narrow piece of mesh that holds the urethra in place to correct leakage from bladder stress.
Clayton was able to have the procedures done using minimally invasive laparoscopic surgery. "Because of her active lifestyle and younger age, we wanted the most durable surgery with less risk for recurrence," Dr. Peacher says.
The surgery was performed Dec. 9, 2019. It took about four hours, Dr. Peacher recalls, and went smoothly. "I never had surgery before, but it all went great," Clayton says. She spent one night in the hospital. After only a couple of days, she no longer needed the narcotic painkiller and controlled her pain with ibuprofen and acetaminophen. She was not allowed to lift anything more than 10 pounds for a month, but she was able to return to work part time on Dec. 26, and full time soon after the new year.
Clayton still experienced some urinary leakage after the surgery, which is not uncommon. Physical therapy is helping her strengthen the muscles that control the bladder. "That is going very well and improving the problem greatly," she says.
Like many women who have this type of surgery, Clayton only wishes she had done it sooner. "I feel more comfortable now," she says. "I just always thought things would get better, but they did not. If you have urgency issues, it is to your benefit to see a doctor."
"A lot of women think this problem is normal or don't want to talk about it," Dr. Peacher says. "It is important for them to know it can be managed and improve their day-to-day life. If you have urinary issues and have to wear a pad, are in the bathroom all the time, and it is hindering day-to-day activity, see somebody."
To make an appointment with Annacecilia Peacher, M.D., at 223 Monmouth Rd., Ste. 1C in West Long Branch, or at 1 Rte. 70 W. in Lakewood, call 732.571.0972.